Sunday October 23 2022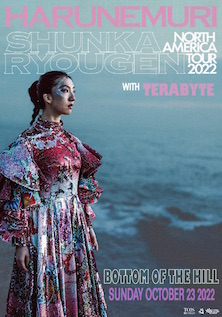 7:30PM

doors -- music at 8:00PM


••• ALL AGES




$

20

in advance

/ $25

at the door


Haru Nemuri
www.harunemuri.love/


hip hop poetry rapper j-pop


Frost Children


frostchildren.bandcamp.com/


electronic pop





---

Haru Nemuri


-from Tokyo, Japan


-HARU NEMURI is a Japanese singer, songwriter, and poetry rapper who had always made music for herself first, but now the world is listening — even if they can't understand a word of the Japanese language in which she sings, raps and frequently screams. Haru has built a dedicated following thanks to extensive touring in Japan and other parts of Asia, and sold out numerous shows in Europe on her first trip there in 2019, which included a performance at the legendary Primavera Sound festival in Barcelona. "In any region of the world, there are some things people can't express in words, and sometimes even after writing lyrics, there are other feelings that I have left in me," she says. "That's when it's time to shout. If people feel connected and supported by that, I'm really happy about it."
On her 2018 debut album, "Haru to Shura," Haru crafted songs with elements of "modern urban innocence, constraints and homogeneity, which therefore created a feel of tension and compactness." Over time, she says her beats and riffs have developed "a feel of more wideness in natural space" that would have been difficult to produce before. "I am now able to create sounds that are further closer to the ideal," she adds. "When I have ideas for songs, I am just an intermediary to help bring them to life. I strive to fulfill that role."
Haru recently completed a string of SOLD OUT North American tour dates in March 2022, finally being able to perform after rescheduling four times due to the pandemic. She stunned crowds in Brooklyn, NY, Chicago, IL, Dallas, TX , Los Angeles, CA, San Francisco, CA, wrapping up at SXSW 2022, where she was heralded by the Austin Chronicle and Paste Magazine as one of the best performances they saw at the festival and performed with iconic punk band, Pussy Riot

Fans were delighted to see new music released from Haru throughout 2021 to 2022 with the singles and music videos for "Ikiru", "bang", "Inori Dake Ga Aru", "Seventh Heaven", "Old Fashioned", and "Déconstruction". All of which can be found on her newest and massive twenty-one songs full length album, 'Shunka Ryougen' that was released in April 2022. The album had quickly received an enormous amount of high ratings and reviews from Pitchfork, Spectrum Culture, The Needle Drop, Japan Times, One to Watch, and more.






Frost Children


-from New York, NY




-Frost Children is the project of NYC-based siblings Lulu and Angel Prost. They've released multiple full-length projects since 2020 that combine and transcend genre. Flood Magazine calls them "obnoxious, self-obsessed, painfully stylish, convinced of a sense of greatness they've yet to earn."