Wednesday November 9 2022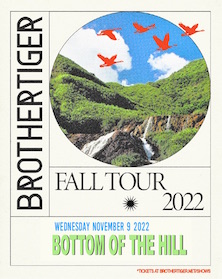 8:00PM

doors -- music at 8:30PM


••• 21 AND OVER




$

13

in advance

/ $15

at the door


Brothertiger
www.brothertiger.net/


chill electronicmusic


Jackie Mendoza
jackiemendoza.bandcamp.com/


ukulele electro pop


Fashionista Boyfriend
fashionistaboyfriend.net/


electronic synthpop




---

Brothertiger


-from Brooklyn, NY


-John Jagos began his musical journey in his college dorm room in 2009 by experimenting with his own electronic productions. After uploading a few of his early creations to MySpace, he quickly attracted prominent music blog attention from outlets like Pitchfork and No Pain in Pop and found himself amidst the style of electronic pop sometimes referred to as chillwave. "The music I was already making was fitting into that vibe," he recalls. Eleven years into his career, Jagos has refined his productions and evolved his sound into a blend of hi-fi electronic-indie and nostalgic pop.

Jagos released two albums—2012's Golden Years and Future Splendorsin 2013—on electronic label Mush, which counts Bibio and Daedelus in its stable; in 2015, Jagos went full-on independent by self-releasing his third album, Out of Touch. Since then, he's busied himself with a Tears for Fears cover album (Brothertiger Plays: YTears for Fears' Songs from the Big Chair), 2019's A Chain of Islands EP, two instrumental albums (Fundamentals Vol. I & II) compiled from his bi-weekly livestreams, as well as 2020's Paradise Lost, his first studio full-length in five years.

2021 shaped up to be another prolific year for Jagos. New singles "Arizona," "Wallow" and "Dancer On The Water" showcase a poppier musical direction in contrast to the darker, more self-reflective temperaments of Paradise Lost. Jagos is emerging from a year of isolation with music best enjoyed in the company of others. 2022 saw the release of "Fundamentals: The Anthology.






Jackie Mendoza


-from Brooklyn, NY


-"A blur can be more tantalizing than something fully legible. Jackie Mendoza melts the edges of her vocals with echoes, reverb and stereo panning, while keyboards and guitars float in and drift around her. There's a pop song near the surface, but it stays just out of reach." The New York Times

Born and raised in the border city of Chula Vista, California, Jackie Mendoza found inspiration from her motherland, Tijuana, Mexico to create a unique sound influenced by Latin pop music, folk, and electronic pop. She creates melodies that captivate the listener's imagination with story-telling through sound design and narrative songwriting. Jackie uses voice and electric ukulele on a blend of electronic beats to bring to life a cacophony of sonic textures.





Fashionista Boyfriend


-from Sacramento, CA


-"It was through the finding of an old Casio keyboard in a dusty attic that launched the idea for a retro-fitted, poppy, Chillwave inspired project."

Fashionista Boyfriend is the work of Casey Groat from Sacramento, CA. Having started out as just a kid with an interest in making noises with the computer, the project has matured into themes such as love and loss, as well as experimenting with sampling and songs with meaning and purpose. Artists such as Washed Out, Toro Y Moi, Small Black and Neon Indian are a big influence on the sound.