Sunday November 20 2022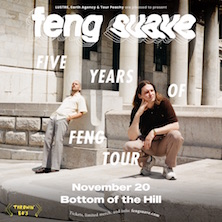 8:00PM

doors -- music at 8:30PM


••• ALL AGES




$

17

in advance

/ $20

at the door


Throwin' Bo's presents:


Feng Suave


www.fengsuave.com/


r&b/soul psychpop


Jaguar Sun


www.facebook.com/hello.jaguar.sun/


alternative dream pop





---

Feng Suave


-from Amsterdam, Netherlands


-Feng Suave (Wind Smooth) is a psychedelic pop and neo-soul duo from Amsterdam, composed of DaniŽl Elvis Schoemaker and DaniŽl de Jong.

Feng Suave have written and released three EPs together but are yet to release an album. The duo's first self titled EP, Feng Suave, was released in October 2017, with Sink into the Floor achieving particular success on streaming platforms, reaching over 3.1 million views on YouTube. The duo then released several singles, such as Venus Flytrap in 2018 and Toking Dozing in 2020, before releasing their second EP, Warping Youth, in 2020. Their third EP, So Much For Gardening was released in 2021 and was recorded entirely on tape, rather than digitally as with their previous work.

"They have a nice old revisited soul groove. I go for that." - Iggy Pop





Jaguar Sun


-from Ontario, Toronto, Canada


-Jaguar Sun is a solo project created by multi-instrumentalist Chris Minielly, now performing live with a full band. Weaving together inspiration from bands such as STRFKR, Youth Lagoon, and Panda Bear, Minielly creates dreamy, pop-centric soundscapes with experimental flair.

The Ontario-based artist allows his instruments to speak equally with his voice, urging listeners to get lost in richly layered guitar lines and deep, droning synths. Minielly is set to release his second LP, All We've Ever Known, in 2022 on Born Losers Records, followed by a tour of the U.S. and Canada.