Tuesday November 29 2022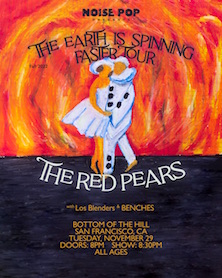 8:00PM

doors -- music at 8:30PM


••• ALL AGES




$

15

in advance

/ $17

at the door


Noise Pop

presents:


The Red Pears


theredpears.com/


indie garage rock


Los Blenders


www.losblenders.mx/


surf punk psychedelic


Benches
www.instagram.com/benches.band/


indie rock




---

The Red Pears


-from El Monte, CA


-The Red Pears' founding members, Henry Vargas (vocals and guitar) and Jose Corona (drums), draw their sound from the spectrum between the early 2000s New York indie rock scene and grunge to the cumbia and corridos that soundtracked their childhoods in El Monte, a sleepy suburban town just east of Los Angeles. After cycling through an assortment of lineups, mutual friend and bassist Patrick Juarez stayed on and expanded their operation. Now a solid three-piece band, these emerging alt-rockers, have come a long way from meeting at a local Battle of the Bands, practicing in their garages, and naming themselves after their favorite color and a pun on the word "pair"— a subtle nod to sonic inspirations The White Stripes and The Black Keys.

The Red Pears first got on the map with self-releases For Today, For Tomorrow, For What Is, For What Could've Been and We Bring Anything to the Table… Except Tables We Can't Bring Tables to the Table, touring behind them and learning the ins-and-outs of being on the road. In 2019, the band delivered their sonically and emotionally diverse heartfelt EP Alicia, named after Corona and Vargas' mothers, that showcased a polished alt-rock sound without sacrificing the band's roiling, fuzzed-out garage spirit. The Red Pears North Star continues to be their undying honesty and commitment to the craft. "It all boils down to effort and humility," says Vargas. "We just want to do our best and make the music we want to make. Now we have more help and resources, but it's about continuing to push and keeping that humility."

In 2021, Henry, Jose and Patrick introduced and solidified a new era for the band with their latest album You Thought We Left Because The Door Was Open, But We Were Waiting Outside. The album marks a matured reinvention of their nostalgic indie attitude as their early sounds, sonic inspirations and revives the rebellious spirit of garage rock take on a fully realized form in the name of friendship, growth and timeless rock 'n' roll. Channeling the tenacious fervor and reception of the album, the band has utilized the momentum to relocate their moxie to stages nationwide, selling out venues as they go alongside Beach Fossils, Wild Nothing, as well as on their own headlining routes. The Red Pears will continue to tour in 2022, anticipating a return to their biggest headlining run yet.





Los Blenders


-from Mexico City


-Mexico City rock phenomenon Los Blenders has something for everyone and is sure to please. I adore their sound and appreciate the range of topics and moods covered. The songs are also harmonious and fit together like puzzle pieces to create different facets of a whole entity. Their characteristic sound is very fast and falls somewhere within the genres of punk, surf, and garage rock, more recent releases leans further into the languid, distorted tunes of psychedelic pop-rock, Additionally, there is more variation of speed, mood, and topic. There are some very dark songs, whereas their music in the past has primarily centered on happiness, recreational drugs, party scenes, and being in love.

Los Blenders consists of Alejandro Archundia on vocals and guitar, Osmar Espinosa on bass and backing vocals, José Manuel Martínez on the drums, and Patricio González playing the guitar.

The band released its first LP, "Chavos Bien," in 2015, which landed them on KEXP-FM's list of top 10 best alternative albums in Spanish — an accolade which was followed by their collaboration with will.i.am in Corona's "Discover Your Music" campaign. Their second LP, "Ha Sido," released in 2017, reached almost 4 million streams and brought the band to prominent festivals like Coachella in the same year.-





Benches


-from Chula Vista/San Diego, CA


-Pioneers of bench rock.I gnant Benches, dubbed by some as the ugly stepchild of both Arctic Monkeys and The Strokes, has been playing and making music since their middle school talent show back in 2014. The band's youth, talent, and raw energy displayed on stage and in their recordings has caught the eye of many.

The group is composed of founding member, Anson Kelley, who leads the way with vocals and guitar. His cousin, Andres Tistoj, plays lead guitar, with Mauro Rocha on drums. The band's latest addition, Ruben Gutierrez, plays bass.

Originating in Chula Vista, California, the band started back in 2014. Andy had received a guitar for Christmas, giving fuel to Anson and Andy's early dreams of becoming musicians. They began to teach themselves how to play guitar using a videogame for the Playstation called Rocksmith. Several months later, they formed Ignant Benches. The original purpose of the band was to enter into the Hilltop Middle School annual talent show. Weeks went by, learning mostly Strokes and Arctic Monkeys covers, preparing for Ignant Benches' first performance. When the day came, they were everthing but disappointed. It was a dream come true for a first show. They played to a large audience of screaming fans at the middle school stage. Feeding off of the energy of performance and music, the band decided they wanted this to be their life.

Fast forward to 2019, the band changes their name and continues strong and grows only stronger, having opened for famous bands like Foster The People, I Don't Know But They Found Me, and Louis XIV.