Wednesday December 7 2022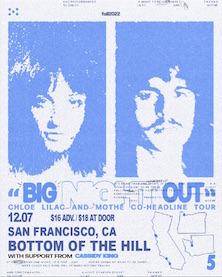 8:00PM

doors -- music at 8:30PM


••• ALL AGES




$

16

in advance

/ $18

at the door


Big Night Out Tour

, featuring...


Mothé

[co-headlining]


www.facebook.com/Motheworldmusic


art rock glam


Chloe Lilac

[co-headlining]


www.chloelilacmusic.com/


Alternative/Indie


Cassidy King
www.cassidykingmusic.com/


pop singer songwriter




---

Mothé


-from Los Angeles, CA


-Indie alternative artist Mothé, has finally released their long-awaited debut album, I Don't Want You To Worry Anymore. The 12-track body of work explores hurt, healing, and moving toward the future, all wrapped in eclectic and engaging soundscapes that provoke a deep range of emotions.

I Don't Want You To Worry Anymore not only demonstrates Mothé's remarkable ability to create and produce music that sounds exactly how it feels, alongside collaborative producer Robert Adam Stevenson. The attention to detail to each track's intricate, evolving sounds shows meticulous care and passion that marks the beginning of something bigger ahead for the up-and-coming musician. I Don't Want You To Worry Anymore opens with indie-rock jam "Dancing On An Empty Floor" before catapulting listeners down a rabbit hole full of sonic and emotional ups and downs.





Chloe Lilac


-from Brooklyn, NY


-The rising Brooklyn born-and-raised singer-songwriter just dropped her new mixtape, you were good to me, alongside her brand new single, "lily's backyard."

"This mixtape is all about losing the people you love most. Whether that's losing a best friend, losing a romantic partner, or losing yourself. It can be hard to let go when people come in and out of your life, you could feel betrayed, you could feel heartbreak, you could feel anger, but at the end of the day, it all comes back to love," she says of the project.

Chloe's been getting a ton of critical acclaim leading up to the release, including support on Spotify's New Music Friday and Salt playlists earning her over 20 million streams on Spotify, and she's also toured with many acts including Charlotte Lawrence, mxmtoon and Tessa Violet. After releasing some tracks in 2017 including her first release "Reckless," she first debuted with her 2019 EP Manic Pixie Dream, which earned her praise for her anthemic, relatable songwriting skills and top-notch songcraft from outlets like Billboard, PAPER and The FADER.






Cassidy King


-from Chardon, OH/Los Angeles, CA


-Over the past few years, singer-songwriter Cassidy King has built a devoted fanbase, thanks to her intensely personal, poignant lyricism and irresistible, pop-forward melodies. In her latest EP, Concrete Walls, King delves even further, delivering a moment of reckoning that only comes with deep self-reflection. In six lushly arranged songs, King examines the intricacies of relationships—with friends, past partners, and, most importantly, with herself.

It certainly wasn't easy for King to write these lyrics, despite her bold and thoughtful presence on social media. To many of her passionate followers, King is a confidant, a friend, and a radiant light. As a proud, queer woman, she offers a voice to those who are still finding the words to share their own stories. But what King's fans may not know is that it took her a long time to find this self-assurance—and that they played a crucial part in empowering her to do so.