Thursday December 8 2022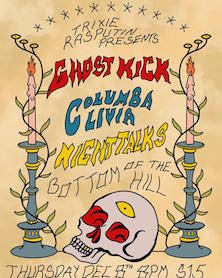 8:00PM

doors -- music at 8:30PM


••• 21 AND OVER




$

12

in advance

/ $15

at the door




Trixie Rasputin

presents:


Ghost Kick


www.instagram.com/ghostkickmusik/


disco funk electronic indie dance


Columba Livia


www.facebook.com/columbaliviaband


indie space grunge alt rock


Night Talks
www.nighttalks.com/


alternative rock




---

Ghost Kick


-from San Francisco, CA


-Born in a basement in a little town called Space, the embodiment of interstellar dirt, the grime between the toes of the cosmos. Ghost Kick is the creation of SF based singer and multi instrumentalist Austin Waz (of Analog Dog) & Oakland born music producer RIDL. Fully realized and human, they now deal in breakbeats and broken hearts, sending signals to fellow descendants of the stars. Some have said that the music is a true entanglement of Daft Punk, Jamiroquai, Franc Moody & some other unknown cosmic elements. Emotional disco is here, come dance with Ghost Kick.






Columba Livia


-from Bay Area, CA


-Columba Livia is a Bay Area based band made up of singer and guitarist Christine McCann, bassist Peter Carroll and drummer Josh Studebaker. For centuries, the columba livia has been revered as a symbol of transformation and wonder. Today the Northern Californian alt rock band, Columba Livia, embodies this symbology within their dark shoegaze/grunge mystique.

Columba Livia (co-lum-ba liv-ia) has recently reinvented themselves within the current alternative rock circle in San Francisco. In 2016 the band coalesced into the trio of guitarist and vocalist Christine McCann, drummer Joshua Studebaker, and bassist Peter Carroll. The evolution of this Northern California group was an alchemy of a once jazz-funked, ska bound bossa nova band likened to Hiatus Kaiyote into a psychedelic mystic, stoner-gazed powerhouse with influences from bands like Crumb and True Widow.

In 2021, the band showcased their transformation of their sound and image with their powerfully entrancing and emotionally drenched sophomore album, Midnight Reveals. After the departure of Carroll, Erinn Wilkerson was summoned as their new stellar bass player. In the following season, the band signed with Don't Flunk Me Records, a new label based out of Santa Rosa Junior College in Sonoma County, California.

Their next single "As We Go", released May 13, 2022, doesn't just compel you to listen more, it makes you want to join in and feel the energy of a group discarding boundaries and wondering if this chaotic world and it's rules are the only way we should live.





Night Talks


-from Los Angeles, CA




-Night Talks is an alternative rock band based in Los Angeles, California. With vocals that are equal parts angelic and razor-tipped, bass and drums that drive, and powerful, shimmering guitars, they'll remind you of the first time you stayed in your room all night listening to a record.