Saturday December 17 2022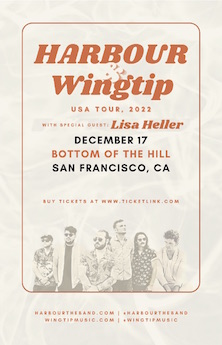 8:30PM

doors -- music at 9:00PM


••• ALL AGES




$

20


Wingtip

[co-headlining]


www.wingtipmusic.com/


pop


Harbour

[co-headlining]


www.harbourtheband.com/


indie rock


Lisa Heller
lisaheller.com/


pop




---

Wingtip


-from Los Angeles, CA


-How does one make the weird fork-in-the-road choices that steer an impromptu career? How do you go from a youthful, happy-accident starting point which happens to become a viral dance pop smash, to a debut singer-songwriter album that succeeds in transcending the genre spectrum, unlocks a few emotional truths and redefines your artistic outlook? And in the midst of such disparate points on the map, how do you navigate both music's professional corporate pop lane AND serve the song, tapping into your own personality, over and over again?

Nick Perloff-Giles, often known by his artist moniker Wingtip but increasingly by his birth name as a successful songwriter for hire, has lived numerous musical lives. It comes almost as a surprise that, following a slew of singles and an EP which were mile-markers on his twisting climb, All Your Friends Are Here is Wingtip's debut full-length album. Less so that it is a pearl in today's convenience store of musical shells, a distinctive statement of the artist's evolving personality that also shows off the pop craftsmanship required to master the system.

And if anybody should be able to pull this off, it's Perloff-Giles, who has already seen both sides of the equation: "In some ways, the last couple years have been the process of unlearning everything I learned. It's very liberating, and I realize that the stuff that moves me and that I really want to emulate, is both personal and a little bit more unstructured."

You can hear those balances throughout All Your Friends Are Here. They're on playful earworms like the booty call-questioning "When You're Lonely," with its Kanye's Graduation-meets-country soul exuberance, and on "Strangers," a new wave power-pop gem that Fountains of Wayne would be proud to call their own, as wistful as it is optimistic. Yet, these undefined spaces are also on the more acoustic songs, that seem like they're pulled out of Perloff-Giles' diary. Such as "Try," with its attempts to make sense of how to grow older and wiser while still embodying the spirit of youth, and "Frayed Tape," a piano-led autobiographical vignette about "feeling feeble in the prime of your life" that still ends in a smile. Just when you think Wingtip's melancholy might be overpowering his defiant positivity, the sun's rays become more hopeful and less corrosive.

This did all begin with a hit that Perloff-Giles has been inching away from for the past few years. 2016's "Rewind" — a "throwaway idea instrumentally" — bore evidence that he was a wiz at melody and musical narrative and became a viral hit (38M Spotify streams and counting). Yet a funny thing happened on the way to Wingtip's crowd-composed Dance Pop smash: Perloff-Giles was bitten by a bug that had nothing to do with upping the chart kings of the moment.

Nick's ears opened wider, taking on everything from the "autobiographical, intense music… effective and striking and memorable" by then-new wave of folk-oriented guitar-slinging women like Julien Baker, Phoebe Bridgers and Lucy Daucus to pop-country hits like Keith Urban's "Blue Ain't Your Color" ("one of those perfect pop country songs, where the mask hides itself — it feels transparent, but obviously the verse sets up the concept and pre-modifies it and the chorus completely explains it"). And as he recognized the craftsmanship of one, and the ability to engage in personal storytelling of the other, he saw his own process evolve.

"I started trying to just have a lot more fun with it and trying to push the songwriting in different directions. I also started singing, recording my voice, and got really excited by the possibility." Perloff-Giles began to take singing lessons, and reassessed just what sort of path he was on.

Bookended by the contemplative piano-voice ballad, "Song For Julia," and the acoustic-guitar/ kick-drum propelled "Pavement," the Wingtip music Perloff-Giles delivered to Republic in 2018, a five-song EP called Ghosts of Youth, still hinted at his earlier work. But those two tracks, and the wonderful stripped version of the 2019 single "Happiness" also made clear that for Perloff-Giles that moment had passed. Which is when Wingtip's relationship with Republic ended, and the journey towards All Your Friends Are Here, which will be released on LA's Independently Popular label, began in earnest.

The wonderful thing about Perloff-Giles' love affair with songwriting is that it did not suddenly transform him into some cliche'd confessional balladeer. First, there were the professional considerations. His time in music-biz songwriting rooms, his way with a melody and his electronic production acumen all opened doors, and he's continued contributing songs to the likes of Adam Lambert and Lauv, even receiving a writing credit for Celine Dion's "Imperfections." But it is the way that his increased comfort and focus as a writer has broadened Wingtip's musical focus and opened the emotional gates of what it is that Nick Perloff-Giles's songs might contribute to the world, that's stuck

"I think, for a while, the line between writing for other people and writing for myself was sort of blurry. And I think I fell into that trap a little bit. But singing and doing [Wingtip] helped distinguish it, made it kind of freeing, because I do still enjoy going back and doing a kind of more traditional pop songwriting thing. It scratches that more scientific itch."

All Your Friends Are Here required a different, more personal science. One with a broader set of personal parameters for the process, without clear-cut formulas, tropes or heroic/villainous characters, just filled with stories about people trying to figure out where they stand and trying to improve.

"I wrote almost all of the album in the span of like 10 weeks, and the whole guiding principle was to try not to self-edit or censor myself, as far as the genre and style. So it was whatever I was feeling excited by whatever stuff motivated me and I'd always wanted to write.

"A lot of the songwriting that I really like expresses a kind of ambiguity and ambivalence. A lot of the best art that I really like traffics in that kind of stuff, where faults and a narrative are hard to find. Like, 'maybe it was my fault, maybe it was yours, but this thing happened.' And I think there's an optimism to that: you can get better, and you can look back on things and realize where you screwed up or where the other person screwed up. And that songs can be vehicles for closure, instead of opening or reasserting old wounds."

If the lyrical narratives behind All Your Friends were left open to interpretations, the musical directions were equally undefined. Writing and producing mostly by himself, Perloff-Giles gave free rein to his post-genre rambling. It is something that he sees as a returning trend. "I feel like we're in this moment where genre expectations are out the window. Growing up in an era where I was just downloading as much as I could and listening to whatever, but didn't have context for anything — I've kind of missed that freedom for a while. But now you can make whatever you want in your bedroom essentially. And the result is that, yeah, there's a little DFA-sounding stuff, there's a little straight-forward pop, a little folk. The majority of songs ended up making sense only in retrospect. You don't know it at the time and then you look back and you're like, 'Oh, that's what I was trying to do,' fuse a lot of this country and the folk that I really love, or incorporate some of this. "What I tried to do with the record, in a sense, is free as much as possible myself, for the constraints of Wingtip as a product or an idea."

All Your Friends Are Here is the musical statement that Nick Perloff-Giles has longed to make and is ready for the world to hear what's next for Wingtip.






Harbour


-from Cincinnati, OH


-Since their formation in 2014, HARBOUR has gone from packing rooms in their native Cincinnati to selling out venues across the United States. With two tours already under their belt in 2022, and more cross-country shows on the way, the band has no plans of slowing down anytime soon. Members Ryan Green (vocals/guitar), Jarett Lewis (guitar), Ryan Sulken (drums), Walker Atkinson (bass), and Devon Turner (guitar) have curated an infectious indie pop/rock sound that transfers seamlessly into their live shows.
During their tenure as a group, HARBOUR has delivered an EP, three full length albums, and 6 singles - the latest being "Bahamas", the first work off of their upcoming album, poised for release in early 2023. The accompanying music video perfectly embodies the playful energy the band brings to all their performances - each of which begin with an enthusiastic shout to the crowd: "Let's have some fun!"






Lisa Heller


-from Los Angeles, CA


-Raw, authentic, and honest are just a few of the terms that describe the pop/alternative music of Lisa Heller. Lisa found her voice at the age of 13 when music became the creative outlet for her anxiety. As her local following grew, Lisa saw that her music not only helped her, but that its message could help others. With the support of local radio, newspapers, and national songwriting competitions, Lisa knew that music was her way to affect the world. Through the release of her music, including her latest EP, "is anyone listening?" Lisa has gathered millions of views and streams, been placed on official Spotify and Apple Music playlists, and caught the attention of outlets like American Songwriter and Huffington Post. She has played with American Authors, Jesse McCartney, and her first US Tour will see her playing venues across the country and with artists such as Bryce Vine and Bea Miller. Lisa is gaining one fan at a time, one lyric at a time with no sign of slowing down.