Tuesday December 20 2022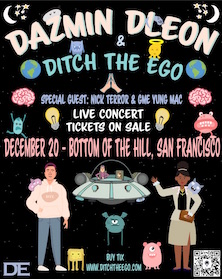 8:00PM

doors -- music at 8:30PM


••• 21 AND OVER




$

12

in advance

/ $15

at the door


Dazmin D'Leon
with special guest

Nick Terror


dleondazmin.wixsite.com/website


hip hop & rap


Ditch The Ego


www.ditchtheego.com/


.

hip hop & rap


G.M.E. Yung Mac
www.instagram.com/g.m.e_yungmac/


hip-hop/rap




---

Dazmin D'Leon


-from California


-Combining energetic performance with raw talent, Dazmin D'Leon is an influential Musician. Since embarking on her career since the age of four, Dazmin has entranced her fans with her signature sound. It's no exaggeration to say that Dazmin D'Leon has broken boundaries with her unique sound. Whether you've seen her live or you've heard one of her recordings, you'll see why Dazmin D'Leon is known for her technical capabilities and musical versatility.

Dazmin D'Leon says she has been influenced by her mother, culture and the sounds of Richard Smallwood, Twinkie Clark, and many more. In fact, her rapid rise as a well-known Musician couldn't have happened without these powerful influences.

Her signature style has made her musical instantly recognizable, and extremely popular. Her greatest desire is to create music that speaks to as wide a selection of fans as possible.





Ditch The Ego


-from Portland, OR


-I'm DTE… Ditch The Ego. I'm a singer, songwriter, rapper, producer, engineer, entrepreneur, and a boss creative
I'm from Los Angeles, I've been making music since I was 6, and I'm creatively inspired by Drake, The Weeknd, Russ, & Logic
I was stuck in a Life long loop of a mentally ill reality
October, 2020 I experienced a Spiritual Awakening as a result of Psychedelic Medicine and The Universe saved my Soul
I watched the positive and negative energies of myself identify themselves and I experienced my Ego Death…
I Ditch My Ego
Life is hard because it has meaning and if it didn't have meaning it wouldn't be hard
I love myself, I will work hard, and I'm blessed to have my life to live
I'm here for you, my music is here for you, and Mental Health will not win our Psychological Warfare's
Live one day at a time and live in the here and now. Stop running from yourself and instead run with yourself in the marathon of Life
Stay Strong
Great Things Always Come






G.M.E. Yung Mac


-from Stockton, CA




-Anthony Carr, now known as "G.M.E Yung Mac" born in the city of Oakland CA, Driven by the power of music, started writing at the age seventeen and recording at twenty in hasn't looked back, A young Hip-hop Artist trying to make people relate & feel good with the passion for music and hopes to travel in put a smile on the world's faces.