Saturday January 21 2023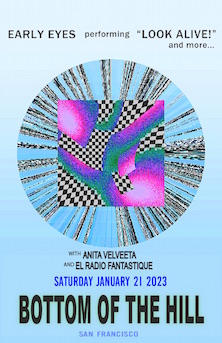 8:30PM

doors -- music at 9:00PM


••• ALL AGES




$

18

in advance

/ $23

at the door


Early Eyes


earlyeyes.band/


basement jazz pop


Anita Velveeta


anitavelveeta.bandcamp.com/


hyperpop queercore


El Radio Fantastique
www.elradiofantastique.com/


retro rock chamber pop




---

Early Eyes


-from Minneapolis, MN


-It's a foreboding time to make pop music. But like a sunbeam peering through a haze of wildfire smoke, Early Eyes have somehow persevered through dashed dreams, fractured relationships, historic social justice uprisings in their own hometown, and a society tearing apart at the seams to make an album that is both responsive to the chaos and wearily optimistic.

"It almost feels like Look Alive! is a direct response to the pandemic," bandleader Jake Berglove reflects. "It was like, oh, my goodness, all of our capitalist anxieties just came true! We took all of that anxiety and angry energy and put it into making a really fucked up album."

"The album was not just an expression of all of our frustrations, but also an escape from it," adds guitarist Joe Villano. "And I feel like the process of making it really carried us through the year."

Look Alive! vibrates with angst, punctuated by computerized glitches and disintegrating threads of abandoned melodies that echo in the distance before roaring back to life. A track like "Chemicals" will begin with Early Eyes' signature buoyant and catchy pop-rock, but as the song progresses it grows more ominous before shattering apart in an earthquake of rattling, subterranean bass.





Anita Velveeta


-from Minneapolis, MN


-Not long ago, Anita Velveeta was best known as the guitarist and lead vocalist of Alien Book Club, a 7-piece rock band from the Twin Cities. ABC's music is a blend of psych/classic/punk rock, with a little King Crimson-Esque jazz in the mix for good measure. Most of the tracks on their debut, Desecration of the Whispering Salamander, can be described this way, each providing a genre-bending twist. Her solo music, however, does its best to defy genre wherever possible. Initially, Velveeta described her project as hyperpop, but she admits during our interview that this was just the simplest way to describe her early work. "If a trans woman puts a vocoder on her voice it's gonna be hyperpop regardless of what the music is." Her first release, What Do Dogs See When They Have A Flashback, could be described as such, but it's not so easy. Many of the first beats on the album were created for game jams, 1-3 day challenges to create video games from scratch. With a huge collection to draw from, these beats became a conduit for her lyricism.

Even within the album, it is difficult to pin down a single vibe. In order, it plays like a stream of consciousness, exploring ideas as they pop in and out of Velveeta's head. The two lead singles off the album could hardly be more polar opposite in instrumental and vocal style. The first, Jet Set Radio Futureless, features fast-paced, sometimes rapped vocals, synths, loud guitars, and an inescapably catchy vibe. The next, My Dog is Fucking Dying and I Know It, trades fast tempo and distortion for acoustic guitar, a classic drum kit, and a slower, folkier feel. The lyrics remain grounded throughout. In the song, she asks "How do you know when it's time to kill something?" The question comes off as genuine and not rhetorical. All of Anita's music can be described as genuine. It feels like true creative output, unburdened by its own appeal.





El Radio Fantastique


-from Point Reyes Station, CA


-El Radio Fantastique is the band that would be playing at Salvadore Dali's birthday party. They are the band that defies all labels and description, that floats effortlessly across genres while always conveying a sense of cinematic drama, reckless abandon, and broken beauty. Through lush arrangements, driving rhythms and pop hooks, the dynamic swell of emotion that emanates from this group is undeniably deep. If Anton LaVey, Frank Sinatra and David Bowie dropped acid in New Orleans and had an orgy with The Beatles, their unholy offspring would be El Radio Fantastique.

​The band hails from Point Reyes Station, CA and is led by its founder, Giovanni Di Morente. Channeling disparate past experiences as a grave digger, dumpster diver, and pop star (of the 80s band Times Two), DiMorente fancies the broken and the crooked, and he celebrates them with sublime melody and passion. Di Morente and the other members of El Radio Fantastique have bonds that go back to childhood. This deep connection manifests itself in their sound and in the familiar spell they cast onstage.