Friday February 3 2023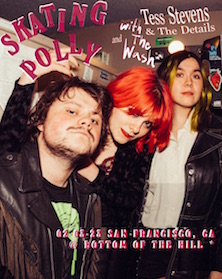 8:30PM

doors -- music at 9:00PM


••• ALL AGES




$

13

in advance

/ $15

at the door


Skating Polly


www.skatingpolly.com/


Alternative/Indie punk


Tess Stevens & The Details


www.tessstevens.com/


alternative pop punk


The Wash
www.instagram.com/thevvash/


rock and roll




---

Skating Polly


-from Norman, OK


-There's a difficult to describe, yet timeless quality to certain songs that transcends genre or era. It's something that you can't fake or contrive and it's what lies at the core of Skating Polly's music. The multi-instrumentalist duo of Kelli Mayo and Peyton Bighorse started their band in Oklahoma in 2009. They recorded their debut album Taking Over The World in 2010 and achieved instant acclaim from underground music icons like X's Exene Cervenka (who produced 2013's Lost Wonderfuls) and Beat Happening's Calvin Johnson (who produced 2014's Fuzz Steliacoom.) After the release of 2016's The Big Fit, Veruca Salt's co-frontwomen Louise Post and Nina Gordon reached out and said they wanted to write with the band. What started as a writing session ultimately became 2017's New Trick EP. Armed with a third member—Kelli's brother Kurtis Mayo—the trio released their album, The Make It All Show in 2018 and two singles, Play House and Flyer, in 2019. Between a heavy touring schedule, the band is working on what will be their sixth full-length record.

Having toured with Deerhoof, X, Kate Nash, Charly Bliss, and Babes in Toyland, Skating Polly's fanbase consists of an eclectic group from 2-year-olds ready to dance with the band all night, to strong young femmes searching for a tight-knit community, all the way to old school punks who don't usually connect with new music. "The thing that we identify with in a lot of those bands is how they can be really wild and loud while also being super melodic," Kelli explains, adding that the new dynamic in the band helped them be more expansive when it came to their sound and arrangements. "Everything happened very smoothly when Kurtis became part of the band. It just felt natural having him there and writing with him." In typical Skating Polly fashion, the trio will still be switching instruments live, something that's become a hallmark of their performances.

Skating Polly really need to be seen in a club to fully grasp what makes them so special. "It can get pretty chaotic when we're playing. People have said it feels like it could fall apart at any moment but in a good way," Bighorse says with a laugh. "We try to make our music honest and engaging and I think that's what drew us to people like Nina and Louise or Exene; you can probably guess a lot of the acts that we love, but we're able to keep making music that always sounds like us," Mayo explains. "We really try to make the songs the focus instead of trying to flaunt technical musical abilities," adds Bighorse – and that honesty and optimism is why everyone from legendary musical figures as well as hardcore fans have gravitated toward Skating Polly's music.






Tess Stevens & The Details


-from East Bay, CA


-Tess Stevens is a rock musician, singer, songwriter, and guitarist based in California's East Bay Area. Her debut solo E.P. "Patient 139" was released independently in 2020 and gained noticeable popularity. Characterized by its punk rock sound laden with soaring pop vocals and bright melodies with dark words, Tess' music captures the heartbreaking honesty of dealing with self destruction and coming out the other side. She's looking forward to releasing her new record in 2023 and playing with her live band The Details. You can find Tess on all social media platforms including Tik Tok, where she has over 425,000 followers. Visit https://tessstevens.com for more on her upcoming music, her message, and upcoming shows.






The Wash


-from Los Angeles, CA


-The Wash are a 3-piece from the LA indie/punk scene. Formed with a mutual appreciation for quality songwriting, the band contrasts a lo-fi DIY approach with sonic variety and pop sensibility as they journey into uncharted (and louder) territory in 2023.