Saturday February 4 2023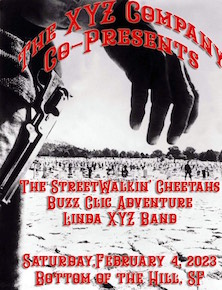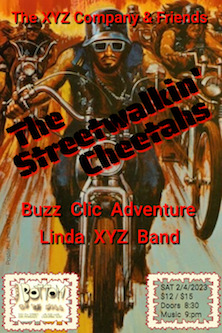 8:30PM

doors -- music at 9:00PM


••• 21 AND OVER




$

12

in advance

/ $15

at the door


The Streetwalkin' Cheetahs


www.facebook.com/TheStreetwalkinCheetahs/


garage glam rock


Buzz Clic Adventure


www.facebook.com/Bzzzzclc/


hard rock


Linda XYZ Band
www.facebook.com/lindaxyzband


punk rock




---

The Streetwalkin' Cheetahs


-from Los Angeles, CA


-The Streetwalkin' Cheetahs formed in LA in 1995, swiping their name from the Iggy and the Stooges classic "Search & Destroy." Still powered by founding members Frank Meyer, Dino Everett, and Mike Sessa, plus new blood Bruce Duff and Geoff Yeaton, they have been performing nonstop since reuniting in '14 & issued their first album in 20 years "One More Drink" on Dead Beat Records in March 2021.

Los Angeles' the Streetwalkin' Cheetahs spew a raw, undistilled slab of sweet 'n nasty sonic tonic on their 7th studio album 'One More Drink'. The Cheetahs reignite the raw Detroit sounds of the the Stooges and fellow down under countrymen Radio Birdman blasting through 11 red-hot tracks of over-amplified nihilism showing even further dexterity in the world of thick riffs and song writing versatility. 'One More Drink' sounds like the good kind of mid 70's pre-punk Riff 'n Roll record hopped-up on a heavy dose of classic 80's, white lightnin' radio Rock. They mix an absolutely perfect Rock 'n Roll cocktail here incorporating elements of Hard Rockin' riff destroyers like AC/DC, The Stooges, Kiss, Rose Tattoo and Cheap Trick capped with an explosively, punchy Power Pop veneer. An absolute blitzkrieg of fiery, full-throttle Action Rock gushing across nearly a dozen high voltage corkers that you'd come to expect from a bunch of well seasoned veterans who's rich musical history includes collaborations with James Williamson (the Stooges), Eddie Spaghetti (Supersuckers), Sylvain Sylvain (New York Dolls) and Cherrie Currie (the Runaways). An absolute scorcher from start to finish right down to the amped-up guest appearances by Rikk Agnew of the Adolescents and Dramarama lead singer John Easdale all captured live to tape by the one and only Paul Roessler of the Screamers / 45 Grave. A monumental affair from the city of Angels right down to the snazzy looking Streetwalkin' Cheetahs pull-out insert.

Their latest release "All The Covers And More" takes on some classics and deep cuts and is like a walk-through wonderland is respectful and right on the money.





Buzz Clic Adventure


-from Woodland Hills, CA


-Buzz Clic Adventure, whose namesake is a Hudson native who was also part of the Akron Sound days as a member of the Rubber City Rebels and one of the caretakers at the legendary Crypt nightclub in East Akron.

These days, Clic is happy living in Southern California, writing music and performing with his three-piece Buzz Clic Adventure, which includes Dan Nastro on drums and Ryan Saul on bass/vocals. The Buzz Clic Adventure released "Return from Nowhere" in 2015." Clic's solo material leans to American hard rock rather than the punk style of the Rebels, but those familiar with the Akron Sound will recognize those distinctive roots."





Linda XYZ Band


-from San Francisco, CA




-LINDA XYZ BAND plays PUNK ROCK.