Saturday February 4 2023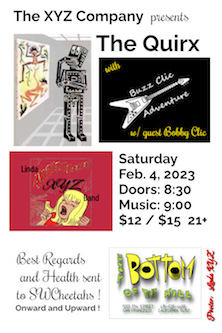 8:30PM

doors -- music at 9:00PM


••• 21 AND OVER




$

12

in advance

/ $15

at the door
The Quirx

---------The Streetwalkin' Cheetahs off the bill


www..facebook.com/thequirx/


Indie alt rock


Buzz Clic Adventure


www.facebook.com/Bzzzzclc/


hard rock


Linda XYZ Band
www.facebook.com/lindaxyzband
punk rock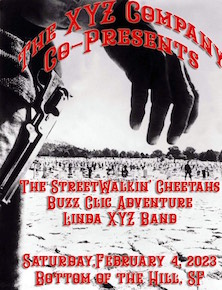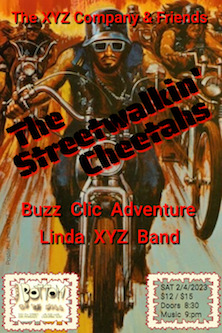 ---



The Quirx


-from San Jose, CA


-Indie alt rock band from San Jose, California. Greg Oropeza, Mike Belardes, Joey Myers, Ron Isa and Alex Colias.





Buzz Clic Adventure


-from Woodland Hills, CA


-Buzz Clic Adventure, whose namesake is a Hudson native who was also part of the Akron Sound days as a member of the Rubber City Rebels and one of the caretakers at the legendary Crypt nightclub in East Akron.

These days, Clic is happy living in Southern California, writing music and performing with his three-piece Buzz Clic Adventure, which includes Dan Nastro on drums and Ryan Saul on bass/vocals. The Buzz Clic Adventure released "Return from Nowhere" in 2015." Clic's solo material leans to American hard rock rather than the punk style of the Rebels, but those familiar with the Akron Sound will recognize those distinctive roots."





Linda XYZ Band


-from San Francisco, CA


-Linda XYZ started writing songs in 1977 for my first band, ⒶlieNation (1978- November, 1981). We played all the usual SF area punk joints (Mabuhay Gardens, The Stone, Sound of Music, Berkeley Square) etc.
ⒶlieNation made a self-titled 45 before their May-June 1981 tour to NYC and played Max's, CBGB's (both places twice on this first & last tour!), Irving Plaza/Club 57 supporting Alan Vega (ex-Suicide with Martin Rev), Maxwell's in Hoboken, and the EastSide Club in Phillie.

Linda XYZ Band hearkens back to the early days of punk with tunes that will make you write reviews like this; "Born during Truman (era). Combining the personal with the political, her songs soar and connect. Listen to the lyrics. Good art. Good punk."
(Peter Montgomery, Sept. 5 2022 on the occasion of her 73rd birthday party event.)

Co-vocalist Andy Henning (guitar), Heather "Dammit" Dunham (bass) and drummer Lliam Hart are the power-trio she's deserved since 1977!

Linda XYZ Band: We Play Punk!