Monday February 20 2023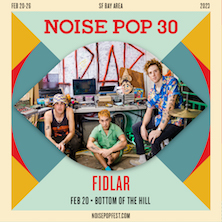 8:00PM

doors -- music at 9:00PM


••• 21 AND OVER




$

40




Noise Pop 30

presents:


FIDLAR


fidlar.komi.io/


alternative garage punk


Liily


www.liilytheband.com/


Alternative/Indie





---

FIDLAR


-from Los Angeles, CA


-Sure, life's a risk. But FIDLAR have proven that risks are worth taking. Starting out as a group of drunken punks playing gnarly house shows around Los Angeles, their fanbase exploded and congealed into "FIDIOTS." Fan's who show their dedication to both the band and their mantra of "fuck it" by etching "FIDLAR" onto their bodies by way of homemade stick-and-poke prison style tattoos.

With songs like "Cheap Beer" and "Wake Bake Skate," the light speed rocket that was 2012's eponymous album blasted them into the stratosphere where they had the room to expand the idea of the band. Being thrust into the loneliness of space, they were confronted by the void and slog of touring. They responded to that introspection with 2015's "TOO," where songs like "40oz On Repeat" "Why Generation" and "Sober" grapple with how to age gracefully as hard partying punks headed towards their 30s.

"Too" pushed the band further to the edges of their comfort zone where these four SoCal weirdos found themselves playing gigantic festivals like Coachella, Lollapalooza, Reading and Leeds. Propelling them to refine and expand their sound with 2019's "ALMOST FREE" where you can start to hear more than just their "punk and indie" influences. The Beastie Boys tinged "Get off My Rock." The asphalt-groovy take on L.A. hipster culture "Can't You See." And the alterna-pop, radio friendly, heartbreak duet of "Called You Twice" featuring grammy nominated artist K. Flay.

But that was in "the before times..." During the pandemic, unable to tour as a band, the guys all separately dove into their own pet projects and they all experimented with different styles of music (sometimes with the aid of psychedelics). Unintentionally, this caused them to shake off the impulse to layer "bells and whistles" (not literally, but kinda) to their songs. Like they had been doing progressively over the years. Now, after duck-diving the choppy waves that is the modern music industry, FIDLAR are ready for the next gnarly set.

Armed with 3 Chords, the truth, and some jazz cabbage, FIDLAR has a new found appreciation of not only where they came from, but where they are now. And when asked what the new sound is, the response is simply "FUCKBOI ANTHEMS."

Well then... fuck it, dawg. Let's get weird.






Liily


-from Los Angeles, CA


-Liily are four Los Angeles musicians- Dylan Nash, Sam De La Torre, Charlie Anastasis & Maxx Morando - who, up until now, were mostly known for their manic and cacophonous live shows. Summed up as an "Angeleno quintet…pushing the rock genre forward and into a new era of raw tension and passionate fire…" (Atwood Magazine) the band quickly gained early momentum. Those performances, alongside a couple of early singles packaged together into an 2019 EP entitled I Can Fool Anybody In This Town, drove the young band to some surprising early successes: performing at Lollapalooza and Bonnaroo, touring across Europe and the United States, listed as a VEVO Artist to Watch, and then finding themselves on the cover of major rock playlists. Almost two years later, the band returns with new music and a new energy. Lead singer, Dylan Nash talks about the 'new era' as "I think thematically it's very different, I think the intensity of it is very different. I think we had the same intention though which is to try to maintain a sense of forward momentum - that's what it still has in common."
Liily looks to harness their valley upbringing and jump from moment to moment and genre to genre, creating an experimental and original set of songs, all more strange and abrasive but also far more three dimensional than anything the band has done before. It still contains the unbridled energy of those early shows and singles but feels stripped of anything passive or unintentional.