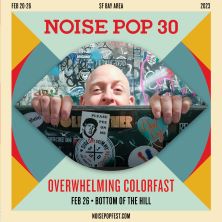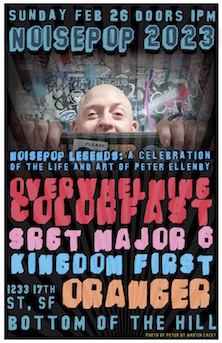 Sunday February 26 2023




1:30PM

doors -- music at 2:30PM


••• ALL AGES




$

20

in advance

/ $25

at the door


Noise Pop Legends:
A Celebration of the Life and Art of Peter Ellenby
Overwhelming Colorfast


www.facebook.com/people/Overwhelming-Colorfast/100054878872591/


pop-punk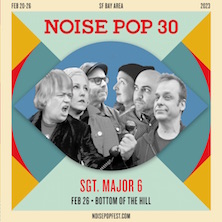 Sgt. Major 6


www


.....



Kingdom First
kingdomfirst.bandcamp.com/track/teen-angel


hard rock



Oranger
oranger2000.bandcamp.com/


pop punk rock




---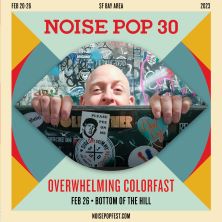 Overwhelming Colorfast


-from San Francisco, CA


-A piledriving pop-punk band from the San Francisco suburb of Antioch, CA, Overwhelming Colorfast was a vehicle for Bob Reed, who was the band's sole permanent member. Reed looked like D. Boon from the Minutemen and sang like Bob Mould in his Hüsker Dü days, but there was a Buzzcocks-like love for sweet pop mixed in with his punky guitar roar. After a deubt 7", "It's Tomorrow," on the tiny indie Sympathy for the Record Industry in 1991, Overwhelming Colorfast signed with Relativity Records and released '92s self-titled debut, produced by the hot record maker of the moment, Butch Vig (Nirvana, Sonic Youth, etc.). The years since have seen numerous lineup changes, a number of great records, and at least one breakup.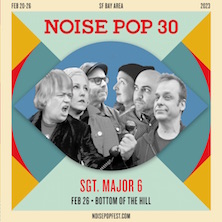 Sgt. Major 6


-from Seattle, WA


-Sgt. Major 6 is the 20th-anniversary lineup of Seattle's "Y2k" band made up of various Fastbacks, Young Fresh Fellows and others; who all just noticed it WAS an anniversary and needed to get back out there. Three different singers, individually and collectively, have been in front of this band, and all three of them will be present to stake out their original territory as well as throw musical wrenches into the combined works of the others. As well as album tracks, outside material shall be well-featured!

Vocalists Carmella, Leslie Beattie and Bill Coury, along with Kurt Bloch (gtr) Jim Sangster (bs) Mike Musburger (dr) and the sounds that made them famous!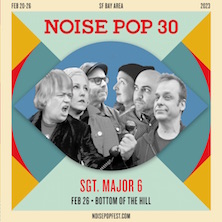 Kingdom First


-

from San Francisco, CA




-

Kingdom First was a San Francisco hard rock/punk band of the early 2000s that perfectly encapsulated that moment in music where we all found ourselves tired of the rehashed bluesy Seattle grunge sound but not sure why...yet. K1 came correct, after a year crafting the sound, with all the hooks and embellishments that come with greatness. This record was produced by the amazing Alex Newport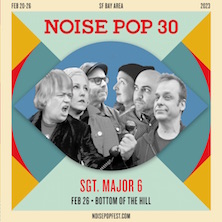 Oranger
-from San Francisco, CA


-Oranger is a San Francisco psych/rock band. Lots of people have been in the band, some without realizing it until it was too late. This latest incarnation is Mike, Jim and Matt doing lockdown recording for no reason. These are just tunes we like and wanted to play.