Tuesday March 7 2023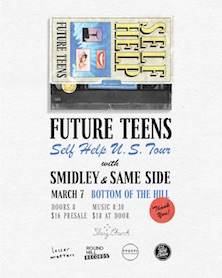 8:00PM

doors -- music at 8:30PM


••• ALL AGES




$

16

in advance

/ $18

at the door




Slang Church

presents:


Future Teens


www.futureteensofamerica.com


rock bummer pop


Smidley


www.smidleyband.com/


indie rock


Same Side
samesidemusic.com/


indie shoegaze




---

Future Teens


-from Boston, MA


-"If we stop touring, are we even a band?" considers Future Teens' co-vocalist Amy Hoffman. They're almost certainly joking, but Future Teens have built up so much of their reputation on their life-affirming live shows that there could be an element of truth to the statement.

Three-quarters of the Boston group – Amy, co-vocalist Daniel Radin, and bassist Maya Mortman – are on a Zoom call to discuss their excellent new album 'Self Help'. Yet it's also proving to be an opportunity to reflect on a successful debut UK tour and re-evaluate the group's relationship with their 'Deliberately Alive' EP – arguably the most intensely personal release by the quartet (completed by Colby Blauvelt) to date.

Given the nature of the pandemic, the UK trek – which included a crowd-winning set at Bristol's Booze Cruise – was a real road test for the songs from the EP. Getting to play songs like 'Guest Room', which ruminate heavily on mental health, mortality, and the meaning of life, also proved to be an eye-opening experience.

"It was really heartening to play those songs," says Amy. "So much of that EP came from a place of utter despair, but that's not the part of the songwriting process that rings true anymore. I came out of the other side of 'Guest Room' feeling extremely grateful. Now I can think about how the place that song came from was really painful, and that was where I was at the time – but actually, so much of what I thought about myself was bullshit. It's a very cool transition from the headspace I was in while working on that EP to now."

And while 'Guest Room' is a song that connects thanks to its open-hearted honesty, the quartet have repeated the trick multiple times on their new album' Self Help', crafting a record that digs into issues of sobriety, relationships, and mental health, often approaching such challenges in tactile, smart ways.

Most notably, this can be seen on the second single, 'BYOB'. A clever play on the notion of 'bring your own booze', instead it's a deconstruction of sobriety and mental health and the role alcohol can play in these discussions. It was written mid-pandemic with Amy just four days sober.

"I will never be thankful for the pandemic," they say. "But because of it, I completely changed my life. Sobriety would never have been a thing for me without it, at least not at this point in my life. Because of my sobriety, I got an important mental health diagnosis, and I could move forward knowing I had this awesome support group around addiction and sobriety and bipolar.

"I don't think we set out to write an album of mental health bangers. But somehow – despite Daniel having a completely different relationship with alcohol and mental health – we found that overlap. It was just another beautiful experience of trusting my friends."

This sense of camaraderie is fundamental to the success and appeal of Future Teens. It extends beyond the four people and out into the audience, thanks to the group's ability to foster an environment that is welcoming, inclusive and fun. "Wholesome" isn't in keeping with the dangerous image of rock'n'roll, but it also doesn't mean boring or bland.

A Future Teens set often starts with a huddle, with the band members throwing hands in the air, and frequently features daft games of hide-and-seek between Amy and Maya. Meanwhile, the crowd is encouraged to holler 'Boston sucks' in increasingly drawn-out and elongated ways during 'In Love or Whatever'. It makes for an enjoyable, fan-friendly experience.

"There are these rock'n'roll tropes, and we're happy to play with them in our music videos," continues Maya. "But I believe that the true spirit of rock'n'roll is in finding your inner child and just having fun and doing whatever we want in the nicest possible way."





Smidley


-from St. Louis, MO




-

Named after a dear, departed black lab,

Smidley, the solo project of Foxing vocalist Conor Murphy, has announced his first album since his 2017 self-titled debut. It's called Here Comes The Devil and it's due November 11 via Foxing's Grand Paradise label (pre-order). The first single is "Another Devil," which features fellow St. Louis artist Shinra Knives, and which is a little trippier and more out-there than the first Smidley album, but still unmistakably Conor's work.






Same Side


-from Los Angeles, CA


-Under the guise of Same Side, The Story So Far and Elder Brother's Kevin Geyer opens his personal musical journal to the world. With his penchant for uncovering buried feelings of melancholy and yearning, often weaving and conjuring in isolation in a stream of consciousness style flow, Geyer's Same Side alter-ego is the perfect repository for unflinchingly intimate minimalism with depth, vibrancy, and earnestness.

With a sense of an organic and therapeutic letting go permeating the EP, guitars ebb and flow with gentle focus; the drums are sparse, tasteful, and controlled. Same Side sounds like waking up from a dream.

The Same Side EP was recorded at The Panda Studios in Fremont, California, with longtime The Story So Far and Elder Brother producer Sam Pura, whose resumé also includes State Champs and Hundredth. Like the best of shoegaze leaning head-in-the-clouds alt-rock, Same Side is lush, meditative, and serene, even when contemplating the fallout from bad choices.