Tuesday March 14 2023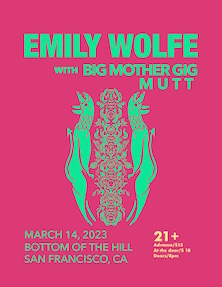 8:00PM

doors -- music at 8:30PM


••• ALL AGES




$

15

in advance

/ $18

at the door


Emily Wolfe
www.emilywolfemusic.com/


alternative rock pop


Big Mother Gig
bigmothergig.com/


indie rock power pop


Mutt
muttband.com/


garage rock grunge new wave post-punk




---

Emily Wolfe


-from Austin, TX


-Austin, TX's resident rocker, Emily Wolfe transcends the ranks of ordinary musicians. Her creative songwriting keeps her fans aglow thanks to her strong, powerful lead vocals and dominating guitar style. Wolfe has shared stages with the likes of Heart, The Pretenders, Peter Frampton, Billy Gibbons and Gary Clark Jr.

Emily Wolfe, a self-taught guitar player starting at the age of 5, has honed her craft over the past 22 years and continues to take her playing to the next level. After self-releasing her EP "Roulette" in 2014 followed by single "Atta Blues" in 2016, Emily used 2017 and 2018 to strategize and write new music. She released a debut self-titled, full-length album in February 2019. Her latest release "Outlier" was released in 2021.

Wolfe has been described as a sonic merging of PJ Harvey and Jack White and is guaranteed to not disappoint early fans who are already along for the ride to greatness. Featured by the Wall Street Journal, MTV, NPR, and American Songwriter, Emily Wolfe is definitely one to watch.

"Emily Wolfe is coming out of the gate strong." — MTV

"riffs for miles" — NPR






Big Mother Gig


-from Los Angeles, CA


-Los Angeles-based/Milwaukee-bred Big Mother Gig released Gusto on 4/30/21 featuring lead single "The Underdog" feat Leah Wellbaum (Slothrust). A celebration of sobriety, Gusto is first and foremost a recovery record. Addressing family, marriage, addiction, anger, serotonin, despair and, ultimately, hope, Gusto is a wide-ranging, emotional journey that focuses on second chances. Gusto was mixed by Dan Long (Local Natives, Spiral Stairs) and mastered by Howie Weinberg (Nirvana, Spoon, The White Stripes). The artwork was created by esteemed German painter, Andre Butzer.

Gusto has seen press support from Spin, Stereogum, American Songwriter, NPR, Brooklyn Vegan, Flood, Under The Radar, Glide Magazine and more. The album peaked at #12 on the Submodern Specialty Radio chart with spins from over 65 NPR, AAA and College radio stations including SiriusXM. Singles from Gusto received editorial support from Spotify, Apple and Amazon as well as NPR's New Music Friday playlist. The band signed with Madison House booking (Stone Foxes, String Cheese Incident, The Beths) and embarked on a Fall Tour supporting Black Joe Lewis & The Honeybears.

2018's No More Questions was released during a West Coast tour opening for Gin Blossoms. That LP featured Dicky Barrett (Mighty Mighty Bosstones) and Britta Phillips (Luna) and was praised by Brooklyn Vegan, NPR, Paste, The Big Takeover, Alternative Press, Under The Radar and more. Singles charted on the Submodern chart with support from SiriusXM, The Current/NPR and more. Since reforming in 2016, Big Mother Gig has performed with Gin Blossoms, Soccer Mommy, The Posies, Luna, Peelander-Z , Alvarez Kings, The Yawpers and more.

BMG'S Richard Jankovich is also known for Burnside Project (Bar/None, Sony) who's "Cue The Pulse To Begin" became the theme to "Queer As Folk" and Pocket, a persona Jankovich used to remix Radiohead, Beck and others to acclaim.






Mutt


-from Oakland, CA




-Mutt blends riot grrrl, grunge, post-punk, avant-garde, and garage rock to create a dynamic, in-your-face sound with unexpected twists and turns. Formed in 2015, the Oakland based trio consists of singer/guitarist May Black, drummer Chris Maneri, and bassist Juli Sherry. Mutt came together with a common goal of creating a sound that completely deconstructs minimalistic songwriting while pushing and straining the limits and confines of each member's individual creative abilities. The result is a sound that is urgent, demanding, and menacing, with an underlying beauty that often abruptly pushes its graces through canvas of chaos the band has carefully curated. Mutt's writing process is rapid and collaborative and the sound is a direct reflection of its moniker; a noise breed from a vast variety of influences.