Saturday March 25 2023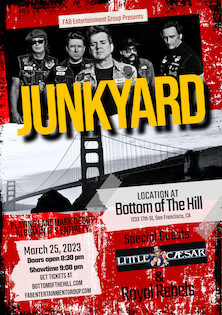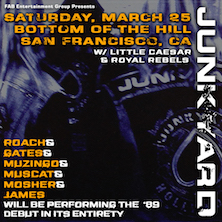 8:30PM

doors -- music at 9:00PM


••• 21 AND OVER




$

20

in advance

/ $25

at the door


Junkyard


R

eunion with original guitarist, playing entire debut album


junkyardblooze.com/


hard rock metal


Little Caesar


www.littlecaesar.net/


R&B hard rockin' roll


Royal Rebels
www.royalrebelsband.com/


Rock N Roll




---

Junkyard


-from Los Angeles, CA





People of San Francisco!

Join Junkyard for an event that will forge an unforgettable part of their storied rock and roll history. Original guitarist Chris Gates returns to the stage with Junkyard as they perform their self-titled debut album in its entirety.

Gates, Roach, Muzingo, Muscat, Mosher & James. Together playing the landmark first album. Be part of history and be there!


-Junkyard blares with a total lack of self-consciousness. Their songs about good time habits veering out of control put across a sullen, double-edged desperation accurately enough to give you the shakes, while the band's distorted guitars and churning, nearly arrhythmic punch never let up. You either hear it—or, if you're too precious or self-serious—you don't.

A gritty, streetwise rock band with a bluesy undercurrent, Junkyard's music is steeped in Hard & Southern Rock, but their roots are in punk, and most, if not all members got their start in punk & hardcore acts of the '80s.

Junkyard shared their passion for unpretentious riffage drawn from the influences of '70s hard rock with a swagger that made their good times seem more than just a little dangerous. At the same time, their blues influences were closer to the surface, and if the music was a far cry from punk, the raw edges of their early influences were there in case you were looking for them.

Their self-titled 1989 debut clearly reflected their label's desire to market the next big rock sensation, while 1991's "Sixes, Sevens & Nines" had a leaner, more cohesive sound that better represented the bands ambitions. Their 2017 comeback album, "High Water", the 2020 "Rome is Burning" and the 2021 "Lifer B/W Last of a Dying Breed," all are in the same stylistic territory as their original studio albums, but with a greater speed and snarkier attitude that boosted their punk rock influences in the mix.

Junkyard formed in Los Angeles, California in 1987. They formed with a bunch of like-minded acts who were tired of the L.A. hair metal scene and the pay-to-play gigs that had come to dominate many Hollywood venues. Playing smaller, more artist-friendly clubs like Raji's, White Trash a Go-Go, and Club Lingerie, Junkyard opted for a rougher sound and more dangerous image, suggesting a handful of bikers who somehow learned to play instruments. The original lineup included singer David Roach, drummer Patrick Muzingo, guitarist's Chris Gates & Brian Baker and bassist Clay Anthony.

With a solid lineup in place, Junkyard rolled into the studio with producer Tom Werman and knocked out their self-titled debut album, which Geffen issued in 1989. The band promoted the album with plenty of touring, and the tracks "Simple Man" and "Hollywood" were spun off as singles. The album's sales were modest (it only rose to 105 on the Top 200 albums chart), and a follow-up didn't arrive until 1991. Sixes, Sevens & Nines was issued by Geffen in May 1991, and was produced by Ed Stasium, with guest vocals from Steve Earle. During this period the rigors of frequent touring were taking a toll; not long before the album was set to drop, bassist Clay Anthony quit as he struggled with his demons, while Todd Muscat took over on bass.

After several months of touring, the group began work on their third album (material from the sessions would appear on bootlegs issued in 1998, 2019 Acetate Records gave it a proper release under the title "Old Habits Die Hard"). However, with the sudden success of Grunge bands changing priorities at Geffen, Junkyard were given their pink slips, and the group went on hiatus. From 1998 – 2003 the band did some spot touring overseas. In 2003 a six-song EP devoted to new recordings of old material as well as some fresh songs called "Tried and True" was released. In 2008 the group delivered another archival release, "Put It on Ten and Pull the Knobs Off!", which packaged the early demos that won Junkyard their contract with Geffen.

The band offered fans a taste of new music in 2015 with the release of a single, "Faded" b/w "The River" with the aforementioned "High Water" coming out in 2017 (the bands first studio LP since "Sixes, Sevens & Nines" as well as the addition of Jimmy James on guitar) and late last year's "Lifer B/W Last of a Dying Breed."'

"I don't think we dated ourselves too badly in the beginning so a lot of our songs still have some relevance," says Roach. "Also, we were in hibernation a while, we weren't playing while a lot of our contemporaries were. It's not so much longevity as it was people who missed us 30+ years ago finally have a chance to see us." Mosher, who was a fan of the group before joining JUNKYARD in 2000, sees all angles of the JUNKYARD saga…"Although it's been 22 years since I joined and Jimmy came in the band back in 2016, I'm still 'the new guy,' so with 'High Water', 'Lifer', etc., I wanted to give the fans something I would've wanted as a JUNKYARD fan — a proper third album," said Mosher. "It was important to all of us that the record be a statement of intent that could connect with fans from back in the day as well as hopefully find new ones for whom this might be their first 'YARD record. It's a tall order, but we're up for it."





Little Caesar


-from Los Angeles, CA


-Bluesy, sweaty, sleezy, R&B based hard rockin' roll!

Nobody quite knew what to think of these long haired, tattooed bikers singing such soulful, yet ballsy, rock music when they arrived on the scene in Los Angeles in 1987. They stood out amongst the "Hair Bands" that populated the music scene at the time.....a distinction the band wore as a badge of honor.
Much hype surrounded the band as they were managed by music legend Jimmy Iovine, guided by legendary A&R man John Kalodner and produced by Bob Rock. It seemed like a formula for success, yet the band met an unfortunate set of circumstances that left many scratching their heads shortly after the release of their self-titled debut album. Many were to speculate why the band never achieved the level of success that their legendary team of backers took as inevitable. Many were to speculate that it was due to the dichotomy between the band's gruff appearance and their sound. The truth was that the band fell prey to an unfortunate set of circumstances that occurred in the limited window that bands get to produce sales in, or get exiled in the music business. Three weeks into the bands initial release, Geffen Records was sold, their label Manager left the company, accountants took over, and their records where lost in transit to their new distributors. As sales dropped off due to the lack of product availability, the accountants shut the project down. And so, another band dies....there's always more where they came from in the rough and tumble world that is the music business.
Little Caesar first appeared on Metal Blade's "Street Survivors" compilation. The band then released a four song EP titled "Name Your Poison" (produced by Joe Hardy of ZZ Top fame), which subsequently led to a deal with Geffen Records. Little Caesar's eponymous 1990 Geffen debut was produced by the infamous Bob Rock (producer of Metallica's self-titled 1991 multi-platinum release, Motley Crue's "Dr. Feelgood", and The Cult's "Sonic Temple" among others). The album was a no-nonsense collection of hard rock in the vein of '70s giants like Bad Company and Humble Pie, and was also brimming with classic R&B influences, garnering widespread acceptance and positive reviews from the rock media. It also featured two Motown covers, including a ballsy rendition of the classic Aretha Franklin track, "Chain of Fools," which hit the Billboard Top 100 chart and received strong airplay nationwide on both rock radio and MTV. The group toured extensively opening for such legendary acts as Jane's Addiction, KISS, Social Distortion, Iggy Pop, Billy Idol, and Lynyrd Skynyrd. They also headlined their own club tours, and appeared on TV's popular "Arsenio Hall Show", "The Rick Dee's Show", and MTV's "Sex in the 90's". Vocalist Ron Young was also featured in the movie "Terminator 2" as a tough talking biker that gets into a fight with the film's star, Arnold Schwarzenegger. 1992 would bring the second full-length album, "Influence", which would have Earl Slick (of John Lennon, David Bowie, and Ian Hunter fame) replacing Apache on guitar. The "Influence" album was produced by the highly respected Howard Benson (who has recently produced releases for platinum artists like Daughtry, Papa Roach, and P.O.D. among others). The band completed its first tour of Europe after the release of the album and drew rave reviews and sold out crowds across multiple countries including a sold out headlining performance at the famous Marquee club in London.
As the band slowly recovered from the shock and lessons learned in the nasty world of the music business, they always remained close, as they are a family way before they are a band. They started to do local shows and remember why they loved music and each other. Since the reformation, the band has played high profile shows at venues as House of Blues, California Speedway for NASCAR, and the Rock The Bayou Festival in Houston TX as well as many others.





Royal Rebels


-from San Jose, CA


-The Royal Rebels hail from San Jose, CA. Comprised of various members of local and international bands, The Rebels came together to light a fire under the ass of Rock and Roll….
Andrew Izzo is a longtime bay area native. His previous band "Pushing the Sun" gained critical acclaim and released one album. Andrew's stage presence is dynamic and stalking while his voice demands attention. Bill Lonero was the founding member of the band LoNero and a member of the platinum selling band Steelheart. He has performed and/or recorded with Cliff Williams (AC/DC), Mike Mangini (Steve Vai/Extreme/Dream Theater), Stu Hamm (Joe Satriani/Steve Vai), Gigi Gonaway (Mariah Carey), Simon Kirke (Bad Company) and more. Stevie Loveless has performed on stages all over the world on both guitar and bass. His multi-talented skills have kept him busy both on and off the stage. From performing to producing to production, Loveless has all basses covered. Drummer Rick O'Connell was the last member to join The Royal Rebels but he was by no means the least. His pounding drum style keeps the Rebels moving forward with his tight double-bass and killer grooves.

The Royal Rebels have been busy working on new music with legendary drummer/producer, Simon Phillips at Prairie Sun Studios. Simon is best known for his years as the drummer for The Who and Toto but he has worked with artists such as Jeff Beck, Jimmy Page and many many more.