Tuesday April 4 2023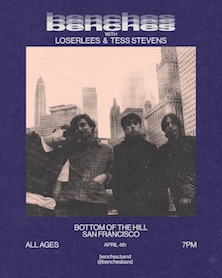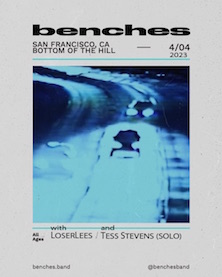 8:00PM

doors -- music at 8:30PM


••• ALL AGES




$

13

in advance

/ $15

at the door


Benches
benchesband.bandcamp.com/


indie rock


LoserLees
instagram.com/loserlees/


indie alternative


Tess Stevens


(solo)


tessstevens.com/


alternative pop punk




---

Benches


-Southern California, CA


-

benches

is a Southern California band consisting of Anson Kelley (vocals/guitar), Ethan Bowers (drums), Evan Ojeda (lead guitar), and Charlie Baird (bass). The band took on many forms in the past, but officially solidified its lineup as of January 2022.

Following the success of their 2020 single, "Monodrama", benches set out to work on a new and evolved sound with Grammy-nominated producer, Martin Cooke. With the release of "Violent" in June,

benches

have begun to put their own modern twist on the noisy guitar-driven nostalgia of the 2000's. The band has an obsession with defining the sound of bittersweet; a blend of happy and sad, wrapped up into infectiously catchy indie rock.

benches

is a band born of naivete, the excitement and worries that come with being young. Anson Kelley has a habit of writing lyrical themes rooted in the ignorance of youth. The band's most recent release, "LA Friends" lyrically explores thoughts and frustrations on the commonality of nepotism within the music industry, accompanied by electrifying guitar melodies and Killers-esque synth tracks imbued with benches own brand of faux-nostalgia.

The band have played with notable acts such as Foster The People, Dave Keuning (The Killers) and Louis XIV, and previously toured the US with Ultra Q, I Don't Know How But They Found Me and The Red Pears.





LoserLees


-from San Francisco, CA


-LoserLees is a Bay Area indie alternative band based in San Francisco, California. Lees is a Latnix LGBTQ+ artist from Merced, California. She first started writing, playing, and self producing all of her music in her bedroom order to help her cope with her surroundings and mental space. Lees's music is written from a very personal perspective about past experiences with people and moments in her life. Lees has been writing songs since she was 11 years old and started producing her latest Ep titled "Crying Eyes Ep Demos" the start of 2019 releasing it in 2021 along with earlier singles in 2020. During the summer of 2021, Lees decided to want to play live sets of her self produced music.

Since August of 2021, The lineup of LoserLees has consisted of:
Lees - Lead vocals / guitar
Johnny - Backup vocals / guitar & bass
Ben - Drums
Dilly - Guitar & bass




Tess Stevens
(solo)
-from San Francisco, CA
-Characterized by her buzzsaw rhythm guitar, soaring pop vocals, and massive hooks - Tess' music brings together unexpected elements to create a punk-laced sound all her own. After the independent release of "Patient 139," not only did she accept her demons, she learned to love them.

What started as four polished punk songs blossomed into an online community of nearly 500,000 followers across social media and kindred spirits who found the broken pieces of themselves in her music, and gained the strength to put themselves back together in the process.

With her debut LP slated for release in 2023, Tess formed "Tess Stevens and The Details" in San Francisco, California, and is playing shows all around the Bay Area. Her message of hope, despair, and triumph resonates with audiences from Tik Tok videos to energetic live shows. Her fearless expression of what it means to be your own worst enemy cuts like a razor through her lyrics while the band rumbles steadily beneath her - proving that no matter how deep you can fall, there will be something to catch you.