Friday April 21 2023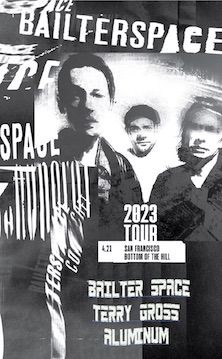 8:30PM

doors -- music at 9:00PM


••• 21 AND OVER




$

17

in advance

/ $20

at the door


Bailter Space
www.facebook.com/bailterspace/


noise rock shoegaze


Terry Gross
terrygrossband.bandcamp.com/


pre-post indie rock


Aluminum
www.instagram.com/aluminumsf/


alternative dream pop


Sasquatch Borracho


vinyl selections




---

Bailter Space


-from New York, NY


-The past two year have seen a creative burst from New Zealand / New York noisegaze merchants Bailterspace, with the release of a bracing new album "Concret", the celebrated 25th Anniversary reissue of their Matador and Flying Nun Records classic "Wammo", and a surprising reissue of The Gordons legendary self-titled LP paired with their "Future Shock" EP by 1972 Records. Following a teaser NYC show late last year, it seems only fitting that both coasts of America should be treated to the unforgettable live experience that is a Bailterspace concert.

It has been twenty years or longer since the band has played many of these cities, so these dates are not to be missed. BrooklynVegan does a nice job of preparing you for what lies ahead: "A mix of postpunk, noise, shoegaze and electronics, Bailterspace were pretty fearsome live... and really f-ing loud. Bring earplugs".

Led by former Gordons guitarist Alister Parker, noise rock unit Bailterspace emerged from Christchurch, New Zealand in 1987. Originally composed of former Clean and Great Unwashed drummer Hamish Kilgour, Pin Group alum Ross Humphries on bass, and Glenda Bills on drums, the group issued its debut EP "Nelsh". Humphries and Bills would depart soon after, resulting in the addition of former Gordons bassist John Halvorsen in time to record the 1988 full-length "Tanker". A tour followed, but when The Clean reformed, Kilgour joined them on a permanent basis; his replacement in Bailterspace was Brent McLachlan, also the drummer in The Gordons.

Despite the restoration of The Gordons' core roster, Bailterspace were clearly a distinct entity, their sound more dense and imposing than their previous incarnation. The trio returned in 1990 with "Thermos", mounting a tour of the Northern Hemisphere the following year. An EP, "The Aim", appeared in 1992, and in 1993 they released "Robot World" to further acclaim. Their prolific output continued with "Vortura" (1994) and "Wammo" (1995) before slowing as the members began living in both New York and New Zealand. They released "Capsul" in 1997 and "Solar.3" in 1999, before returning with a roar via "Strobosphere" in 2012 and "Trinine" in 2013. A brilliant new album "Concret" has confirmed that they are as vital as ever.





Terry Gross


-from San Francisco, CA


-Terry Gross is an engrossing trio composed of guitarist Phil Manley (Trans Am), bassist Donny Newenhouse, and drummer Phil Becker. The trio are also connected as owners and engineers at Bay Area recording spot El Studio, where they began improvising together as a way to test the boundaries and gear of the studio. Their loose, organic chemistry burgeoned into a deep camaraderie and a sound both expansive and exacting. The three experienced musicians crafted their first full-length album through the pure joy of playing together with no expectations. With the tapes rolling on their rehearsals, the band captures the exuberance of live performance and elevates those recordings through a deft use of the studio as their collective instrument. On their debut LP Soft Opening, Terry Gross channels their cosmic powers and considerable chops into a gleefully mesmerizing odyssey fit for an arena.

Soft Opening took shape over the course of 2016-2019, with Terry Gross writing and refining their songs. "Space Voyage Mission" and "Worm Gear" parallel one another as sinuous jams that pulse with adamantine fervor. Each mountainous epic churns spellbinding repetition and simplicity into dizzying gallops that take hairpin turns into sinewy riffing and elysian vocal melodies. Phil Manley's guitar takes on a constellation of tones across "Space Voyage Mission" with drifting delays soaring over the Newenhouse and Becker's driving rhythm section which all succumb to frothing overdrives that spin the song into entirely new pastures. The hypnotic throb of "Worm Gear" grows all the more enchanting as Newenhouse and Becker add subtle shifts to the single-chord barrage. "Specificity (Or What Have You)" contrasts these two in its more traditionally pop-oriented structure while retaining its predecessors wide-eyed energy and delves further into the album's lighthearted-yet-earnest take on sci-fi tropes from space and time travel to the singularity.

As Terry Gross, Phil Manley, Donny Newenhouse, and Phil Becker are sonic scientists traversing the borderlands of rock. Soft Opening captures the simple joy of a no-holds-barred trio in stunning detail, transporting the listener into the splendor and freedom of rock.





Aluminum


-from San Francisco, CA


-Aluminum are guitarist/vocalist Marc Leyda (Wild Moth), bassist/vocalist Ryann Gonsalves (Torrey), guitarist Austin Montanari (Nothing Natural), and new drummer Chris Natividad (Marbled Eye). Started in 2020 by Marc Leyda as a bedroom recording project, Aluminum has evolved into its current 4 piece iteration located in the San Francisco Bay Area.

Equally influenced by the 80's American underground and Creation Records, Aluminum manufactures a chaotic soundscape with pop melodies. Dual vocals interweave with walls of guitars and dayglo samples in an attempt to find bliss in disorder.





Sasquatch Borracho
Dave Pehling
-from San Francisco, CA


-Vinyl selections for your pleasure.