Thursday May 4 2023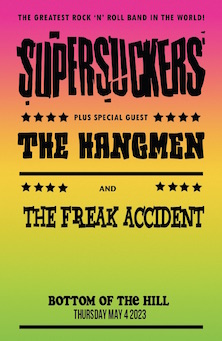 8:00PM

doors -- music at

8:30PM




•••

21 AND OVER




$

15

in advance

/ $18

at the door


The Supersuckers
supersuckers.com/


country rock / cowpunk


The Hangmen
the-hangmen.com/


Garage rock, Psychedelic rock


The Freak Accident
thefreakaccident.com/


psychedlic punk surf




---

The Supersuckers


-from Seattle, WA


-You've heard our name, you've seen our records, our t-shirts and our stickers. We're probably the favorite band of someone you know and yet maybe we're still a mystery to you. Well my friend, that's okay, you're at the right place to get to know the greatest rock-n-roll band in the world, The Supersuckers.

And the next time you see the 'Supersuckers' name, whether it's in the record store, online somewhere, or on the marquee at your local rock club, know that there's some quality, honest, ass-kicking, hard working individuals behind it all trying to make your life a little better through the "Evil Powers Of Rock-n-Roll" (and the occasional detour into the country music, of course) and we'd love nothing better than to have you there with us as! Just remember to wear clean underwear, because we're gonna rock your pants right off of you. ~ Eddie Spaghetti, Rock Guy, The Supersuckers





The Hangmen


-Los Angeles, CA


-A legendary Los Angeles underground rock outfit, the Hangmen emerged in the mid-'80s with a sound that blended punk rock brutality and hard rock swagger with rootsy Americana. Inspired by bands like X, Ramones, Tom Petty & the Heartbreakers, and Gun Club, and led by singer-guitarist Bryan Small, the Hangmen never reached the commercial heights of contemporaries like Supersuckers, Social Distorion, or Redd Kross, but they endured the hardships that result from a life committed to rock & roll (and its myriad excesses) through sheer tenacity, and carved out a career that would last well into the next century, issuing their seventh full-length effort, Cactusville, in 2019.

In the industry-ruled, fashion-conscious L.A. music scene (especially in the '80s and '90s), bands relegated to the rock & roll margins lived an oxymoronic existence. They were transient and yet immobilized; invisible in a world stuffed with cameras, microphones, and careerist contemporaries. Before a starry-eyed Midwesterner decided that it was worth the risk, packed up a guitar, and headed west, he or she would have done well to hear the cautionary tale of the Hangmen. Perhaps the major-label letdowns and the years of strung-out obscurity and oppressive poverty, were worth it for the Hangmen, but young rock hopefuls couldn't have been prepared to let the years spent toiling in obscure clubs -- performing in front of only a handful of friends at best -- be their own reward. The reality that exists underneath the palm-tree-and-sandy-beach fantasy of "making it" in the City of Angels is personified by this band, who spent over a decade defining the gritty Southern California rock underground.

It all began in 1984 when Missoula, Montana's Bryan Small left Boise State University and moved to L.A. in order to form his own rock band. Inspired by the musical stylings of X, the Stooges, and Gun Club, Small soon had a band together and a major buzz after the outfit began pounding the clubs with their nasty proto-blues/punk. Despite his group's wily rock leanings, Small found himself caught up in the hair metal feeding frenzy of the late '80s, and soon the Hangmen were signed to Capitol, a company like many others desperately attempting to unearth the next Guns N' Roses. The group's self-titled debut hit record store shelves in 1989 and Small was living his dream. Unfortunately, things quickly turned sour and would stay that way for a long time. The Hangmen, produced by the legendary Vic Maile (the Who's Live at Leeds, Motorhead's Ace of Spades), lacked the tough, street-fighting rock 'n' raunch of the band's live performances. Although it eventually became a bit of a collector's item, the watered-down recording couldn't sate their label's appetite for radio hits. Sales were flat and the group was quickly bounced from Capitol. Undaunted, guitarist/vocalist Small shook up his supporting cast and kept at it. This refusal to quit would eventually define the Hangmen. The group was again signed by a major in the early '90s, but was unable to release anything before being dropped a second time. A record was submitted to Geffebn, but the label home of Nirvana, Hole, and White Zombie couldn't appreciate the maniacal Stooges-meets-Stones rock revivalism. Except for some occasional underground tape trading among obsessive music fans, this sophomore effort wouldn't see the light of day.

That should have been the end of it, but Small refused to buckle. What followed was almost a decade of what felt like near-nonexistence for the Hangmen. Despite some serious hurdles, Small kept the group together and, after cleaning up a debilitating drug habit and stabilizing a strong band roster that included Angelique Congelton on bass, Todd Haney on drums, and guitarist Jimmy James, the Hangmen were once again turning heads in the L.A. underground. In 2000, 11 years after their debut hit the streets, the Hangmen made a hard rock splash with Metallic I.O.U. This time, the band put out a record that did justice to their frenetic live sound and rebellious reputation. Distributed through indie label Acetate, Metallic I.O.U. was a critical triumph that featured material from the phantom Geffen record ("Bliss," "Downtown") and plenty of new tunes as well. The seamless collection boasts material written over three decades, which speaks to the timeless quality of the Hangmen's revivalist, heavy blues/rockabilly. More performances followed, including a tour with (a band that approximates the Hangmen's sound more than any other). In 2001, Small and his cohorts recorded a live disc in Hollywood featuring old favorites, some new material, and a vocal performance by the Supersuckers' Eddie Spaghetti on "Coal Mine." This third release, We've Got Blood on the Toes of Our Boots, also appeared on Acetate the following year.

A split 7" with Supersuckers arrived in April 2004, with the hard-hitting full-length Loteria dropping later that Summer. The band enlisted Social Distortion frontman Mike Ness to helm their next LP, 2007's raw and in-your-face In the City, and in 2011 Acetate delivered the band's first-ever compilation, Lost Rocks: Best of the Hangmen. Released in 2012, East of Western saw the band celebrate 25 years together with a set that featured Supersuckers' guitarist Rontrose Heathman. In 2019, the Hangmen returned with their seventh studio long-player, Cactusville, which once again looked to the seediest corners of Los Angeles for inspiration. ~ Vincent Jeffries, Rovi




The Freak Accident


-from San Francisco, CA




-The Freak Accident is a Punk/Math/Garage/Pop/Surf/Rock collision led by Victims Family/Jello Biafra and the GSM guitarist-vocalist Ralph Spight. Their 3 LP's and 2 EP's are genre-hopping smart-ass punk and rock, equal parts comedy and tragedy. The new line-up of bassist Henry Austin Lannan and Stark Raving Brad on drums has begun work on a fourth LP tentatively entitled "Outer Space Is Boring and is booking shows all over the Western US now, email: hellwormsrock at gmail dot com and we'll rock your stinky little dive like a diarrhea laced hurricane.