Tuesday May 9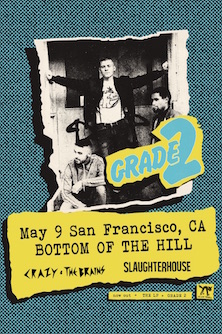 2023




7:30PM

doors -- music at 8:00PM


••• ALL AGES




$

16

in advance

/ $18

at the door


Grade 2
grade2official.co.uk/


oi! punk


Crazy & the Brains
crazyandthebrains.net/


indie punk rock


Slaughterhouse
sslaughterrhouse.bandcamp.com/


gothy punk rock




---

Grade 2


-from Isle of Wight, UK


-50 years after the genre turned the music world upside-down, Grade 2 bring the raw power of old school punk to a new generation. Their second release on Tim Armstrong's legendary Hellcat Records is a thumping 15 track tour de force melding the uncompromising ethos of punk with the howl of contemporary injustice, personal identity and frustrations of Gen-Z youth, authentically told by three lads with punk coursing through their veins.

Formed on their native Isle of Wight when they were just 14 years old, Jack Chatfield (guitar & vocals), Jacob Hull (drums) and Sid Ryan (bass & vocals) honed their craft covering punk pioneers before creating a sound uniquely theirs: ten years on, the eponymous 'Grade 2' is their magnus opus. From the complex rhythms and brutal two-note guitar of opening track 'Judgement Day', the record grabs by the scruff of the neck and never lets up. With a commitment to the cause, lead single 'Doing Time' is a thunderous hardcore punk track screaming "Spoon feed me corporate lies; I left that place with a noose to my neck." Intertwined are upbeat bangers ('Under the Streetlight', 'Celine'), classic pop-punk ('Don't Stand Alone', 'Fast Pace'), and savage old-school grit ('Parasite', 'Gaslight'). The result is a bone-crunching 35-minutes that agitates, intoxicates and liberates in equal measure.

"Like everyone else, 2020 left us proper fucked off," says frontman Sid Ryan. "Yet we were able to channel every ounce of that despair into every second of this record."

"Returning to Ship Rec Studio resparked that magic dynamic" says guitarist Jack Chatfield. "When we're in there I feel like we reach our full potential. Tim would offer tweaks and tips for some songs, while others he'd compliment as finished first time we played them."

"We worked flat-out recording this record," says drummer Jacob Hull, "but we never felt pressured, Tim keeping us in the zone to make the best tunes of our lives."

Famed for blistering live performances and exceptional musicianship, the band have consolidated the essence of their live show in 'Grade 2'. Tune in and turn up. Here's a record to rattle your bones, stir your heart and have you singing till you're hoarse like it's the first day of punk.





Crazy & the Brains


-from Jersey City, NJ


-Crazy & the Brains is an American punk band. The band was originally Chrisoph Jesus' solo project at The Sidewalk Cafe in New York, New York in 2013 (though most of the members are originally from Bayonne, New Jersey).

They have toured with Gogol Bordello,The Bouncing Souls, The Bridge City Sinners, Days N' Daze, Negative Approach, The Slackers, and Leftover Crack.

Vice has compared them to Rancid and The Ramones. Earlier press also made mention of their use of xylophone in songs, referring to them as "xylo-punks" and noting "There aren't a whole lot of punk bands that feature the xylophone."



Slaughterhouse


-from Los Angeles, CA




-No strangers to the darkness lurking on the edge of town, Los Angeles' Slaughterhouse takes a lean, muscular approach to the shadowy attitudes of post-punk, dismantling the style's baroque tendencies down to its angular skeletal framework. The band's straight-faced debut LP, Fun Factory, enacted an uncompromising scorched-earth policy with a tracklist fully loaded with incendiary guitars and whip-taut vocals propelled with impurity by machine-gun percussion as pitch-back basslines blotted out the sun like billowing clouds of acrid smoke.