Sunday May 21 2023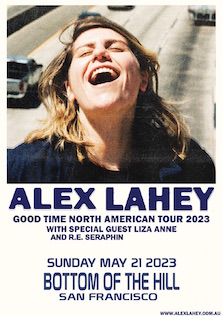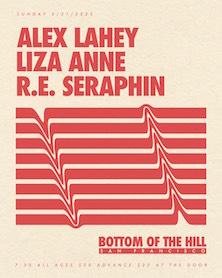 7:30PM

doors -- music at 8:00PM


••• ALL AGES




$

20

in advance

/ $22

at the door


Alex Lahey
alexlahey.com.au/


indie pop


Liza Anne
www.lizaannemusic.com/


indie rock singer-songwriter


R.E. Seraphin
reseraphin.com/


garage rock paisley pop




---

Alex Lahey


-from Melbourne, Australia


-"Living in a world that wasn't made for you makes you pretty strong and adaptive, and you find the fun in it," says Alex Lahey. "It also makes you realize how absurd everything is. With 'The Answer Is Always Yes,' I wanted to get weird because the world is weird, and it's even weirder when you realize you don't fit into it all the time."

It's no secret that the world wasn't built with most people in mind. For those who exist on the fringe, you learn to pave your own way, foster your own community, and create your own joy. As a queer person and a daughter of migrants, Lahey learned how to adapt to a world that wasn't made for her, and her third album, The Answer Is Always Yes, examines how she finds comfort in the discomfort, whether it's reveling in absurdity or turning towards exploration.

Lahey's debut album I Love You Like a Brother and its 2019 follow-up The Best of Luck Club take their focus from the lens of relationships, but with The Answer Is Always Yes, Lahey analyzes her otherness through different lenses, from its isolating effect to the surrealism and humor it instills.

"Congratulations" is about the strange experience of having two exes get married separately in a short time span, "The Sky Is Melting" revels in the chaos of consuming too many weed gummies, and the title track jokes about the immortality complex of hybrid drivers. Lahey also delves into intense experiences on tracks like "Permanent," which juxtaposes the accelerating gentrification of her native Melbourne with the regression she felt while living in her childhood home during the pandemic, or "They Wouldn't Let Me In," Lahey's first song mining the depths of her queer teenage years.

"All these kids around me were kissing and dating and having those formative experiences and talking about them with each other, and I felt so on the fringe because I didn't fit into that," Lahey says of the track. "When I was growing up, there was no exposure to queerness, or certainly queer joy, in media. When you can't see that, you don't really know what your life's gonna look like. And especially when you're a teenager, for me, I was like, 'Am I ever gonna get laid?'"

Just as Lahey learned to reimagine the world around her, the music of The Answer Is Always Yes is also the product of reimagination. After making a name for herself with heartfelt, witty, and energizing indie rock songs, Lahey felt she had accrued tried and true songwriting tricks. Instead of resting on her laurels, Lahey took a risk by inviting other writers and producers into the early stages of her creative process for the first time. With touring on hold indefinitely, Lahey didn't have a strict deadline to finish the album, which lent plenty of time for writing sessions with the likes of Jacknife Lee (U2, Snow Patrol) and others. The result is not only Lahey's most collaborative album yet, but also the most dynamic and surprising.

"I've made two records doing it all by myself and now I've proved to myself that I can do it," Lahey says. "But it was also at a point where I was like, 'If I do that again, I kind of know what it's gonna sound like' and I don't think I'm interested in that right now. And I think [collaboration] is great because it refreshes your process, and if you are focused enough, you come out with something that sounds like you, but elevated."

On The Answer Is Always Yes, Lahey's fun-loving rock has found new vessels, like the Sheryl Crow-esque country-pop of "Good Time," the breathless punk of "They Wouldn't Let Me In," and the ambitious, synth-tinged stadium rock of the title track. Fans will recognize Lahey's signature sincerity and driving guitar lines, but there's also a newfound melodic vulnerability, with Lahey shooting from the hip and achieving sky-high hooks and heartrending balladry. Songs like "Makes Me Sick" and "Shit Talkin'" evoke Liz Phair's effervescent late-career pop, while "The Sky is Melting" and "Permanent" recall the gutsy, wounds-and-all melodies of Julien Baker.

Both as a proud fringe dweller and an artist, Lahey has witnessed the benefits of taking risks and experimenting, and The Answer Is Always Yes — whose title has become a mantra for her — is living proof. "I feel like if you're saying yes and you're exploring, you're always moving," Lahey says. "That's the part of life that I'm in right now. I just don't wanna stop."






Liza Anne


-from Nashville, TN


-Indie rock sensation Liza Anne discovered songwriting as a young girl at summer camp, during a guitar lesson workshop. Inspired, from that moment forward she added melodies for her poetry and prose. As a teenager, she followed the thread of her love for music from quiet Saint Simons Island, GA, where she was raised, to Nashville to attend Belmont University, during which time she self-released two albums that now boast over 50 million streams. In 2018, her sound and talents came to maturity with groundbreaking Fine But Dying. Liza Anne's songwriting reached its zenith thus far with lyrics that reckoned starkly with womanhood and mental health. It was wry, sensitive, vulnerable and resolute. For two years she toured the record, and experienced highs and lows that inspired her to slow down for the first time. She captivated and fascinated crowds while opening for Kacey Musgraves, making her television debut on Conan, playing at Paramore's Art + Friends Festival, Shaky Knees Festival, and sold-out venues across the U.S. and Europe. She also ended an intensive relationship, spent time in therapy and meditated on who she wanted to see in the mirror moving forward.

After reflecting on these events, she penned a collection of songs about the ideal self-love she wanted to achieve, messages to herself that she needed to hear, which became Bad Vacation. Produced by Micah Tawlks (Louis Prince, COIN) and Kyle Ryan (Kacey Musgraves, Natalie Prass) and co-produced by Liza Anne [with the exception to the first singles "Devotion" and "Desire" that were produced by Justin Meldal-Johnsen (M83, Beck)], arrangements are poised and fierce to match, fueled by muscular guitar hooks, retro synthesizers, and insightful lyrics. It's Liza Anne at her most confident– both polished and punk rock, evoking St. Vincent's raw power, Kate Bush's tender theatricality and Talking Heads' high energy. It was released in 2020 during the pandemic, and received much critical acclaim from outlets such as NPR, Stereogum and Paper Magazine. Though live shows had to take a backseat to the lockdown and the record never made its live debut, Liza Anne made the most of the time off from touring during the past two years to write and record another album. [Now, she will finally perform Bad Vacation live and preview songs from her upcoming record. On this tour, over 14 nights at select venues with a specially curated roster of guests, fans will get an opportunity to hear the album that taught Liza Anne to love herself and self-prophesied her into the woman she is today, in full, in an intimate setting that's only fitting for such material.]






R.E. Seraphin


-from San Francisco, CA


-San Francisco Bay Area guitar pop stalwart R.E. Seraphin returns with his EP Swingshift, a joint release via Mt. St. Mtn, Dandy Boy Records and Safe Suburban Homes. The seven-track home-recorded E.P., featuring both originals and inspired takes on songs by The Wipers and Television Personalities, finds Seraphin joined by colleagues Matt Bullimore (Mantles), Joel Cusumano (Cocktails), Yea-Ming Chen (Dreamdate, Yea-Ming Chen and the Rumours), Jasper Leach (Tony Molina) and guitarist Owen Kelley (Sleepy Sun).

With the onset of COVID lockdowns, Seraphin rapidly changed his approach to recording, tracking all basics on his iPhone and working with his collaborators via share networks. Rather than feeling constricted by the process, he found a new freedom. "Now, I could record whatever I wanted in my bedroom and send it to whoever I wanted, free of any intraband politics," he says. "Recording something as I'm writing it has an immediacy that really works for me." The resultant EP A Room Forever found wide acclaim in the online blog world, firmly establishing Seraphin as a dynamic, multifaceted new voice in independent music.

Seraphin returned to his room and trusty phone last spring to craft his most ambitious work yet in Swingshift. Densely layered, the EP's sheen brings to mind The Replacements gone psychedelic, Cheap Trick gone to Mars, Cleaners from Venus if they bothered to mix their records. Looking to move on from the muted earth tones dominating much underground music today, he goaded producer Bullimore into piling on the synths, and guitarists Cusumano and Kelley into some surprising guitar acrobatics. "To get away from that sound," explains R.E., "I pushed for Journey-style solos – a year ago, I would have never even allowed anything like that!" Inspired this round by Ultra Vivid Scene, Miracle Legion and current power-pop maverick Young Guv, Seraphin's songwriting is delightfully economic, each tune briefly introducing a new sonic world and setting before moving onto the next.

Combining classic hooks, an adventurous sonic palette with an ever-distinctive voice, R.E. Seraphin's Swingshift is yet another surprising turn for this emerging talent.