Wednesday May 24 2023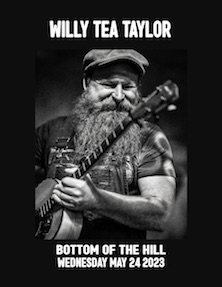 8:00PM

doors -- music at 8:30PM


••• 21 AND OVER




$

17.50

in advance

/ $20

at the door


Willy Tea Taylor
willyteataylor.com


country folk americana


Awahnichi and Talking Ghosts
www.instagram.com/awahnichi


dark gothic indie rock




---

Willy Tea Taylor


-from Oakdale, CA


-There is no question that Willy Tea Taylor's life as a singer/songwriter was predetermined - his role realized the moment he wrote his first song. In it for the song and the hang, and the sounds he draws from his little, tenor guitar, Willy drew his inspiration from grainy videos he watched of the true visionaries of his genre: Steve Earle, Rodney Crowell, Steve Young and Guy Clark, sitting around Clark's little kitchen table loaded down with ash trays full of butts and half-smoked cigarettes, food, and booze on one Christmas Eve in 1975. Those guys, swapping songs without pretense, was what lit Willy Tea's fire. Ever since, that's been his passion - finding that hang and curating relationships through musical friendships that get him to his version of that night.

Willy Tea Taylor, the son of a cattleman, was born and raised in the "Cowboy Capital of the World", known as Oakdale, California. In the past year or so, after thousands of miles driven and countless songs written and played, he has suddenly and rightfully found himself standing shoulder to shoulder in the ranks of today's great Alt-Country musicians. Along the way Willy Tea has played some damn fine shows, collaborated with some stellar musicians and released some outstanding records. From his early days co-fronting The Good Luck Thrift Store Outfit, to singing solo in countless cowboy bars, Willy Tea has never lost the vision of what he knew could be. And now with The Fellership or solo, Willy Tea Taylor, he has taken his version of that hero hang on the road.





Awahnichi and Talking Ghosts


-from Merced, CA


-Awahnichi (RC) achieves a rare victory for true storytellers with poetic tales of sorrow and beauty. The songs are patient, tender and simple. Capturing crowds with the profound meaning of the stories he shares.

RC has played with Pinback, Islands, Y La Bamba, Dave Dondero, Willy Tea, Mira, Decemberists, Xiu Xiu, Mout Erie, Black Heart Procession, Deerhoof, Cave Singers, Lord Huron, and more.