Sunday May 28 2023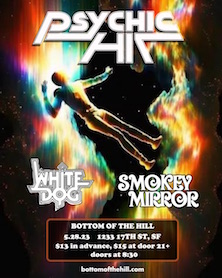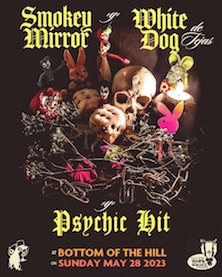 8:30PM

doors -- music at 9:00PM


•••

21 AND OVER




$

13

in advance

/ $15

at the door


Psychic Hit
psychic-hit.com/


psychedelic rock metal


Smokey Mirror
smokeymirrortx.bandcamp.com/


psychedelic blues


White Dog
smokeymirrortx.bandcamp.com/


heavy psychedelic proto-metal psych-prog




---

Psychic Hit


-from Oakland, CA


-Hard rockin proto-metal sweetheart band, Psychic Hit, was formed in 2017 by guitarist Andrea Genevieve (Queen Crescent, Purple Rhinestone Eagle) and vocalist/violinist Ariana Jade (Hedersleben, Nik Turner's Hawkwind). Having met through the thriving Bay Area rock n roll network, the tenacious pair began to dream up a project that fused their wide-ranging tastes in music. What resulted was a band that would combine the raw power of early Judas Priest and Scorpions, the melodic sensibilities of Fleetwood Mac, and the esoteric appeal of lesser known acts such as Lucifer's Friend and Flower Travellin' Band.

In 2018, the duo was joined by bassist Melanie Burkett (Ovvl) and drummer Justin Divver (Funeral Chant). With the talented rhythm section locked in, the four musicians began to embark on a songwriting enterprise that resulted in their first, self-recorded demo in the fall of that year. After the demo was recorded, the band welcomed fifth member, Jake Palladino (Pins of Light, Hightower), to join Andrea Genevieve on guitar.

Although Psychic Hit's sound is heavily influenced by both 70s greats and rarities, the band is anything but an anachronism. Like modern contemporaries such as Kadavar, Lucifer, and Hällas, Psychic Hit seeks to recast rock music in their own image, rather than to just simply imitate eras past. In an age where the dark forces of monotony and monocracy loom large on the horizon, Psychic Hit appeals to their listeners to embrace the regenerative, communal power of rock n roll.





Smokey Mirror


-from Dallas, TX


-There are times in the life of every temporal traveller when thunderous electric boogie rock is the only thing that makes any sense at all. Formed in Dallas, Texas, amid the dying embers of 2015, Smokey Mirror have dedicated themselves to spreading a gospel of scorched-earth riff worship and wild, psychedelic abandon. Led by vocalist/guitarist Mario Rodriguez, they have steadily nurtured their untameable sound, building toward the impending release of their self-titled debut album. Completed by bassist Tyler Davis, guitarist Caleb Hollowed and drummer Cam Martin, Smokey Mirror are only just beginning their trip…

"Our musical masterplan was to write songs that blend energetic heavy blues rock with elements of progressive and freeform styles of music," says Mario. "We wanted to make music that is engaging to both casual listeners and the refined ears of musicians. We performed around Texas as a trio [with former drummer Josh Miller] for a few years and began collaborating with Cam in the spring of 2018, just before SXSW. A few months later, we met our guitarist Caleb at Charley's Guitar Shop [in Dallas], where he works as a repairman. We started playing as a quartet and began finalising material for our first full-length shortly thereafter."

Explosive, groovy and full of psychedelic danger, Smokey Mirror is the kind of debut album that leaves like-minded listeners in a sweaty, euphoric heap. Eight songs (and two interludes) deep, it showcases the ferocious, fearless and soulful noise that Mario and his comrades have claimed as their own. From the unstoppable acid rock rush of opener Invisible Hand and the strutting, anthemic blues metal of Pathless Forest, to epic, spiralling jams like Magick Circle and Sacrificial Altar, Smokey Mirror's mastery of the form is as timeless as it is exhilarating. Meanwhile, the band's lyrical musings add even more depth, intrigue and righteous fury.

"The album is a musical mosaic of styles that inspire us," explains Mario. "It has fast, heavy, blues-driven rock 'n' roll at its core, blended together with a wider spectrum of progressive musical influences and noisy chaotic soundscapes. Our lyrics touch on a variety of themes relevant to our lives. There are recurring cycles of personal failure and growth, the beauty and absurdity of the human experience, righteous anger towards the systemic injustices of the world, and songs of empowerment for people everywhere who dream of a society that prioritises the needs of humanity over the greed of billionaires and big corporations."

Capturing the fiery, hypnotic chaos of Smokey Mirror on tape was always going to require some expertise. Initial sessions took place at Palmyra Studios in the small town of Palmer, Texas, with Paul Middleton in the engineer's chair, and a whole load of classic, vintage gear.

"Our engineer, Paul Middleton, was the bassist and singer for the late 70's heavy rock band Blackhorse," says Mario. "He also spent decades working as a touring sound engineer for the likes of Bonnie Raitt and Julio Iglesias, during the peaks of their careers! Palmyra uses all vintage, analogue recording equipment, including two-inch tape machines and a 1969 Neive console formerly owned by Abbey Road studios."

Originally due to be recorded in early 2020, Smokey Mirror's debut faced the same delays that scuppered everyone's best laid plans back in that accursed year, along even more unforeseen obstacles to contend with. Nonetheless, rock 'n' roll simply refuses to be stopped.

"When the pandemic started in 2020, album production was halted for several months," Mario continues. "When things began to settle and we all felt comfortable getting together again, our work resumed. Just as we were nearing the finish line with tracking, Paul was diagnosed with terminal illness and had to step away from the project to prioritise his health. At that point, we had to take some time to figure how we were going to move forward with completing the album. Eventually we decided to finish the album with Kent Stump [guitar/singer in Wo Fat] at his studio Crystal Clear Sound in Dallas, Texas."

In a world that makes no sense at all, only rock 'n' roll can still ring true. Smokey Mirror have tapped into some kind of new magic on their first full-length album, and the results rock with more power, passion and psychedelic fervour than any album, debut or otherwise, in recent memory. Take a look in the Smokey Mirror and you will see kaleidoscopic multitudes grinning back at you. Embrace the electric boogie. It's coming for us all.

"Our shows are raw, loud, energetic, spontaneous! Amps screeching, cymbals crashing, bodies dancing, beer spilling, glass breaking, smoke filling the air, and people living in the moment. Our plan is to continue writing music that pushes and inspires us, and to produce more recorded works that expand upon the creative path we've set on our first album. We want to travel the world as much as possible and share our music with as many crowds as we can reach!" ~ Dom Lawson 2023





White Dog


-from Austin, TX




-In the year 1977, the members of White Dog were cryogenically frozen and sealed in a highly classified underground facility. In accordance with a directive put forth by then president of the United States of America, Richard Milhous Nixon. Intent on preventing world domination and mass hysteria. The key has been discovered, the vault has been opened...