Friday June 2 2023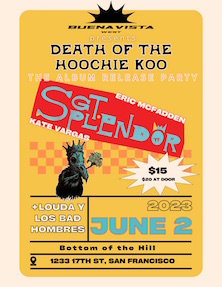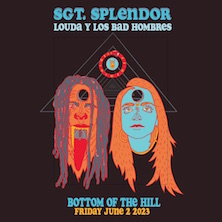 8:30PM

doors -- music at 9:00PM


••• 21 AND OVER




$

15

in advance

/ $20

at the door


Sgt. Splendor


Album release


sgtsplendor.com/


alt funk rock blues


Louda y Los Bad Hombres
loudamusic.com/losbadhombres


r&b/soul neo latin




---

Sgt. Splendor


-from New York, NY


-Indie darling and songwriting wunderkind, Kate Vargas teams up with guitar virtuoso, Eric McFadden, to present their highly anticipated new supergroup, Sgt. Splendor. Featuring Dave Schools (Widespread Panic), Paulo Baldi (CAKE, The Claypool Lennon Delirium), alongside heavy-hitting special guests, their debut album, Occasions for Self-Congratulations is sure to make an impact. The 1st single, "Whoopee Château", invites in Fishbone's Angelo Moore on organ, for a celebratory number with claustrophobic urgency. "We're in the belly of the beast right now," Kate Vargas sings on lead track "Whoopee Chateau," her voice wafting like fumes from the barrel of a smoking gun. Expertly dodging one unsettling revelation after another, her phrasing quickly turns staccato, each word jolting like the bee sting she suggests you "put a penny on" during the chorus. "This record draws heavily from what we experienced during lockdown," Vargas says. "It's an abstract expression of that strange time."

"Yeah, you can definitely hear it in Whoopee Chateau," adds Vargas' bandmate and partner, Eric McFadden, who mesmerizes on the new single, deftly threading chromatic Latin-jazz guitar breaks through a deep, yet blessedly loose funk strut. "The whole thing has this Jim Morrison sentiment—like, I'm gonna get my kicks before the whole shithouse goes up in flames."





Louda y Los Bad Hombres


-from Oakland, CA


-Louda y Los Bad Hombres, the Bay Area's combo of Nuevo Latinx live and studio music. The crew is organized by vocalist and lyricist, Laura Camacho along with composer and arranger, Leo Nava. Their collaborative reimagination of sounds and rhythms is rooted in traditional Afro-Latin repertoire - aka - the music they grew up listening to (cumbia, salsa, son cubano y mas!) Their university studies of jazz and classical history and technique, speaks in every practice and performance. An exclamation of the music's value in community, this group will keep you dancing.

Melismatic melodies, creative arrangements and varying instrumentation of nostalgic original compositions and unforgettable renditions of popular favorites for international audiences.