Sunday June 18 2023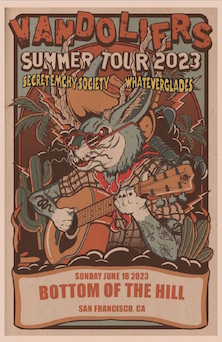 7:30PM

doors -- music at 8:00PM


••• 21 AND OVER




$

15

in advance

/ $20

at the door


Vandoliers
vandoliers.com/


country americana punk roots rock


Secret Emchy Society
emchy.com/


queer country americana


Whateverglades
whateverglades.com/


country pop rock'n'roll




---

Vandoliers


-from Dallas-Fort Worth, TX


-Vandoliers are a uniquely Texas band, distilling the Lone Star State's vast and diverse musical identity into a raucous, breakneck vibe that's all their own. After spending much of the last three years furiously writing and recording music, this Dallas-Fort Worth six-piece is back with The Vandoliers, a new album that proves these rowdy, rollicking country punks are tighter, more cohesive and more sonically compelling than ever.

Forged in the fires of the COVID-19 pandemic, The Vandoliers is the product of a time of immense growth and change for the band. Though most of the record was written in 2019, following the release of their much-acclaimed album Forever, plans changed quickly in March 2020. "It was supposed to be a quick turnaround," frontman Joshua Fleming says. "After touring with Lucero and the Toadies, we were supposed to go into the studio to knock out an album, and head to Europe for the first time." That didn't happen —their tours were canceled, the band's label folded, and what was to come next was totally up in the air.

Recorded with Grammy-winning producer Eric Delegard at Reeltime Audio in Denton, TX, The Vandoliers is an album interrupted. The band's original two-week recording session ended abruptly in March 2020 as shutdowns began across the globe. The band didn't get back into the studio until November, at which point they realized that, like many of the best-laid plans, their original strategy for the record had to change. "We wanted to make an album that had the same power as our live performance — a tight, big sound," Fleming says. "Through trial and error, label closure, fatherhood, sobriety, relapse, the album grew on its own stylistically. After the hardest two years of my life, we created a collection of songs that push us as musicians, songs that reaffirmed my place as a songwriter and a faith in ourselves as a band I don't think we had before."

Amid all that uncertainty, Vandoliers did what they knew best: they made music. First came "Every Saturday Night," a pandemic-era appreciation of all the rowdy, late-night shows that we all missed while stuck at home. "I thought for sure that this would be the last song I would ever write. I missed all the little things about the life I lived up until that point," Fleming says. "I missed the smells and tastes of a smoky dive bar, the long overnight drives listening to our favorite bands." Those thoughts clearly struck a chord with listeners, earning the song heavy rotation on the radio, especially Sirius XM's Outlaw Country, and jumpstarting the band's plans to head back into the studio to encapsulate their electric live shows into the album that would eventually grow into The Vandoliers.

The Vandoliers is a manifesto, both sonically and lyrically. It's an assertion of the band's distinct character, their sonic rebelliousness, and big, bold stage presence. They've got range, too, but that should be expected from a band that deftly blends mariachi horns with country-punk rhythms. On "The Lighthouse," tender vocals pair with Travis Curry's delicate fiddle to create a sweet cowpunk lullaby written for Fleming's one-year-old daughter Ruby Mae, born at the height of the pandemic. And then there's "Bless Your Drunken Heart," a hard-driving ode to the town drunk that makes apt use of the South's favorite passive-aggressive slight and has quickly become a favorite at the band's live shows, and "I Hope Your Heartache's a Hit," a swinging, swaggering tribute to a one-night-stand written by multi-instrumentalist Cory Graves.

Taken all together, this impressive fourth album builds to what is the Vandoliers' most cohesive effort to date without sacrificing any of the distinct identity that makes the band work as well touring alongside punkers Flogging Molly as they do opening for independent country legends the Turnpike Troubadours or Dallas rockers the Old 97s. Few bands can bring together the square toes and the steel toes quite like the Vandoliers. As its members have grown and matured, so has the sound of Vandoliers. But what remains the same, though, is the band's core philosophy of solidarity and hope, evidenced by the motto they've all had tattooed on their arms: Vandoliers Forever, Forever Vandoliers.

Vandoliers are Joshua Fleming, bassist Mark Moncrieff, drummer Trey Alfaro, fiddler Travis Curry, electric guitarist Dustin Fleming, and multi-instrumentalist Cory Graves. Formed in 2015, the band released 2016's Ameri-Kinda and 2017's The Native on State Fair Records, and Forever (2019) on Bloodshot Records.





Secret Emchy Society


-from Oakland, CA


-From the first notes of the lead-off track to Secret Emchy Society's new album, Gold Country / Country Gold, you realize that you're not in Kansas anymore. It's a gothy, spaghetti western version of "Cowboys Are Frequently, Secretly Fond Of Each Other," written by Latin country musician Ned Sublette but popularized by Willie Nelson. It's also widely recognized as the first LGBT-themed mainstream country song by a major artist. Par for the course if you know Cindy Emch's previous work. As the First Lady of Queer Country, she is known for her distinct voice and ability to blend Americana, California Country, Hellbilly, Goth, and Honky Tonk, spinning radically distinctive tales from her singular perspective.

Emchy's not only a highly regarded musician in the Bay Area—nominated three times for Best Local LGBT Band by Bay Area Reporter—but she's also a seasoned student of the history of LGBTQA musicians dipping their toes in genres that have always been "off-limits" for non-hetero participants. She was the founding editor of Country Queer and still hosts Gimme Country's popular Emchy's Outlaw Americana show. She's also worked with the original queer country cowboy Lavender Country, the award-winning singer-songwriter Amythyst Kiah (from the all-women-of-color supergroup Our Native Daughters), out transwoman folk-punker Shawna Virago, and Haitian-born / UK based Alt-Americana Country-Noire singer DeLila Black when Emchy produced the 2021 National Queer Arts Festival Showcase. Her previous albums have landed her on the road with some of the most popular acts in the genre: Mercy Bell, Sarah Shook & the Disarmers, and Karen & The Sorrows, led by the originator of the Gay Ole Opry herself, Karen Pittleman. Needless to say, Cindy Emch has become well-known to anyone paying attention to the increasing popularity of turning old tropes on their ear by melding classic twang with a punk ethos.

Emchy's first taste of music was from her mother, who played standards on accordion. She grew up with a love for Leonard Cohen and Tom Waits, but when she hit her 20s, a college radio show introduced her to country legends like Yoakam, Cash, and Lucinda Williams. Throw in partiality to a smattering of post-punk bands like X and Black Flag, and it's easy to see what led Emchy to the Bay Area in 1995, where she honed her sound when she co-founded two well-regarded punk-country bands, Vagabondage and Rhubarb Whiskey. After cutting her teeth as a side player for years, it was a lucky accident one night when she ended up at the front of the stage, taking the reins to act as bandleader, only to realize that was where she had belonged all along.

Emchy's music, created with her longtime band Secret Emchy Society, has been compared to songwriters like Ray Davies, Marijohn Wilkin, John D. Loudermilk, and Cowboy Jack Clement, who wrote the early hits for African-American country pioneer Charley Pride. SES's debut album, 2017's The Stars Fell Shooting Into Twangsville, swings beautifully from accordion-drenched waltzes to slow ballads to high-tempo roof shakers with lyrics soaked in long-standing country tropes, from day-drinking to painful love to oversized ambitions. It was followed by 2019's Mark's Yard, a sparsely recorded collection of cover versions from singular songwriters like Tom Waits and Hank Williams Jr. In 2020 she released The Chaser, a classic honky-tonk album both dark and light, ominous and joyous. It landed her positive coverage in No Depression, Wide Open Country, Ditty TV, NPR, The Boot, and Americana Highways, just to name a few.

So, where to go from there? Well, more GUITAR, of course, to amp up her shitkicker attitude.

Up until the pandemic, Emchy has been an acoustic guitar devotee, and she still plays some acoustic guitar on the album, but Gold Country / Country Gold could just as easily be named "Secret Emchy Society Goes Electric." Emchy also collaborated with artists like queer country crooner Paisley Fields and trans musician Mya Byrne on "I Wish I Was in Texas," and recorded a version of drag and burlesque performer Jbird McLaughlin's "My Old Flame."

Along with their new electrified sound comes lyrics that speak to longing, wishing, loneliness, and nostalgia for friends and loved ones to be around. It also reckons with the social upheaval that came with the pandemic years, bringing into focus a community that Emchy says she always assumed would be there for her. "The fact that I was watching a lot of these wonderful, independent dive bars that I love so much struggling and other artists working really hard to adapt and trying hard to stay connected with each other really affected me," she explains.

Gold Country / Country Gold was recorded in May 2021 in Twain Harte, CA, in the heart of Gold Country. Emchy rented a cabin on a lake before the summer season began, resulting in a neighborhood of mostly empty rustic cabins, enabling the band to be as loud as they wanted to get. The original plan was for their usual producer and album lead guitarist, Tolan McNeil, to fly down from Canada to play and engineer the record. Three days before the recording was set to begin, it became clear that McNeil was not going to make it across the Canadian border to meet up with the rest of the band. Armed with a double Virgo's dedication and a non-touring musician's stubbornness, with lots of research help from her wife, Emchy and her merry band of musicians figured out what gear they needed to still make the album happen. A few new credit card bills and some serious generosity later, they had a functional 11-channel interface, a computer strong enough to run it, and used Zoom to have McNeil, and her other collaborators, sit in on the recording process.

The result is Secret Emchy Society's best work to date. As soon as you hear Emchy's big, boisterous voice, it's easy to be drawn in as she uses her rich tone to color lyrics about drinkin', dancin', and lovin'. Gold Country / Country Gold is an album that's as rowdy as it is vulnerable, as loud as it is quiet. All the emotions Emchy felt, as her life as a musician turned upside down during the pandemic, were embraced then put back into the world in song. It's a hell of a ride, and everyone is invited to the party.





Whateverglades


-from Oakland, CA




-Swampy Fuzz Twang with a side of taters.