Tuesday June 20 2023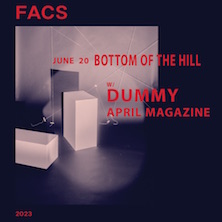 8:00PM

doors -- music at 8:30PM


••• ALL AGES




$

13

in advance

/ $15

at the door


FACS
concertedefforts.com/roster/facs/


dream pop shoegaze


Dummy
groundcontroltouring.com/artists/dummy


punk rock


Marbled Eye
facebook.com/marbledeye/


alternative punk




---

FACS


-from Chicago, IL


-Trio FACS have been perfecting their brand of intense, cathartic art rock over the course of four ever-evolving albums. Beginning with 2018's Negative Houses thru 2021's landmark Present Tense, the trio digs deep into the gaping maw of a black hole and pulls back whatever debris they can grasp onto. Their newest LP Still Life In Decay, which arrives April 7th, comes as an addendum to their last album— a "post-event review," if you will.

When the guitar punctures the lock-step swing of first album single "When You Say," it hits like a hammer. Case utilizes his lyrics like a person suffering from anterograde amnesia, repeating phrases and holding onto old memories in a desperate attempt to avoid the slide into oblivion. Freeform poetic missives touch on themes of resignation, cynicism, class warfare, and a search for identity and meaning in a crumbling society; A primal desire to hold onto anything in a post-pandemic barrage of sensory overload.

While FACS are a heavy band, they don't necessarily feel like one— Case's fluttering, melodic guitar lines are buoyed by the insistent, underlying pulse of an expert rhythm section. Bassist Alianna Kalaba, who stepped in for founding member Jonathan Van Herik in 2018, makes her amicable last stand here with the group. Alongside drummer Noah Leger, they dance and twist around each other like a double helix, forming the DNA of what makes FACS so special. Collectively they approach rhythm from outside the groove as opposed to inside it, creating a lattice where Case weaves guitar lines like creeping vines, making the moments on Still Life In Decay where the band locks in even more powerful.

FACS have never been more solidified as a unit, and Still Life In Decay is a decidedly focused effort. The apocalyptic chaos that defined their previous album is waved away in favor of an examination of events with cumbrous clarity. Recorded by Sanford Parker at Chicago's esteemed Electrical Audio, Still Life In Decay will be available April 7, 2023 from Trouble In Mind Records.

RIYL: Unwound, MBV, The Jesus Lizard, SUUNS, Preoccupations, METZ, Les Rallizes Denudes, The Dead C, Echo & The Bunnymen, Liars, This Heat, PIL





Dummy


-from Los Angeles, CA


-Dummy refuses to slow down. After releasing two cassette EP's in 2020 (on Popwig and Born Yesterday respectively), Dummy's debut full-length album arrives via Chicago's Trouble in Mind Records. Employing pummeling guitars and celestial ambience within the same breath, the band folds a myriad of reference points into their drone-pop style. Influence from '60s melodicism and '90s UK noise pop can be found woven in with inspiration from spiritual jazz, Japanese new age, and Italian minimalism.

Dummy dodges the brooding, dark, dramatic tropes of contemporary "artistic" music often found in punk, experimental, and electronic, instead insisting on joyous and euphoric sonic palettes. They refuse to be artistically stagnant, continuously shifting their approach to writing across 12 tracks. Shaped by performances around Los Angeles in 2019, songs like "Daffodils" and "Fissured Ceramics" feature relentless driving energy and ample psychedelic noise. Elsewhere, Dummy counterbalances the aggression with meditative synthscapes focused on sound design and studio experimentation, like on the motorik "X-Static Blanket". Finally, centerpiece "H.V.A.C." and the album's final track, "Atonal Poem", seek to synthesize these two poles, offering multi-part journeys through uncharted sonic territory.

In contrast to blissed-out instrumentation, Dummy's sardonic lyricism examines "the burden of modern life, consumerism, environmental collapse, alienation, and other anxieties born out of living in this absurd moment in history". Interior design, marine pollution, the psychology of commercial architecture, and nuclear testing are all featured subjects. Dummy's restless creativity keeps them moving ever-forward, continuously challenging themselves and pushing their sound into exciting and exhilarating places. This is- as the album title suggests -"Mandatory Enjoyment".





Marbled Eye


-from Oakland, CA


-Marbled Eye is a band from Oakland, California. Expect guitar music balanced with rhythm. Their contribution to the series, "Dirty Water," follows a string of acclaimed releases – 2016's EP, 2017's EP 2 and their 2018 debut LP Leisure – which cemented Marbled Eye as one of the most exciting and revered bands in the long lineage of American post-punk. "Dirty Water" was recorded and mixed by Andrew Oswald.

Marbled Eye offers this, "Dirty Water" is being in limbo. It's embracing the past but knowing it's time to move forward. This track started at a session at a friend's cabin and was reworked over the course of band members relocating and reevaluating their situations during the pandemic. It's the sum of all the moving parts finally locking in together and bringing it home.