Thursday June 29 2023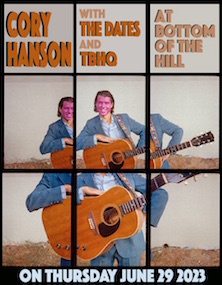 8:00PM

doors -- music at 8:30PM


••• 21 AND OVER




$

15

in advance

/ $18

at the door


Cory Hanson
coryhanson.bandcamp.com


folk psyche psychedelic rock


The Dates
instagram.com/edvaguelyjr


power pop


TBHQ
tbhq.bandcamp.com


ambient electronic




---

Cory Hanson


-from Los Angeles, CA


-Cory Hanson's third solo LP, Western Cum is a high-stepping, hard-dancing, first love/heartbreak, tonight's-the-night, future nostalgia kind of good time. It follows unpredictably upon 2021's luminescent Pale Horse Rider, upping the heat to molten levels, six strings at a time.

Insatiably in search of greener pastures, Cory draws with vampiric glee from the madness coursing through the world outside; a spiraling shitshow that's reawakened a compulsion in him – an old ambition, even! - to crush brutality and elegance together into a fresh set of rocks to hail down upon us, with the sound of guitars through the speakers of luxury cars. Harmony leads are just the tip of the iceberg, but be quick – the guitars like to melt everything in their path! The eight songs of Western Cum are driven by the stalwart bass of brother Casey Hanson and the drums of Evan Backer with a few passing acoustics from Cory and the intermittent spirit-moans of Tyler Nuffer's steel guitar. The quartet, dubbed 'Slowhand'– two guitars, bass and drums – acts as beat-making principle/phrasing device, as well as template for Cory's layers of six-string and vocal textures.




The Dates


-from San Francisco and Los Angeles, CA


-"A power pop solo project from Garett Goddard, the Dates made their debut in 2018 with the jangly, melodic Ask Again Later.

Known in West Coast indie circles for his involvement in punk- and garage-based bands like Personal and the Pizzas, King Tuff, and Girls, Goddard took inspiration from bands like Big Star and Teenage Fanclub for his first solo endeavor. After first releasing a 2016 single on Burger Records under the name Gary with a Circle Around the "A", he concocted the Dates' warm mix of strummy guitar pop and sunny harmonies and completed Ask Again Later, which Burger released in early 2018." ~ Timothy Monger, Rovi




TBHQ


-from Los Angeles, CA


-TBHQ is the nom de plume of Hazel Rigby, a native New Yorker turned Los Angeleno, whose new album Cairo looks to heal its listener through improvisation styles and new age tones, forging a sonic terrain that is at times nostalgic and disorienting; abrasive yet poignant.

Following several years playing in experimental punk bands Outside World and Big Knife, Rigby began performing solo as TBHQ in 2019, embarking on a loving abandonment of conventional songcraft. Three albums later, Cairo is a cinematic journey rooted in the work of soundtrack auteur Angelo Badalamenti and jazz guitar great Sonny Sharrock, rounded out with hints of modern ambient masters Laraaji and Emeralds.

The album centers itself far from its warm weather Egyptian counterpart and within the small humble town of Cairo, located at the crossroads of the Catskills region in Upstate New York. Fittingly, the album was recorded in a cabin in the woods, where little more than snow disturbed an uneasy peace. Winter is on the mind and in the music — increasingly audible vocal trills welcome the listener during "A Car is a Room", followed by the glacial spoken-word reckoning of "Rare Conditioning", and finally plunging into the cold water abyss of "Chalazion" and "2 Feet". Cairo breathes life into sounds both familiar and invented, marking an exercise in externalizing the internal din that comes from being ensconced in quiet surroundings.