Saturday July 1 2023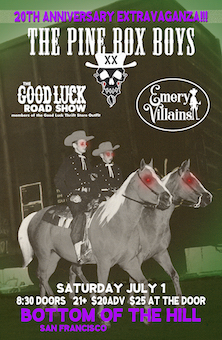 8:30PM

doors -- music at 9:00PM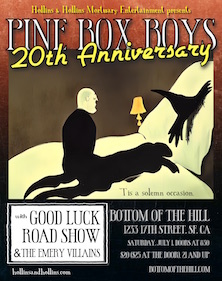 ••• 21 AND OVER




$

20

in advance

/ $25

at the door




20th Anniversary of...


The Pine Box Boys
www.hollinsandhollins.com


Horrorbilly / Alternative Bluegrass


The Good Luck Road Show


members of

The Good Luck Thrift Store Outfit


www.thegoodluckthriftstoreoutfit.com


americana country folk rock


EmeryVillains
www.emeryvillainsband.com


western, honky tonk




---

The Pine Box Boys


-from San Francisco, CA




-The Pine Box Boys are familiar to most as darkgrass darlings, offering songs in the tradition of the murder ballad. The Pine Box Boys released their fifth album, The Feast of Three Arms, last year. The other iterations of the band may be less familiar to audiences. Lonesome Lester T. Raww and His Acquaintances is the name Lester uses for his smaller local gigs in San Francisco, focusing on Tin Pan Alley favorites, as well as some original material. In this format, Lester performs solo or invites a variety of other local musicians to join him as one of his "acquaintances." Lonesome Lester released an album in 2014, Anarkansas. Lester T. Raww's Graveside Quartet grew out of numerous requests to record a children's album. Lester feels as though their album Lester T. Raww's Graveside Quartet SINGS YOUR CHILDREN TO SLEEP does not accomplish what it was intended to do. This is due to the fact that the album is more likely to produce nightmares in children than warm, fuzzy, Raffi-esque feelings. This is, however, the band that Lester is focusing on the most recently; they will begin recording their second album this fall. Gentleman Jimmy and His Swindling Dwindlers is the latest project. The Boys put this band together to accompany trumpeter Jimmy Hadley as he performs newer material or songs from his previous band, Col. Jimmy and The Blackfish.






The Good Luck Road Show


-from Oakdale, CA




-From the depths of the cowboy capital of the world, a musical force emerged: The Good Luck Thrift Store Outfit. For nearly two decades, this Americana juggernaut has captivated the festival circuit, gracing celebrated stages such as The Fillmore, Great American Music Hall, and Slims. Their genre-defying sound, seamlessly weaving roots, Americana, country, bluegrass, and rock and roll, mesmerizes audiences and defies categorization. Now, the band is on the road as The Good Luck Road Show, featuring Chris Doud fronting the core members of the original lineup—Aaron Burtch on drums, Matt Cordano on lead instruments, Taylor Webster on bass and vocals. Accompanied by the skilled musicianship of Ben Reisdorph on guitar and Leonard Bowlin on sax, as well as some special guests here and there. The Good Luck Road Show is a high-energy, foot-stomping, good-vibes extravaganza that leaves an indelible mark on every stage it graces.






EmeryVillains


-from Emeryville, CA


-Emery Villains formed in 2019. Started by Scott Holderby (lead vocals and guitar) with Rhoda Jean Steen (vocals and guitar). The Carolina Drifters from the 50's, featuring Rhoda and her brothers Paul and Clarence were the backup band for the Black Jack Wayne Show on channel 2, backing Johnny Cash, Buck Owens and others.

Scott looked over to his guitar player Danny White (vocals and lead guitar) from Mordred to do the finger picking. Scott then turned to a high school friend, Hank Alva (vocals and upright bass) to round out the groove of the tunes.

Emery Villains started with the tunes that The Carolina Drifters played and have since been writing their own western, honky tonk music playing multiple venues in the Bay Area and creating a really good following.