Sunday July 2 2023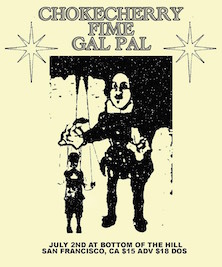 8:00PM

doors -- music at 8:30PM


••• ALL AGES




$

15

in advance

/ $18

at the door


chokecherry
instagram.com/chokecherry4ever


bubblegrunge post-punk shoegaze


Fime
instagram.com/fimeband


surf rock garage rock shoegaze


Gal Pal
instagram.com/galpalmusic


indie rock




---

chokecherry


-from San Francisco, CA


-"From the moment the drumsticks count you in, "Glass Jaw" from San Francisco's own chokecherry will lure you into oblivion with their garage tunnel, shoegaze skull-crusher. This trio is hitting all the dopamine centers of nostalgia while simultaneously offering up uncut ingenuity with their cryptically withdrawn lyrics.

With a self-coined genre trifecta of 'shoegaze grunge pop', chokecherry is a revival of dark, black widow energy … "Glass Jaw" puts an original fingerprint on a historic scene. This being just their debut single that's been out for less than 2 weeks, they're already riding a hot streak at nearly 100k streams on Spotify alone in that time without a single editorial playlist.

Also on the docket for Seattle's upcoming Freakout Festival alongside names including Death Valley Girls, Allah Lahs, and Levitation Room, chokecherry is crushing ceilings with this boundless debut track." ~ Grace Holtzclaw, Fashionably Early




Fime


-from Los Angeles, CA


-Fime's first incarnation was a two-piece guitar and drum garage-rock band started by Eric Promani and Beto Brakmo. Started initially with the intention of performing mostly at house parties, the addition of bass player and vocalist Maxine Garcia and Scott Leahy, who has toured with Jerome's Dream, Sea Wolf, and 1 AM Radio on guitar changed the sound and direction of Fime.

The Group released there "Sprawl" in (2019) And there put out there debut Recorded by Melina Duterte (Jay Som) and distributed by Forged Artifacts.

Their garage rock sound has morphed over time to experimenting with shoegaze, ethereal and gauzy vocals and distorted, reverb laden guitar melodies. With influences from Yo La Tengo, Cocteau Twins and Interpol, the Los Angeles band has built their own signature interpretation of nostalgic alternative rock.




Gal Pal


-from Los Angeles, CA




-For nearly six years after the release of their debut Girlish, LA rock band Gal Pal remained mostly quiet, with the exception of 2019's EP Unrest/Unfeeling. Today, they're back with a bang: This and Other Gestures, a deep-dive into the sprawling internal landscapes of band members Emelia Austin, Nico Romero and Shayna Hahn.