Thursday July 6 2023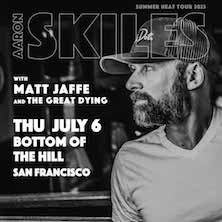 8:00PM

doors -- music at 8:30PM


••• 21 AND OVER




$15


Aaron Skiles
aaronskilesmusic.com


alt rock


Matt Jaffe

-------The Seagulls off the bill


www.mattjaffemusic.com


post-punk pub-rock


The Great Dying
www.dialbacksound.com/great-dying


americana country folk punk psychedelic punk rock




---

Aaron Skiles


-from Oakland, CA


-You may recognize Aaron Skiles' name from the Bay Area-based band, Bourbon Therapy. The indie rock/alt-country band was fronted by Skiles and his wife Rebecca and released 1 full-length album, two EPs, and 12 singles before calling it quits earlier this year. "No one's fault," Skiles reassures. "We couldn't play any shows so two members moved out of town to make a go in another city. I doubled down on my writing and actually did get five Bourbon Therapy singles done and released in 2021. Writing a lot, I realized I had material that I really liked but wasn't right for Bourbon Therapy. Some of these songs sounded more like Social Distortion or Weezer rather than mellow ballads so I figured these weren't BT songs, but they were Aaron Skiles songs."

Skiles reached out to fellow musician and friend, Matt Patton, to co-write most of the album with him. "Matt is an incredible musician and an amazing lyricist. For the most part he helped me make my lyrics more impactful, more memorable, and simply better. But he also helped with arrangements, on "Before You Go" and also with "On My Own". And he was amazing as a vocal coach, pushing me to find the emotion in each song and to bring it to life. I've never been prouder of my vocal performance on any other project and I owe that to how Matt pushed me to get the most out of my vocals." Of the eight songs on the album Matt Patton co-wrote six of them. "It all started with my basic demos and then Matt and I would email back and forth and we'd make changes."

Skiles claims that Patton was the reason Wreckage From The Fire happened in the first place. "In 2016 I traveled to Birmingham, AL to visit with an old West Point roommate and to catch a Truckers show at The Lyric Theater. I am a huge fan and my buddy indulged me as we pushed our way up to the front of the stage. After the show we headed to a club called 'The Nick' and 30 minutes later, Matt Patton walked in. Not being shy, I introduced myself and ended up telling him about Bourbon Therapy and we exchanged emails. A week later he wrote me to say he dug our stuff and if I ever wanted to record at his studio, I should hit him up. Four years later, everything timed out perfectly and we finally got this done!"

Skiles left Oakland and headed to Water Valley, MS to record at Patton's studio, Dial Back Sound. "This is the first album that I've ever personally tracked guitar on. I'm a bass player and pianist and that's what I play on Bourbon Therapy music. But when Matt Patton (bass) and Jay Gonzalez (piano), both from Drive-By Truckers, offered to play on my solo album, I realized I better let them! I worked hard at getting myself up to snuff on rhythm guitar and I'm pleased with the outcome."

"Most of the songs were written before recording right as the pandemic started," explains Skiles. "Although 'Quarandream' was literally written right before I jumped on the plane. I was packing for the flight and decided to plug in my guitar one more time. I suddenly came up with this simple instrumental jam and I realized it fit perfectly in front of 'Come With Me'. Just like that, I had songs #1 and #2 for the album decided! I sent a quick voice mail to Matt with the new song. When he picked me up from the Memphis airport, we talked about it and he had some ideas to give it even more power. Once we brought in Taylor Hollingsworth to lay the lead guitar on that track, we ended up with a killer instrumental opener in an almost Dick Dale-like vein."

Following "Come With Me" is the laid-back California-vibed song, "A Triumph of Three Chords" with Jay Gonzalez's piano work gluing the song and Hollingsworth's guitar solo in the outro, which Skiles describes as "rapid-fire sweetness". There are also the punk influenced songs, "Sliver" and "On My Own". "I've got a history of writing longer tracks for Bourbon Therapy, loaded with orchestral parts and multi-layered harmonies in outros that sound like separate songs. But Wreckage From The Fire is a collection of tight, pop-influenced rockers that get the point across in 3 minutes or so."

"Before You Go" has the most powerful story of the group of songs. As a senior at West Point (The United States Military Academy), Skiles had a friend who killed himself by jumping off of their dorm building just before graduation. "The part that's eaten me up all of these years is that I heard he was thinking about it and I didn't do anything to stop him. I was 21, young and dumb. I've actually tried to write about it for 10-plus years but never got anywhere until during the pandemic. When I took the song into the studio, I told the story, which helped us to get the right sound. But when I went to track the vocals, I broke down crying. Matt ran into the recording room and I apologized. He encouraged me to use the perspective of 20-plus years to tell my friend what I would say to him now—as a man who has gained some wisdom and experience. Using that advice, I believe the song has the most authentic, emotion-laden vocals on the album."

Bronson Tew is Patton's partner at Dial Back Sound and engineered the album, as well as playing drums, lending vocals and playing lead guitar on one song. "Bronson and I grew quite close during this recording session. We were both living in the efficiency in the studio and would record all day and then stay most of the night drinking beers, talking about music, song-writing and life. One night, after everyone had left, he and I sat around trying to figure out a lead guitar part for "On My Own". After a while Bronson came up with this super cool counter-melody part, full of feedback and squeals that we laid down, intending to show Taylor the next day so that he could record the actual version. Once we showed him he looked at Bronson and said, 'what's the point in me doing that again—that's great as it is!' And so Bronson's take was the lead part we used for the song."

Wreckage From The Fire is clearly different in tone and mood from the music Skiles made with Bourbon Therapy. "This album is all me—and it's rough around the edges, a bit raw and definitely hard hitting. Lyrically this album is more introspective and written almost entirely in the first-person, whereas BT music often tells stories of others. Music to me is a way to explain your place in the world, how you see things as they are, and how you wish they'd be. My goal is to write a song that tells the listener something of significance, whether through the lyrics or the instrumentation—or ideally both. I write songs that are meaningful to me and that I'd like to listen to. If someone else enjoys them as well, then that's just gravy on the top as far as I'm concerned."





Matt Jaffe


-from San Francisco, CA


-After cutting his teeth on open mics around the Bay Area, San Francisco songwriter Matt Jaffe was discovered by Jerry Harrison of Talking Heads. Together, they produced his first album at the age of 16, cementing Matt's dedication to music. Soon, he formed a band, dropped out of college, and has not looked back.

Since then, Matt has cowritten with Chuck Prophet and Tom Higgenson of Plain White T's, crisscrossed the country opening for Blues Traveler and Alejandro Escovedo, and recorded half a dozen albums alongside luminaries of the Bay Area music scene. Inspired by the great lineage of rock n' roll, he marries literary lyrics with the undeniable urge to dance.

Matt has served as musical director for experimental theater, collaborated with poets on genre-bending spoken word, and curated residencies among fellow songwriters. Having had seizures since 2015, Matt also uses his music to unite local and national epilepsy communities. Matt has just released his sixth album, White Roses in the Snow, and is in the process of finishing its followup for release in 2023.





The Great Dying


-Oxford, MS


-Will Griffith, known musically as The Great Dying, is a Mississippi Delta born, country singer-songwriter residing in Oxford, MS. Although Will doesn't see his dark country musings as directly blues influenced. "I want people to celebrate sad music because of its beauty. Sad songs help you laugh at your own sadness. They are meant to help you keep going," says Griffith. Punk rock, however, felt like Will's blues and was devoid of the phoniness and commercialism that drove tourism in the area surrounding his hometown of Cleveland, MS.

Will's first release as The Great Dying, Bloody Noses & Roses (2018) was released courtesy of Dial Back Sound, a production company and label located in Water Valley, MS. Netherlands music source Written In Music called it an "Intense and impressive debut." The album was recorded and produced by Bronson Tew and Matt Patton (Drive By Truckers, Dexateens). Touring for the record so far has included a smattering of smaller solo appearances in California, and several two to three week runs in the Southeast as a duo of Griffith and guitarist Craig Pratt. Griffith and Pratt plan to tour most of November 2019 playing first dates throughout New York, New England and Ontario.

More recently, The Great Dying recorded a new song "Writing a Song in Blue Ink" in tribute to musician, singer and poet David Berman (of Silver Jews and Purple Mountains ) who passed in August of 2019. This new track has just been released as a single on digital and streaming formats via Dial Back Sound.