Friday July 7 2023



8:30PM

doors -- music at 9:00PM


••• ALL AGES




$

15

in advance

/ $20

at the door




Primetime Entertainment and Trixie Rasputin

present...


Treasures
www.treasures.band


Rock & Roll


Red Voodoo
redvoodooband.com


Rock


Split Persona
splitpersona.com


Rock


Visuals by

White iLight Prism






---

Treasures


-from San Francisco, CA


-Singer/guitarist Jack Friel and drummer Bobby Franz were in different metal bands sharing a rehearsal space in the San Francisco's Bayview district when they were driven to kickstart a modern rock and roll machine.

They hit the ground running, producing countless demos and refining their vision for a compelling contemporary rock experience. They were soon introduced to veteran riffster Corey Largent and multi-instrumentalist Sam Lowther, forming a potent lineup to bring the vision to fruition.

Treasures linked up with producer Mikel Ross (Corrosion of Conformity) and engineer Travis Kasperbauer (The Go-Gos) at Lucky Recording Company where they meticulously crafted their polished and powerful studio debut, Gold Rush City.

The album delivers eight kick-ass tracks packed with monster hooks, unapologetic lead guitar and captivating melodies. Treasures is sure to find their way into your record shelves, hard drives, concert schedules, and even your shower karaoke song list. And they've only just begun.




Red Voodoo


-from Sacramento, CA




-Red Voodoo is breaking out on the scene with their electric stage presence, polished harmonies, and classic but fresh new take on Rock 'n' Roll. Based out of Sacramento, CA the group has been playing small bars and clubs since 2019. During the pandemic, the group released two singles "Rise Up" and "Bring It Back." This led to opening spots for heavy hitters in rock such as rock n roll hall of famer Sammy Hagar, Bay Area legends Y&T, Everclear, Slaughter, and many more. This last February the group performed on the Monsters Of Rock Cruise alongside Alice Cooper and Buckcherry to name a few. Red Voodoo is the youngest band to date to play the festival on the water. Now Red Voodoo is hitting the studio at the famous Hyde Street Studios in San Francisco working on a 5 track EP with grammy nominated producer Jaimeson Durr. The groups goal is to make rock mainstream again and spark a fire in the hearts of music lovers everywhere. Red Voodoo consist of lead singer and frontman Dino McCord, Lead Guitarist Davin Loiler, Bassist Andrew Edwards, and Drummer Andy Nathan.






Split Persona


-from Reno, NV


-Split Persona is a Reno-based rock and roll band determined to unite the world through music and bring the listener's attention back to organic, unfiltered rock and roll music with a more out-of-the-box approach not identifying with any certain "rock subgenres", Their lead songwriter and singer/guitarist Zander Hoschak shows witty lyrical perspectives and crushing melodies through his songwriting while still leaving room for other members Mike Patterson (drums), Brogan Kelley (guitar/backing vocals), and Jacob Rubin (bass) to show us what they have in store as well.

Emerging out of nowhere in 2019 forming on the achieved mission of winning their high school "Battle Of The Bands" , Zander had the "go the distance" mindset finding the musicians that made Split Persona, and in the space of just a few years, they found themselves collaborating with rock and roll veterans like 3 Doors Down on their single "I Need More", opening up for Puddle of Mudd, and placing in the top 3 of the Danny Wimmer Presents "Battle For The Big Stage" out of 64 other bands where the band advanced through brackets with just their demos, winning over the votes of a live-stream Twitch audience of over 10,000.

In addition to their unique style, they can pull together a memorable live performance with their live sound with their ability to capture any size audience and keep them listening and involved, feeling part of the show. With tracks like "I Need More" and "Strawberries" becoming fan favorites, Split Persona would go on to start a GoFundMe to raise money for a van for them to tour in, only for it to be T-Boned only 2 months into them owning their van on their first tour, losing it entirely. This hasn't stopped the band however, as they plan on continuing making kickass music and playing some unforgettable live shows into 2023.

The first debut Split Persona EP is loaded with the songs Zander began demo'ing when he was only 13 and throughout high school, with him this time playing all the instruments other than a few session player features, one being Reno's own Matt Young, known for playing drums in his band Black Sunshine. The 2020 debut EP was a perfect showcase for his powerful vocals and the infectious, high octane riffs that would one day make up the band's full sound. The track "Keep It" was inspired by the anger Zander felt for the toxic social environment of the private school he previously attended. "Melted Clocks" is a slow burning mid-tempo track using compelling metaphors to relate the heartbreak a female friend of his was experiencing. Perhaps the trippiest, most offbeat tune is the mood swinging "Strawberries," which invites us into Zander's first and only experience with acid.

After the EP was released on the streaming services, Split Persona started racing to tackle whatever comes their way. For a group that Zander says literally formed by accident, they bring a ton of edgy, eclectic sonic energies to the indie rock world – balancing explosive, hard hitting guitar stabs and propulsive drum parts with memorable melodies, catchy hooks and the singer's emotionally compelling but often coolly abstract lyrics. "We developed our vibe from different influences such as Foo Fighters, Queens of the Stone Age, Shinedown, Godsmack, Van Halen and many others," Zander says. "We went into the recording process of the EP with the songs I had already written to get a start on the band. Since its release, though, the band has spent more time writing together and developing the sound and overall vibe that is Split Persona today. I think the EP marked a new beginning to a band full of new soundscapes and personalities both musically and professionally. We push each other to be better and work harder, which opens new venues for creativity. We don't fit in a specific genre, which we like. Keep developing and keep them guessing."















---
---
---

[as of 5/18/2023]
Previously scheduled show, with Grady Strange, is canceled.
Friday July 7 2023
8:30PM

doors -- music at 9:00PM

••• ALL AGES
$
13

in advance

/ $15

at the door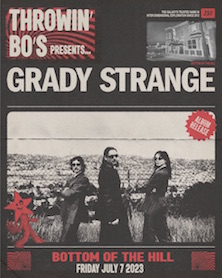 Throwin' Bo's
presents...
Grady Strange
gradystrange.bandcamp.com/
alt country post-punk
TBA
cowboy goth rock n' roll
TBA
...
---
---
---
Grady Strange


-from Los Angeles, CA


-Toting a high energy 5-piece band, Grady Strange is an entertainer in every sense of the word. But his goofy demeanor is only one side of the coin. His clever lyrics and thoughtful composition carry his music, with songs that are glued together by questions and stories pertaining to spirituality, morality, and the general absurdity of life.

After his debut album, Getting Stranger, gained him a streaming following, some radio success and a few syncs, he was able to solidify himself in the Los Angeles music scene with a five week residency at The Echo.

Recently, he found himself pushing his own lo-fi DIY boundaries with his forthcoming sophomore album, See You Later, Separator. While recording to a 4 track tape machine previously owned by CBGB's Hilly Kristal, Grady enlisted his fiancÚ/bandmate Mackenzie Howe and drummer, Mark Morones, to have more of a fingerprint on these songs so as to broaden his sound. Don't be fooled by his newfound post-punk tendencies, the songs are still as catchy and authentic as his past catalog, and his live show is only more electric with each album.