Wednesday July 19 2023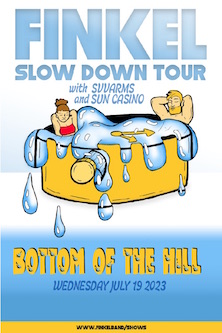 7:30PM

doors -- music at 8:00PM


••• 21 AND OVER




$

13

in advance

/ $15

at the door


FINKEL
finkelband.com


atmospheric pop


Svvarms
svvarms.com


indie pop


Sun Casino
www.suncasinoband.com


indie garage rock surf




---

FINKEL


-from Los Angeles, CA


-

Yo - hope you are well. Thanks for being curious about us. We're a married couple that likes to do out-of-the-box shit to create our music. Welcome to our fever dream <3



Jane and Brian Spencer of FINKEL seem to arrive from the near future, or perhaps somewhere out there, appearing with a slight shimmer of a dimension adjacent to our own. With an atmosphere treading the periphery of pop, the duo's tangible vocal presence overlays hypnotic, cinematic pulsations in a combination that teases out details of last night's otherworldly dreams and tempts the waking state to return to its astral analog.

FINKEL aims to inspire creativity and strengthen human connection while deterring the fears and insecurities attached to making art. That's why they're creating a docu-series in partnership with Slow Blink where they travel globally to new locations, meet new collaborators, and make music inspired by their adventures together. The vulnerability involved in making art is hugely beneficial for everyone. The more open we are with ourselves, the more understanding we can be of the world around us.

As a proof-of-concept, FINKEL hunkered down on the isolated, snow-covered Mackinac Island, nestled in the middle of Lake Huron and wrote, Islanders. The process was filmed by Slow Blink and was released as a feature-length documentary in September of 2022 via Kamikaze Dogfight and Gravitas Ventures.

In 2023 FINKEL will continue their documentary journey, collaborate with more incredible artists, and perform on stages all over the globe.





SVVARMS


-from East Bay, CA




-Formed in 2019, SVVARMS is the East Bay based duo of Luke Baće and Dan Pirello. Baće and Pirello are old friends who have been making music together for years. SVVARMS started on a fateful Tuesday night in the winter of 2019 when they found themselves in Baće's studio surrounded by a menagerie of guitars and synths. They unintentionally wrote their first song "Lightning in the Rain" and, invigorated by that flash of creativity, decided to meet every Tuesday night and write and record a new song, which they did for the next several months. The idea was never to have a band but to incorporate the routine of making music for creativity's sake. Several weeks before the pandemic hit they wrote the song "Adaleena". At that point they had amassed a considerable body of work, deciding they should release the music they had been making over the past year. Throughout 2020 they continued to have socially distant recording sessions with Pirello being relegated to the Iso booth. Now, they are on the precipice of releasing this music and, for the first time in many years, getting to share the stage together. SVVARMS is a pure expression of unfettered musical joy, free of judgement, always searching and staying open to the wellspring of music that flows through Pirello and Baće.






Sun Casino


-from San Francisco, CA




-A by-product of quarantine, Sun Casino was formed by 3 SF transplants hailing from Atlanta, Nashville and SLO. The trio has taken the city by storm with a slew of packed Friday and Saturday night sets at local venues. Sun Casino's catchy lyrics and jangly guitar hooks have resonated deeply with the local SF indie rock scene. Just 3 fellas playing their lil hearts out.