Friday July 21 2023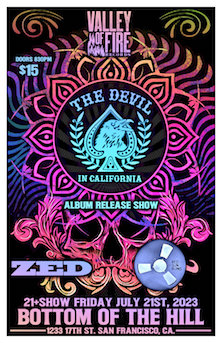 8:30PM

doors -- music at 9:00PM


••• 21 AND OVER




$

15


The Devil In California


(Album release)


www.thedevilincalifornia.com


rock/hard rock


Zed
www.zedrocks.com


rock and roll


Corvus Lore
corvuslore.com


hard rock




---

The Devil In California


-from Oakland, CA


-The Devil In California: Classic but heavy-as-hell rock, you know you're in for something big and heavy when you first lay eyes on these guys, and that's just what you get. They bring their own brand of heavy rock, with low-slung guitars, attitude, impeccable musicianship, and soaring 3 and 4 part harmonies that crush with historic rock power and finesse.

Hailing from the broad, cracked streets of West Oakland California, The Devil In California have set out to create new rock music, and bring it to the world. They do that in-between thing. It's heavy, but not metal. It's sing-alongy, but not sappy.

In the beginning, Jamie and his musical partner in crime, Matt Stewart laid the groundwork for this heavy, low, southern-influenced rock concept. The "audition", and immediately subsequent induction of seasoned rock vocalist Tony Malson made them a band, but they still wanted more from this sound. In search of the perfect "big rock wall of guitars", TDIC hunted for a second gunslinger. While recording their first demo, they found him in Snake Green (Skinlab, Re-ignition).

The band exploded into existence seemingly all at once! In a couple short years they found themselves on stage at amazing Bay Area venues such as Slims, DNA Lounge, Brick and Mortar, The New Parish, and The Fillmore! They were sharing stages with nationals including Three Days Grace, Black Star Riders, Skid Row, Crobot, Truckfighters, Charm City Devils, Prong, The Supersuckers, Motor Sister, Tracii Guns, and John Corabi (of Motley Crue fame). Their debut album release show at San Francisco's DNA Lounge was SOLD OUT!!!

The Devil In California's "Longer Ride Down" came out in 2015 on iTunes, Amazon, CD Baby, Spotify, HearNOW, LASTFM, and most other online outlets worldwide. The album debuted at #7 on CMJ's Hard Rock chart. They have already released two singles and videos – "Black Hand" and "Empty Rooms". Their third single and brand new video coming soon!

After some honing of the sound, some touring, and some amazing fill-ins from some great drummers and great friends, TDIC finally really knew what they really needed in a drummer, and in a band mate. They announced their permanent drummer, Randy Rice in 2017!

The last couple of years have been quite the roller coaster with line-up changes and up-hill battles both personal and global. We wish the absolute best for Jamie and Snake as they move on to other musical ventures. They will always be our Devil brothers. We proudly welcome our new Devil brothers Stephen Lynch and Chuck Howell to The Devil fold and family. Our new songs with this new exciting line-up are sounding huge! We very much look forward to getting this new music out to you as soon as possible. New album is in the works!" Change is inevitable and we will March on!





Zed


-from San Jose, CA


-Making their roaring presence felt in the Bay Area rock scene since 2007 with heavy footprints and sonically indelible marks are San Jose earth shakers ZED. With a sound based on the core principles of blues, heaviness, groove, and feel, this quartet is the genuine article. No bell bottoms, wizard sleeves, or hip huggers for this crew. Instead, it's a barrage of head-bobbing, air-guitaring, hip-shaking, blues-driven riffage as delivered by the bastards of rock & roll.

From their inception ZED made a name for themselves with their crushing live shows and incessant grooves. Having played together in various projects since 1998, including releasing several albums with the band Stitch for Prosthetic and Metal Blade Records, guitarist/vocalist Peter Sattari and bassist Mark Aceves joined up with guitar wizard Greg Lopez and drummer extraordinaire Sean Boyles in order to create a sound that was uniquely their own, whose sole purpose was to rock. Drawing from their varied influences, ranging from classic '70s rock to punk and hardcore by way of metal and old school funk, ZED writes music fueled by nasty grooves. The band has been called "a pissed off Led Zeppelin with Chris Cornell meets Ian Astbury on vocals."

In recent years the bands momentum has exploded, signing to Ripple Music and growing into a household name in the stoner rock community. Their hard-grooving live show has seen the band perform as headliner support at Maryland Doom Fest and numerous SXSW events. Now as ZED prepares to re-issue their classic sophomore record Desperation Blues and release their next full length, they are eagerly anticipating their first European tour, built around what promises to be a benchmark performance at Desertfest London. No matter the consequences, ZED will rumble on!





Corvus Lore


-from San Francisco, CA


-Since Corvus Lore's inception in 2015, their goal has been to write music that is memorable, inspiring, and possesses the perfect blend of the various styles of rock music that they grew up on — keeping original rock music alive today. And people in the music industry are taking note. SoundwavesTV has referred to Corvus Lore as the Bay Area's buzz-worthy band in 2023. Internet show host Chris Akin recently published his interview with the band stating, "Why Corvus Lore is the NEXT Velvet Revolver!" Inspiring and eye-catching videos such as "Boxing Ballerina" have won "Best Music Video" category at the 2022 Poppy Jasper International Film Festival. And their momentum keeps building — having shared the stage with notable rock legends like Tesla, Richie Kotzen, and Dizzy Reed from Guns n Roses, and Eric Martin. They have also made TV appearances on the KBFX morning show.

Their sophomore album, 'Lucida,' scheduled to be release in July 2023 on Valley of Fire Records, contains nine new songs that will take you on a ride and make you want to set the needle back again and again.