Friday July 28 2023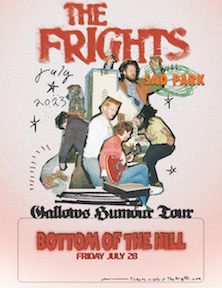 8:00PM

doors -- music at 9:00PM


••• ALL AGES




$

25

in advance

/ $30

at the door


The Frights
thefrights.com/


surf punk


Sad Park
sadpark.com/


alternative emo punk




---

The Frights
-Mikey Carnevale (vocals/guitar)
Richard Dotson (bass)
Marc Finn (drums)
Jordan Clark (guitar)
-Since their 2013 self-titled debut, The Frights have embodied a carefree vulnerability, setting their most awkward and painful feelings to a wildly joyful surf-punk sound. On their fourth studio album Everything Seems Like Yesterday, the San Diego-based band twist that dynamic to deliver their most emotionally direct body of work to date: a collection of songs written and performed solely by Carnevale, each track matching its stripped-back simplicity with both raw outpouring and intense reflection. The follow-up to their 2019 album Live at the Observatory, Everything Seems Like Yesterday first took shape through a handful of songs Carnevale wrote on acoustic guitar back in fall 2018. "Hypochondriac was the first time I'd ever written that way, and it felt really therapeutic," he says, referring to the band's 2018 Epitaph debut. "It pushed me to get much more into the craft of songwriting—as opposed to mostly writing songs for people to mosh to—and it felt right to keep going with that on this record." Although he originally intended to release that acoustic material as a solo album, Carnevale had a change of heart upon sharing his new songs at a series of shows in San Diego and L.A. "All the guys in the band came out and the response was pretty positive, so I started to think this might be something more than a bunch of songs to put online for free," he says. Envisioning the album as a natural evolution for The Frights, Carnevale soon enlisted Dotson as a producer, and the two bandmates set off to record at Carnevale's grandmother's cabin in Idyllwild, California. Kicking off with the sweetly offbeat folk of "24," Everything Seems Like Yesterday documents a particularly challenging year of Carnevale's life—a period that began with the release of Hypochondriac on August 24, 2018 (i.e., Carnevale's 24th birthday). "A lot of these songs are about friends who are gone now, either in the sense that they passed away or that we don't speak anymore," Carnevale points out. "Our songs have always involved some kind of looking back over the past, but this one feels like the first time where I'm dealing with those situations and growing from them. I don't want to say it's more mature—because I don't know if I actually am more mature—but it feels a little healthier than the songs where I'm more caught up in nostalgia, and wishing things could just go back to the way they used to be." During their time at the Idyllwild cabin—a free-flowing but rigorously productive week in late-April 2019—Carnevale and Dotson purposely laid down the entire tracklist to Everything Seems Like Yesterday in exact sequence. In that process, they eschewed all digital production methods in favor of using a field recorder to capture a wide array of ambient sounds. "There were no plugins on the whole record; we wanted to force ourselves to be as creative as we could," Carnevale says. To that end, the two musicians ended up relying on everything from pinecones to pots and pans to construct the album's percussive components, in addition to introducing such sonic elements as the crunching of fallen leaves and the thump of tennis ball thrown against the cabin wall. And while recording the beautifully untethered "Simple and Strange," Carnevale found his performance disrupted by an incoming call on the cabin landline—then left that ringing in the track's final version. ("Every time I go up to Idyllwild my dad will always call to fuck with me—like, 'I'm watching you...', so we just figured it was him," Carnevale recalls. "But when we picked up the phone during that take no one was there, and we never actually figured out who was calling.") With recording in sequence giving Carnevale the motivation to "make each song better than the last," Everything Seems Like Yesterday ends on the heavy-hearted but hopeful "25": a harmonica-laced number whose distinctly lo-fi aesthetic stems from some trickery on Dotson's part. "When I was done writing that one I told Richard to come listen, and without telling me he turned on the field recorder—and that's the take we ended up going with," says Carnevale. "So what you're hearing on the album is the first time I ever even played that song out loud." In creating the more starkly composed songs heard throughout Everything Seems Like Yesterday, Carnevale made a point of placing a more careful focus on his lyrics, partly drawing from his burgeoning love of poets like Allen Ginsberg, Charles Bukowski, and Sylvia Plath. "If you can read a song as a poem and still get the same feeling from it, you know you've done something right," he says. "I'm sure I have plenty of songs from the old days that would really lack something if you took away the music and the melody, but these new songs feel more connected to when I first started writing—back before the main concern was mostly just trying to get people to dance." As they gear up for the release of Everything Seems Like Yesterday, The Frights are building up the album's tracks in order to accommodate the unhinged energy of their live performance. But for Carnevale, the album will always maintain an undeniable intimacy. "When this was going to be a solo record, I had it in the back of my mind that it would really just be for my friends and my family," he says. "And to be completely honest, that's still 100 percent what I want from this album. There's a lot of stuff on there that's about things that people close to me have gone through, and in a way the songs are just me trying to talk through them, and get a very personal message across without really worrying about anything else."





Sad Park


-from Los Angeles, CA




-Sad Park is comprised of vocalist/guitarist Graham Steele, bassist/backing vocalist Sam Morton, drummer Grant Bubar, and guitarist Aidan Memory. Graham started the band in High School and in 2016 they released two EPs with the self-titled Sad Park and Good Start, Bad Endings. In 2018, they released their debut album "SLEEP", followed by their sophomore album "It's All Over" in 2021. In 2022 the band signed with Pure Noise Records and released the single "OMW" and in 2023 they will release a new album that was produced by AJJ frontman Sean Bonnette.