Saturday August 12 2023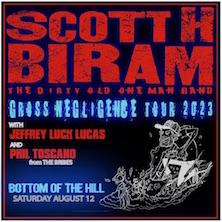 8:30PM

doors -- music at 9:00PM


••• 21 AND OVER




$

15

in advance

/ $18

at the door


Scott H. Biram
www.scotthbiram.com


blues, country, punk, funk


Jeffrey Luck Lucas
www.facebook.com/jeffreylucklucasmusic


dark folk


Phil Toscano


of

The Bribes


www.philipjtoscano.com


blues rock




---

Scott H. Biram


-from Austin, TX


-Scott H. Biram unleashes a fervent display of conviction through, not only the genuine blues, classic country, bluegrass, and rock n roll, but he seals the deal with punk, heavy metal, and frankly, anything else he wants to. He's The Dirty Old One Man Band.

He will still the room with haunting South Texas blues, then turn it upside down, into a truck driver's mosh pit. Like he says, it might be baptism, or it might be murder, either way…you gonna see the light.

This legally ordained preacher's singing, yodeling, growling, leering and brash preachin' and hollerin' is accompanied by sloppy riffs, and licks literally yanked, one at a time, out of his collection of crusty, worn out, Gibson hollowbody guitars, and battle axes. All this held down with a pounding backbeat brought forth by his amplified left foot, and self customed stomp board. The remainder of this brutally charming one-man band consists of an unwieldy combination of beat-up amplifiers and old microphones strung together by a tangled mess of guitar cables. Don't get too close! You gonna get some grease on ya!

Years of compulsive touring, along with a steady diet of down and dirty blues, rock, punk, country, and hillbilly have developed Scott H. Biram's signature concoction, attracting a hefty array of fans who dig the bizarre and twisted sides of the rock and roll spectrum. His live shows, performed all over the world, deliver a take no prisoners attitude, a stomping, pulsing John Lee Hooker-channeling, and cockeyed tales of black water baptisms and murder, all while romanticizing the on-the-road lifestyle. SCOTT H. BIRAM IS THE DIRTY OLD ONE MAN BAND.




Jeffrey Luck Lucas


-from San Francisco, CA


-Born, raised, and "lowered" in Indiana, West Texas, and Los Angeles respectively, Jeffrey Luck Lucas is known as a "musician's musician" and one of San Francisco's best kept secrets.

In addition to recent dark folk albums such as What We Whisper and Hell Then Divine, Jeffrey Luck Lucas is a classically trained cellist and founding member of 80's garage band The Morlocks (Epitaph, Voxx, Midnight). He's shared bills with Alejandro Escovedo, Jolie Holland, Willard Grant Conspiracy, Ray Manzarek (The Doors), Maria McKee, and Eleni Mandell.

Lucas' longtime recording partner is producer and engineer Desmond Shea (Court & Spark, Neurosis, Dieselhed). Lucas and Shea are known for stellar arrangements and studio craft, and together the two attract a multitude of talent from the Bay Area indie music community including Janice Tanaka (L7, Pink), David Phillips (Tom Waits), Tim Mooney (American Music Club), Wendy Allen (The Court & Spark), and Sean Coleman (Kelley Stoltz, Sunshine Club).

Jeffrey has been featured on Tract Records' Eye of the Beholder compilation with his song "Her Pale Silver Eyes," as well as their Will Oldham tribute on which he covered "Agnes, Queen of Sorrow". His song, "Cascade" was featured on the covermount CD of issue #14 of the British music magazine Comes with a Smile. Another song "Whiteout" is featured on the Italian label Awful Bliss's upcoming "Songs for Another Place" compilation.




Phil Toscano


-from San Francisco, CA


-The Bribes is the project of Chicago-born, San Francisco-based musician Philip Toscano. Toscano has relocated The Bribes to the Bay after releasing three records and headlining nearly every mid-sized and DIY venue on the northwest side. The Bribes have settled into California as a three-piece, featuring Toscano on vocals and guitar, Jesse Strauss on bass and Anthony Puducay on drums. The trio regularly perform in the bay area and beyond.

A self-taught guitarist and songwriter who grew up listening to the music from The Animals, Vivaldi, and John Lee Hooker in a classic Midwestern basement, Toscano exhibits a unique and sometimes moody garage-blues-rock sound that possesses both the rollicking energy of 1950's rock and roll and the refined melancholy croon of modern pop music. Toscano's primary project, The Bribes, boasts a catalog of complex songs all of this same spirit. The band's latest recording, "Dust Tapes," released in May 2016, is a lively bite-sized rock opera intended to portray a series of dreams about mortality through a melodically accessible sonic landscape. The result is a cohesive, dark-but-danceable record infused with pop rock hooks and classic rock and roll sensibilities.

Toscano released "Louder Sunset" in late January, 2020. This 8 song collection is his most sophisticated and ambitious collection of songs to date.

The Bribes have been featured in the Glide Magazine, American Pancake, The Bay Bridged, The Deli San Francisco, Bay Area Music Magazine, Windy City Times, WXRT Local Anesthetic, and Midwest Action.