Tuesday August 15 2023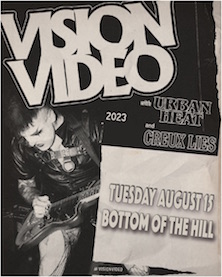 8:00
PM

doors -- music at 8:30PM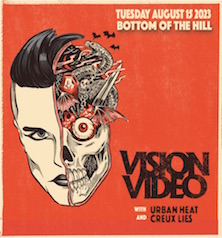 ••• 21 AND OVER




$

20

in advance

/ $23

at the door


Video Vision
visionvideoband.com


goth new wave post-punk


Urban Heat
www.urbanheatband.com


darkwave new wave synthpop


Creux Lies
www.creuxlies.com


darkwave goth post-punk




---

Vision Video


-from Athens, GA


-As an active paramedic, firefighter, and veteran of the war in Afghanistan, Vision Video lead Dusty Gannon has seen more horror in real life than in the classic movies he draws inspiration from. When not saving lives on the front-line, Dusty dons torn fishnets, combat boots and makeup to play post-punk that recalls the genre's heyday when the lines between goth and pop blurred to create some of the underground's most beloved acts such as The Cure, The Smiths and Joy Division. But hidden within Vision Video's catchy hooks and dancy beats is a nostalgic yet desperate message exploring the darker undertones of our existence. At its core, Inked In Red looks inward to understand the effects of war and the global pandemic. Dusty's experiences in service have imparted an authentic gravitas to the music, revealing a cautionary tale of unhinged mental illness born of trauma. Sonically, this is reflected in every chord and melody through its enticingly gothic yet often upbeat nature. Vision Video's debut imparts a duality of mania that, simply stated, is real malaise and existential dread that cannot be made facsimile.

Dusty left the active duty Army and decided to move back home to Athens, GA after being disillusioned with his experiences from the war. "I just knew that I couldn't keep on supporting something that was fundamentally against my nature as a human being," he says of his return from military service. As a native of Athens, he recalled the rich music scene that he grew up around. "It just made total sense to go back. I knew in my heart that I wanted to play music, as I had been writing about my experiences during the war and I knew it was a message that needed to be heard," Gannon notes. Upon his return to civilian life Dusty also decided to serve in the metro Atlanta area as a paramedic and firefighter, where life and death still hang in the balance.

Shortly before the world entered the pandemic, Dusty assembled a band with Dan Geller the producer behind synthpop act I am the World Trade Center on bass, and Jason Fusco the bombastic drummer of punk band Shehehe. In attendance at their first show was keyboardist Emily Fredock, who would soon find herself adding an integral layer of sound that cemented the lineup. Fredock, a classically trained pianist who had never played in a band, quickly became a staple, lending gorgeously complex synth-work and vocal harmonies that give Vision Video their signature sound distinct from the classic influences they wear with pride

Emily explains, "As much as I love bands like The Cure, Siouxsie and the Banshees and the Sisters of Mercy, I wasn't really interested in a direct reproduction of their sounds. I wanted to do something new." That newness is palpable, as the band projects an even synthesis of goth, synthpop and dance punk that finds a unique accessibility. In fact, that was one of Gannon's goals."With Vision Video's first LP I tried to write music that was almost inviting at first listen. I wanted people to be drawn into the music first, but then immediately see the lyrics are distinctly jarring, dark and foreboding," Gannon adds. Lyrically, the band does not shy away from the dark, but dives in head first. Gannon's writing is the byproduct of post traumatic stress made manifest; a foreboding tale of manic depression and the inability to connect through the haze of trauma. "In the blunt terms, I completely lost my damn mind. And this music and this band were the only things that saved me," says Gannon. The catharsis and exploration are real, yet universal for the listener. One needs not be a combat veteran or firefighter to relate to the unifying message. That message, says Gannon, is simple. "It's okay to be inherently NOT okay. This is music for people who need to bring their skeletons out of the closet to make friends with them, instead of recoiling in horror at their sight."

After the pandemic rattled plans for 2020 to serve as the band's grand unveiling to those outside their hometown, Gannon's disciplined work ethic kicked in to deal with idle hands during lockdown. Starting from scratch, Dusty became an online presence, fostering an audience of over 120k followers between

Instagram and TikTok with his gender bent explorations of artistry with makeup and goth fashion. The band also remotely finished tracks they had started recording with producer Tom Ashton of the classic 80s goth band The March Violets ultimately releasing their first two singles to a surprisingly eager response. After entertaining several offers from record labels, the band opted to release their first full- length independently relying on bass player Geller's experience as one-half of the storied indie pop label Kindercore Records to navigate the music business terrain.

Inked in Red is a culmination of Gannon's experience dealing with trauma but the band is all about having the time of your life: "While the subject matter of Vision Video is full of real-life terror and monsters, I want our listeners to feel the same thrill of the teenage Friday night horror movie rental. They say that when looking into the void, it looks back into you, but it will damn well see us dancing our ass off."





Urban Heat


-from Austin, TX


-Urban Heat are a 3-piece American post-punk band from Austin, TX. The band formed in 2019 when multi-instrumentalist and vocalist Jonathan Horstmann enlisted Kevin Naquin and Paxel Foley to form a live show based on his analog sound design. The result fuses dark 80's stylings with modern flourishes, with Horstmann's throaty baritone delivering musings on existence and romanticism against an unrelenting industrial gothic pulse. Their live show is undeniably energetic and engaging, earning them slots at Austin's Levitation and Seattle's Freakout Fest in 2021. They released 6 singles between 2019 and 2022 and while the pandemic saw their SXSW 2020 performance canceled, they returned in 2022 as official artists.

2022 was a banner year for the band. Their single "Have You Ever" had a viral moment on TikTok and was viewed over a million times. Atomic Music Group took Urban Heat on for North American booking and in the fall they completed a national headlining tour. They were selected as Sonic Guild grant recipients and were featured as KUTX 98.9's Artist of the Month for July. The band played the Austin City Limits festival in October and in Jan 2023 was nominated for Band of the Year and received the award for Song of the Year in the Austin Music Awards. In March 2023 Urban Heat joined Vision Video as direct support for a 3-week tour that took them to the East Coast and Canada. In May 2023 Urban Heat will be playing Cruel World Fest in Pasadena California, joining a lineup that includes Siouxsie, Iggy Pop, Gary Numan, and other genre icons.





Creux Lies


-from Sacramento, CA


-Revered for use of reverb-laden guitar work, creative synth structures, and dynamic vocals akin to the style of many shades of 80's and early 90's pop-darkness. Hailing from Sacramento, California. The lineup includes - Ean Clevenger (vox/programming), Barry Crider (guitarist), David Wright (synth/drums) , & Kyle Vorst (bassist).

In late 2017, Creux Lies completed their first full-length album via Cleopatra, "The Hearth", recorded at the creative fantasy-land known as Earthtone Studios (Tera Melos, So Stressed!, King Woman) in their home city under the creative care of producer/engineer extraordinaire Patrick Hills.

The last years included seminal performances for Creux Lies, with appearances at WGT, Absolution Fest, Murder of Crows NY, and several other shared stages and tours with a roster of notable acts such as AFI, The Soft Moon, Clan of Xymox, Drab Majesty, Soft Kill, Gene Loves Jezebel, Actors, Vowws, Twin Tribes, and others. Creux Lies is poised for 2021 with the release of their second full-length via the international Freakwave label. Headlining performance antics will ensue promptly. Catch them soon on tour throughout the reaches of the planet.