Wednesday August 16 2023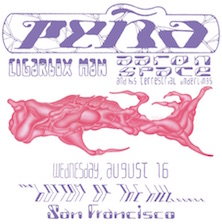 8:00PM

doors -- music at 8:30PM


••• 21 AND OVER




$

13

in advance

/ $15

at the door


Peña
instagram.com/nico.penya/


bossa nova emo latin rock & pop psychedelic


Cigarbox Man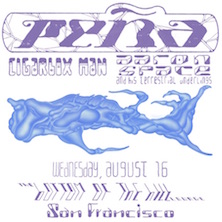 cigarboxman.com


Sustainable Rock


Aaron Space and His Terrestrial Underlings
aaronspace.bandcamp.com


experimental soul




---

Peña


-from San Francisco, CA


-bilingual bedroom-bossa brainchild of a chilean-american first gen only child.

surf and turf, jazz-gaze stir fry for emotional souls who appreciate pop equations.

nj to the bay.




Cigarbox Man


-from the Bay Area, CA




-After a trip that changed his life, Felipe Ubeda returned to Chile with the intention of finishing the songs that would relate his adventures and motivate more people to travel, connect and take care of our planet. This is how Cigarbox Man was born, the first "Sustainable Rock" band in Latin America. The musical objective of the project is just as important as sustainability in all its activities and messages to spread. One of the main instruments used by Felipe is called Cigarbox Guitar, which he makes using 90% recycled materials and 3D printing techniques. This guitar is the main responsible for the unique sound achieved in the compositions. The band is formed by Felipe as the leader, and by a dream team of Chilean musicians who dared to change the rules of the game in the music industry; the bassist of "Los Bunkers" Gonzalo López, the guitarist of Álvaro Henriquez Paolo Murillo, the keyboardist of "Los Santos Dumont" Nicolas Ferrada and the drummer of Pedropiedra Eduardo Quiroz.






Aaron Space and His Terrestrial Underlings


-from Berkeley, CA


-Aaron Space and his Terrestrial Underlings is a five piece experimental soul act composed of keyboardist/vocalist Elihu Knowles, guitarist Dylan Ransley, bassist Quinn Girard, keyboardist/saxophonist Hayden Dekker, and drummer Ryan Higley. Based in Berkeley, CA, the group's shared background as close childhood friends and jazz musicians deeply influences their soulful and experimental tunes. Their work has often been compared to a variety of artists including Jon Bap, Sun Ra, Pulgas, Os Mutantes, King Krule, and Standing on the Corner. Beginning in 2019 as a solo project of keyboardist Elihu Knowles, Aaron Space and his Terrestrial Underlings began attracting attention following the release of their much-lauded debut album, "Fishland" released by Portland experimental label Moon Glyph in May of 2020. To date, the group has completed two additional EP's: 2021's "Grid" and 2022's "Night On Earth," a record of experimental Big Band jazz composed for Knowles's undergraduate thesis (released under the name "the Aaron Space Cosmic Orchestra.

Starting in 2022, the project transitioned from a solo act into its current five piece lineup. Now living together and working at the same restaurant, the members of Aaron Space are well into production of their second full length studio album and perform regularly in the Bay Area, at venues such as Bottom of the Hill, Eli's Mile High Club, the Ivy Room, the Elbo Room, Thee Stork Club, El Rio, and a monthly residency at the Little Hill Lounge.