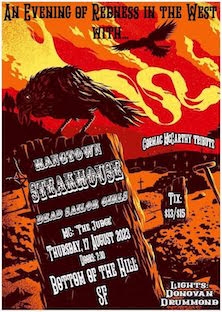 Thursday August 17 2023
7:30PM

doors -- music at 8:00PM
••• 21 AND OVER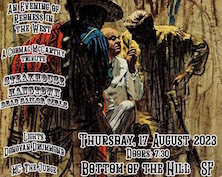 $

13

in advance

/ $15

at the door




An Evening of Redness in the West




(A Cormac McCarthy Tribute)


Hangtown
hangtownband.com


surf spaghetti western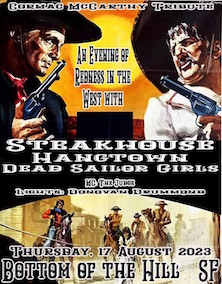 Steakhouse
steakhouseband.com


country electro post-punk


The Dead Sailor Girls
thedeadsailorgirlsmusic.com


mermaid rock


Lighting and visuals by

Donovan Drummond


Featuring MC: The Judge



---

Hangtown


-from San Francisco, CA


-Hangtown is a post-apocalyptic spaghetti western surf rock band hailing from San Francisco. Founded in 2016 from a solo album by multi-instrumentalist Robb Grimes (Also of SF's thrash metal quartet ASADA MESSIAH). The music envisions a dust blown, post-apocalyptic world, and the sad and twisted stories from the inhabitants therein.

Old Man Grimes is joined by long-term collaborators, Nick Poulos, Matt Fogel, Reese Douglas, and Sandeep Bhuta, who have crafted together a wild genre-bending live show after years of gigging the west coast.




Steakhouse


-from San Francisco, CA


-Steakhouse is a rock group from San Francisco, California. Their music sounds like a mix of post-punk, country/western, kraut rock, and art rock. They are influenced by Neu!, Johnny Cash, Rank & File, Scott Walker and The Clash. They have headlined big clubs in San Francisco and made two LPs. All the members of Steakhouse are veteran musicians:

Reid Black (guitar) was in Innaway, whose record was named "Best of the Year" by NPR in 2005. Innaway toured with The Brian Jonestown Massacre and Echo and the Bunnymen.

Mark Lee (synths, voice) made two critically acclaimed records with American Music Club drummer/producer Tom Mallon, and played organ in a later iteration of the Toiling Midgets.

Brian Michelson (drums) played in and recorded with Birds and Batteries and The Loyd Family Players. He hails from Poway, California and has been playing music in San Francisco for 10 years.

Ville Vilpponen (bass) has recorded and toured with numerous Bay Area bands since 2003. He was a guitarist in Dora Flood and later co-wrote and released two acclaimed albums for White Sails.




The Dead Sailor Girls


-from the Bay Area, CA


-We play mermaid rock from the velvet underwater.
The Dead Sailor Girls: Julietta Hay songwriter/guitar/vocals. Eve Hay vocals, Ned Doherty bass. John Stuart drums. Now featuring Greg Ingraham on guitar!






Lighting and visuals by

Donovan Drummond


-from San Francisco, CA




-Cultural anthropologist/musicologist. Founder of the Psychedelic Light Show Preservation Society.