Friday August 18 2023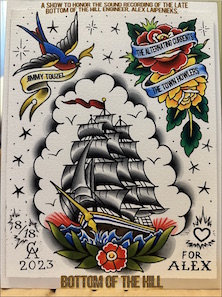 8:00PM

doors -- music at 8:30PM


••• 21 AND OVER




$

15

in advance

/ $20

at the door




A show to honor the sound recording of the late Bottom Of The Hill engineer, Alex Laipenieks.




All the bands on this bill recorded with Alex.


The Alternating Currents
thealternatingcurrents.com


alternative-rock folk psych


Jimmy Touzel


(Vinyl release)


jimmytouzel.com


alternative rock americana indie


The Town Howlers
townhowlersbluegrass.com


bluegrass old time




---

The Alternating Currents


-from Oakland, CA




-The Alternating Currents are R.M. Diaz, Eric Park (Fuckwolf), Augustus DeVandry (The Hypnotist Collectors) and Joe Miller. The Alternating Currents blend a swath of musical taste including psych-rock, country blues, indie alternative, and post-punk. N?N was Engineered by and Produced with Alex Laipenieks of Owl Sight Recorders. Way Out In Heaven was recorded by The Long Road Society at Starline Social Club in Oakland, CA.






Jimmy Touzel


-from Oakland, CA


-With his soaring tenor vocals and vintage 6-string bass guitar complete with surf inspired twang, Jimmy Touzel has crafted a unique concept album and signature solo country act. His debut full length album, Lonesome Lullabies, will be released on July 21rst, 2023 by Belle Isle Records and will be available on all streaming platforms and LP/CD/Cassette. Drawing on influences such as 50's rock, spaghetti westerns, and the 1960's Nashville Sound, Lonesome Lullabies is drenched in plate reverb, tremolo, and slap back delay. These sounds and reverberations of the 50's and 60's helped Jimmy paint a picture with Lonesome Lullabies that is both sad, dreamy, and ethereal. Early reactions to the album have drawn comparisons to Eddie Arnold, Elliot Smith, Ennio Morricone and Hank Williams.

Before embarking on his journey as a solo artist, Jimmy has been a mainstay in the San Francisco Bay Area's traditional American music scene for the past 15+ years. Playing upright bass, electric bass, tuba, clarinet, and sax, he specializes in traditional bluegrass, traditional jazz, django jazz, old time, rockabilly, classic country, and western swing. In addition to numerous music and film recordings on the upright bass fiddle, electric bass guitar, and clarinet, Mr. Touzel has toured coast-to-coast at home in the US, as well as performances in Canada, Holland, France, Belgium, Costa Rica, and Russia. He has performed live on stage with groups of note, such as the Earl Brothers, Gaucho, the Stylistics, Maurice Williams and the Zodiacs, Evanescence, Lindsey Sterling, the Brothers Comatose, Jackie Gore, and the Tams.

In addition to his love for traditional American music, Mr. Touzel has a passion for performing classical music on the clarinet. Before moving to the Bay Area, he held the Bass Clarinet chair in the Symphony Orchestra Augusta (GA) and the 2nd/Eb Clarinet position in the Long Bay (Myrtle Beach, SC) Symphony. Additionally, he played with the Wilmington (NC) Symphony and the Aspen Festival Orchestra. Jimmy has performed under the batons of many of the worlds leading conductors such as David Zinman, James Dupriest, Julius Rudel, Michael Stern, and Damon Gupton. He attended the Aspen Music Festival where he studied with Bass Clarinet legend Dennis Smylie.

Originally from Georgetown, South Carolina, Jimmy earned his Bachelor of Music Performance from the University of South Carolina where he studied clarinet with Doug Graham, jazz bass with Jim Mings, and jazz with Bert Ligon. Past clarinet studies also include Mark Brandon, and Gloria Campione. Past bass teachers have included Ken Miller, Djordje Stijepovic, Craig Butterfield, and Reggie Sullivan. An educator himself, Mr. Touzel is a member of the instrumental music faculty at the Oakland School for the Arts, where he teaches classes in classical, jazz, rock, and music history.




The Town Howlers


-from Oakland, CA




-The Town Howlers play traditional bluegrass music and are influenced by the great singers and pickers from the golden era of bluegrass, such as Bill Monroe, The Stanley Brothers, Vern Williams, and Jimmy Martin. With flashy picking, tight harmony singing, and original as well as traditional songs, the Town Howlers show a deference to traditional bluegrass while also adding their own style and sound.