Saturday August 19 2023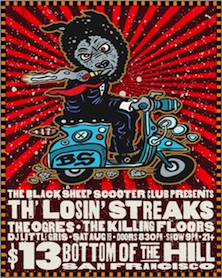 8:30PM

doors -- music at 9:00PM


••• 21 AND OVER




$

13




The Black Sheep Scooter Club

presents...


Th' Losin' Streaks

--------The Boars off the bill


instagram.com/thlosinstreaks


garage rock psych


The Killing Floors
instagram.com/thekillingfloors


garage rock psychedelic rock


The Ogres
facebook.com/theogres


garage rock psych surf


Little Gris


spinning records




---

Th' Losin' Streaks


-from Sacramento, CA




-"Founded in the state's capitol in the early 2000s, Th' Losin Streaks' story began when Sacramento garage mainstays Tim Foster (guitar/vocals) and Stan Tindel (bass) of like-minded veteran band The Trouble Makers teamed up with drummer Matt Shrugg (ex-Groovie Ghoulies and Zodiac Killers) and guitar virtuoso Mike Farrell, who had made his name in area bands Daisy Spot, Sex 66 and Persephone's Bees (who he played bass for). The group quickly established a reputation with their frenetic stage show at venues around Sacramento." ~ Dave Pehling, CBS






The Killing Floors


-from Los Angeles, CA




-Voted one of Music Connection Magazine's Top 100 Live Performers, The Killing Floors are a Los Angeles five-piece Rock'n'Roll ensemble formed over a shared love of 1960's music and Punk Rock. Since their inception, The Killing Floors have been cranking out infectious '60's- style bangers that fit perfectly next to the unearthed 60's Garage Rock and Psych compilations.






The Ogres


-from Oakland, CA




-Three chords and a cloud of dust. Plus plush vests.