Tuesday August 22 2023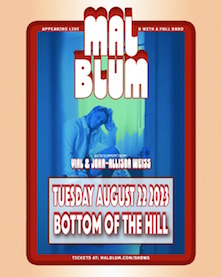 7:30PM

doors -- music at 8:00PM


••• ALL AGES




$

17

in advance

/ $20

at the door


Mal Blum
www.malblum.com


punk alt-americana folk grunge


VIAL
www.vialband.com


indie punk


John Allison-Weiss
www.lowerkeymusic.com


folk indie rock pop




---

Mal Blum


-from Los Angeles, CA


-"Mal Blum (born 1988) is an American songwriter and performer from New York

Critics often remark on Blum's strength as a lyricist. They spent their early career promoting self-booked diy solo tours and supporting other solo artists such as Mike Doughty, Melissa Ferrick, Jenny Owen Youngs, Amanda Palmer, and Jeffrey Lewis.

In 2014, Mal Blum signed to Don Giovanni records and announced they would be working on a new album produced by Marissa Paternoster of the band Screaming Females. Before that point, they had never worked with a record label and fan-funded or self-funded recording costs. After the Don Giovanni release of "You Look a Lot Like Me" in 2016 Mal Blum began touring nationally as a three piece with a bassist and drummer, contributing to what critics called a "more developed but still gritty, punk" sound.

Mal Blum is a recurring musical and non-musical guest on The Chris Gethard Show and has had music featured on Logo TV's The Click List: Top 10 Videos and NewNowNext Music

Blum has contributed non-musical written work to Autostraddle, Huffington Post, and The Fader.

Blum attended State University of New York at Purchase." ~ Last.fm





VIAL


-from Minneapolis, MN


-VIAL is a Minneapolis-based indie punk trio of best friends: Keytarist and bassist Taylor Kraemer (she/they), guitarist KT Branscom (they/them), and drummer Katie Fischer (she/they). VIAL has brought their genre-bending cascade of sound into electrifying live performances since their formation (On Tinder, mind you) in mid-2019. They've got songs that smack you in the face: Rage-written speedruns about running over misogynists ("Roadkill") and head-bopping, cheek-blushing queer love songs to tingle your toes ("Violet"); VIAL is a powerhouse who knows how to adapt their sound, and themselves, allowing them to grow in new ways during 2020's days of quarantine by creating a wide audience on TikTok and other social media while revving up to release their blossoming debut album, LOUDMOUTH (2021). This record was highly anticipated after the success of their debut EP, "Grow Up," which hit streaming sites soon after the group's formation in late 2019.

Following the release of LOUDMOUTH, VIAL has made an explosive return to live music, playing historic venues across Minnesota, including First Avenue's iconic main stage, and have hit many of their favorite cities while supporting artists such as FIDLAR, HUNNY, and Jhariah.





John Allison-Weiss


-from Los Angeles, CA


-John-Allison Weiss is a singer/songwriter living life on their own terms. Born in Michigan and raised in Georgia, they started making music in high school and never stopped. Their career started online where they made lifelong fans through MySpace and Tumblr, lonely hearts across the globe who found solace in their soft songs and hope in their louder ones.

From 2010-2020 they toured relentlessly, sharing the stage with everyone from Lou Reed to Letters to Cleo. They wrote songs with heroes like Tegan Quin and Kevin Devine and took their music to two more continents with tours in the UK and Australia. Flying just under the radar, Weiss earned a cult following and the respect of peers like The Wonder Years, Into It. Over It., Now Now, The Front Bottoms, Jenny Owen Youngs, Julia Nunes, Cartalk, Hit Like a Girl, Kississippi, Koji, and the list goes on.

In 2021 Weiss successfully raised $14,000 to independently make their fourth studio album and went into the studio that summer with producer Bradley Hale (Sombear, Now Now). In mid-2022 they announced a partnership with Get Better Records to release the new record worldwide, details to come.

Today JAW continues to make music on the internet while roaming the continental United States in their travel trailer. Supported by Patreon and the sweet sweet streams of their legion of listeners, Weiss lives their life in pursuit of community, authenticity, and love.

Johnny currently lives with their cat Mouse in their best friends' driveway as they prepare to finally release their first album in seven years.