Thursday August 24 2023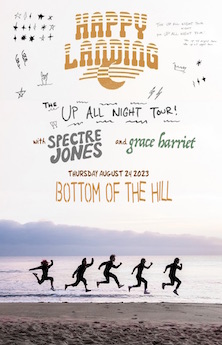 8:00PM

doors -- music at 8:30PM


••• ALL AGES




$17

in advance

/ $23

at the door




Happy Landing's "Up All Night Tour"


Happy Landing
happylanding.band


indie folk rock


Spectre Jones
spectrejones.com


alternative / indie


Grace Harriet
graceharrietmusic.com


indie folk




---

Happy Landing


-from Oxford, MI


-HAPPY LANDING is an American folk rock band formed in Oxford, Mississippi in 2020 by Matty Hendley (lead vocals, guitar), Keegan Christensen (vocals, keys), Jacob Christensen (drums), Andrew Gardner (fiddle, vocals), and WIlson Moyer (bass/guitar, vocals).

The group pioneers a new wave of indie folk music, captivating audiences around the country with their energetic live shows and fresh sound, blended from the roots of southern rock, punk and folk.

Following a successful year of touring with notable bands like The Head and The Heart and The 502's, the band hits the road again in 2023 with the release of their third studio EP.




Spectre Jones


-from Los Angeles, CA




-Spectre Jones is an indie band based in Los Angeles, CA. With a wide range of influences both contemporary and classic, they've established a catalogue of work ranging from intimate indie folk and harmonic dreamscapes. If something sounds familiar, you just might have caught one of their 24+ TV/Film placements with networks such as MTV and VH1.






Grace Harriet


-from the Bay Area, CA


-Grace Harriet is a 20 year old singer/songstress from Northern California, a place that deeply influences her music and lyrical content. Combining indie, rock, and folk styles, Grace performs music that encourages an audience to discover beauty in every emotion and experience. If you enjoy driving with the windows down through redwood trees, romanticizing farm life, or changing your outfit multiple times a day, you have come to the right place.

Grace previously made music throughout her teens under the artist name "Blovey" but since decided that Grace Harriet was where the soul of her projects will lie. Now, Grace is studying songwriting at Berklee College of Music in Boston, MA where she is focusing on her next project. She performs around Boston with herself and a guitar but also with a wonderful band that helps bring her music to life. Her single "If I Make It That Far" came out on April 22nd, 2022 and expects to have more music out before 2023.