Sunday August 27 2023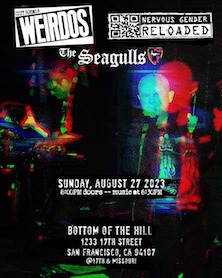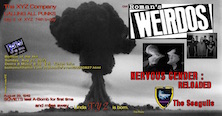 8:00PM

doors -- music at 8:30PM


••• 21 AND OVER




$

15




Linda XYZ

presents...


Roman's Weirdos
facebook.com/p/Romans-Weirdos


Punk Rock


NERVOUS GENDER Reloaded
nervousgenderreloaded.bandcamp.com


Synth Punk


The Seagulls!
theseagullssf.com


Post-punk




---

Roman's Weirdos


-from Los Angeles, CA


-Original founding member Cliff Roman has assembled a new punk rock wrecking crew!

Cliff Roman is a guitarist/multi-instrumentalist and songwriter/co-songwriter. His band of all-stars features Jeremy Eagle on lead vocals, John Dimambro on lead guitar, Danny Dorman on bass, and Sean Antillon on drums.

All are veteran musicians of the LA punk scene and have played in Circle One, Wasted Youth, The Gears, The Skulls, Down by Law, Agent Orange and Fifi. The Weirdos burst onto the LA music scene in 1977, kick-starting the local punk rock scene along with The Germs, The Zeros, The Screamers, The Dickies and Ohio transplants, Devo. Throughout the late 1970s and 1980's, they headlined The Whisky, Starwood Club, LA's legendary underground punk club the Masque and the infamous Mabuhay Gardens in San Francisco.

Variations of the Weirdos including original band members John and Dix Denney played nationally and internationally in the 1990's and again in the 2000's and 2010's.

Roman's Weirdos have been playing the LA/SoCal area for the past year, appearing at Alex's Bar in Long Beach, Zebulon in Los Angeles and they recently supported TSOL at Saint Rocke in Hermosa Beach.

They've also rocked the Corbin Bowl, Doll Hut, Maui Sugar Mill, Chi Chi's Cocktail Lounge, El Rey Cantina, Offbeat Bar, Permanent Records Roadhouse in Los Angeles, Tower Bar in San Diego and the Sewer – Sans Suci Cocktail Lounge in Ventura.

Roman's Weirdos plays a furious, rocking set of Weirdos fan favorites such as Destroy All Music, A Life of Crime, We Got the Neutron Bomb, Solitary Confinement, Fort USA and Helium Bar.




NERVOUS GENDER Reloaded


-from Los Angeles, CA


-Synth punk and 21st-century classical music!

"By the end of the '80s I (Edward Stapleton) had spent a lot of time listening and gaining inspiration from all types of music with new and eclectic rhythms. Wanting to create something new and different I took time off to reeducate myself.

When Nervous Gender (original) came to we reformed again in the mid 90's, but we were doing our doing live performances of the Nervous Gender song book. Again I found myself not creating something new, and then… I was put in touch with someone with an amazing musical background who also had a deep knowledge and appreciation of the Avant Guard music of the last century.

I thought how do we blend his background and that of a Synth Punk survivor?? Well, actually it was quite easy. Working with Matt Comeione has been eye opening and a pleasure. It feels good to create something new. It's been a long time coming."




The Seagulls!


-from San Francisco, CA


-From a recent PRESS RELEASE:

"... songwriter Jon Brooder (leads) his San Francisco-based garage-rock quartet, The Seagulls' (in their signature) "modern classic" sound.

While much has changed since Jon was living in squats in South London with band-mates and RCA recording artists Lightning Strike, he has maintained his devotion to writing finely crafted, accessible-yet-edgy rock tunes.

Watch out for hooks galore, old-school anthems and raucous romps that draw influences from 50's rock 'n roll, Motown, Rock Steady, British Pub Rock and first wave punk rock.

Joining Jon is The Seagulls' fierce, female rhythm section, Geri Vahey, drums, vocals (ex-Skint, Mom's Favorite Vase)."