Tuesday August 29 2023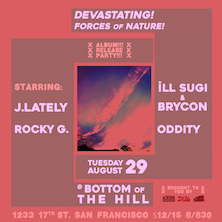 8:00PM

doors -- music at 8:30PM


••• 21 AND OVER




$

12

in advance

/ $15

at the door


Zero Data Studio and The Archivist present...


Devastating! Forces of Nature

Release Party
J.Lately

[co-headlining]


justlatelymusic.com


Hip hop R&B Soul


Rocky G

[co-headlining]


instagram.com/rockayye


Rap, Hip Hop


ill Sugi & Brycon

[co-headlining]




(Album release)


instagram.com/ill__sugi
bryconmusic.com


Hip Hop


Oddity
thatoddity.com


jazz, hip-hop and neo-soul




---

J.Lately


-from Sepastopol and Oakland, CA




-J.Lately distinguishes himself as an emcee with his soulful style and laid back flow. A true appreciation for music along with the unique ability to put everyday life into a relatable perspective has allowed him to flourish in the Bay Area scene and beyond. His music possesses the rare ability to make you contemplate and vibe out simultaneously, finding the perfect balance between the conscious and the stoner. Coming from the small town of Sebastopol, and having split time between Oakland and Southern California, his influences are eclectic and mesh together effortlessly to form his own individual style. A relentless drive has kept Lately on tour across the country with artists such as Zion I, Andre Nickatina, Locksmith, and A-Plus of the Hieroglyphics.






Rocky G


-from San Francisco, CA




-Rapper, filmmaker, and multi-instrumentalist, Rocky G has been an uprising enigma in the underground hip-hop scene. As a D.C. native & current Bay Area resident, he has attained many layers musically from playing Saxophone as a youth, too collaborating & performing alongside artists like Bambu, NugLife, Sol Development, Ruby Ibarra, AKTHESAVIOR, & more.






ill Sugi & Brycon


-from Kanagawa, JP and San Francisco, CA


-ill-SUGI as NASTY ILL BROTHER: JMR//slowlights//COCKROACHEEE'z/kanagawa/japan/go sugimoto

-San Francisco-based producer, lyricist and DJ, Brycon is an audio Swiss Army knife with over 25 years of experience in the arts. Instilled with a deep and soulful musical sensibility by his Motown-baby mother and folk-singing father, his natural instinct for melody and composition is evident throughout his works.

His extensive production credits include notable film works such as the upcoming 2023 release "The Picasso of Thieves" and "Life of a Fighter" (2021). Brycon has also collaborated with a diverse range of rap artists, including Action Bronson, Kool Keith, Masta Ace, and Murs. Creative partnerships with artists like Amani Jade, L*Roneous, and Xiomara, as well as fully realized groups such as Grand Killa Con (with Luke Sick of Sacred Hoop), Diamond Lung (with Lightbulb), and The Watershed (with Equipto, Monk HTS, Professa Gabel and MC Pauze) have further showcased his versatility. He has contributed his musical expertise to various companies such as Surfs Up Exotics, New Heat Media, and AR Auto Design.

As a performer, Brycon has graced stages worldwide, sharing the spotlight with artists ranging from Sharon Jones and The Dap-Kings to Ghostface Killah. His DJ sets and production continually evolve, displaying subtle nuances perceptible only to the most discerning ears. However, the Brycon sound maintains a signature that seasoned listeners will always recognize.

Brycon's upcoming projects include "Totally Unnecessary White Guy Dub," featuring the lead single "Peace" with Mykel Rose of Black Uhuru and Maitre D, as well as a second collaborative project with ill Sugi titled "Devastating! Forces of Nature." With a reputation for his diverse artistic endeavors, Brycon's creative output continues to expand, offering an ever-growing range of captivating work.




Oddity


-from East Bay, CA


-Oddity is a Chinese-American transfemme seeking refuge and justice through the power of the song.

With influences ranging from Billy Strayhorn to D'angelo, Oddity can be found wherever inspiration strikes - be it a tender touch on a warm rhodes, a heavy dilla-style backbeat, or a bluesy trombone melody.

Oddity's story is one of resiliency and rebirth, of toeing the precipice of the abyss and returning with an open heart and a present mind. Her music is at once an affirmation of life, a tear-streaked lament, a desperate call to action. Join Oddity as she discovers beauty and cultivates peace by centering love, against all odds.