Wednesday August 30 2023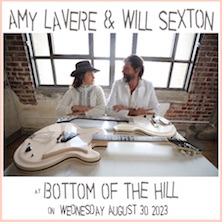 8:00PM

doors -- music at 8:30PM


••• 21 AND OVER




$

15

in advance

/ $18

at the door


Amy LaVere & Will Sexton
amylavere.com


alt-country singer-songwriters


EllaHarp
ellaharp.com


folk-pop, americana


--------Jarrod Dickenson off the bill

---

Amy LaVere & Will Sexton


-from Memphis, TN


-Just when you think Amy LaVere is at the top of her craft, it grows into something even more powerful. Her songs are both original and timeless, making her well known among songwriters and critics alike. NPR's Robert Siegel says she "specializes in lyrics that are more barbed than her sweet soprano prepares you for." Amos Perinne of No Depression has written of Amy saying "Her songs have a level of detail comparable to a photo. LaVere has a knack for documenting simple moments and making them riveting. "Her growing catalog of material and steady critical acclaim suggest a first-tier presence on the Americana and indie-folk circuits.

Her record 'Painting Blue' (2019) showcases her depth and creative storytelling, beautifully. The production is gorgeous, original and naturally 'Amy', captured perfectly by producer and husband, Will Sexton. Mojo Magazine gave the project 4 out of 4 stars.

Amy's live performances are anything but predictable. She captivates her audiences and never fails to take them on a memorable journey. Her performances have been called hypnotic, mesmerizing and legendary. She's never had trouble finding top tier players like drummer Brady Blade, Violinist Bob Furgo or guitar players WIll Sexton and David Cousar to travel and perform with her to support her stellar songwriting material. Her voice is unique and beautiful and she's been honored by having been voted 'Best Of Memphis' on three separate occasions and been nominated many times.

Amy has performed in venues as wide-ranging as St. Andrew's Hall in London to Memphis' famed dive bar Earnestine and Hazel's. She's been featured at festivals such as Bonnaroo and Beale Street Music Festival and also performed in intimate clubs and house concerts around the world. Be it a small listening environment or a grand festival stage, there's no room she can't find an audience in and charm it to pieces.

Outside of Detroit and only just entering high school, Amy formed her first band and began writing and performing. She moved to Memphis, TN in 1999 and began hitting the local music scene hard with various live projects, performing regularly on Beale Street and the dive pub Murphy's where she also spent time tending bar.

Music fans first discovered this "sweet soprano" on This World is Not My Home in (2005), but it was her Jim Dickinson-produced breakout album Anchors and Anvils two years later that put Amy LaVere on the map. Stranger Me, the (2011) release on Archer Records, was called "the break-up album of the year" by Spin. Paste said it was "among the year's best," and it earned a first listen feature from NPR's All Things Considered. She followed it in 2014 with another critical smash: Runaway's Diary (2014), a concept album based on her own experience as a teenage runaway, produced by Luther Dickinson (North Mississippi Allstars). American Songwriter called it "boundary pushing… heartfelt, reflective, challenging and consistently compelling." NPR Music's Robert Christgau said it was her best yet. Of Hallelujah I'm A Dreamer (Archer Records, 2015) No Depression said simply: "pure bliss."

In addition to her solo records and a tireless touring schedule, Amy enjoys working with other artists. She joined an all-star collaboration called The Wandering, composed of Amy, Luther Dickinson,Valerie June, Shannon McNally and Sharde Thomas They released Go On Now, You Can't Stay Here (2012) to critical acclaim and sold-out shows.

Amy and Luther also collaborated on Sisters Of The Strawberry Moon (2019). This project featured Allison Russell, Amy Helm, The Como Mammas, Sharde Thomas and Lily May Risch.

Amy LaVere also has three releases with the band 'Motel Mirrors'. The self-titled Motel Mirrors (2013), In The Meantime (2018) and Gotta Lotta Rhythm (2019). This band features Will Sexton, Shawn Zorn and John Paul Keith and Will Sexton.

Amy has been sought out to be a part of MANY great projects over there years. Notably, Luther Dickinson has called on Amy to join his band "The Collaborators" on live performances and also his solo records, including record 'Rock 'n' Roll Blues' and his Grammy nominated record, 'Blues And Ballads: A Folksinger's Songbook'. Todd Snider called on Amy to sing backing vocals on the 'Songs of Jerry Jeff Walker'. Seasick Steve features her on a hidden track duet cover of 'I'm so Lonesome I could Cry' on his record 'Man From Another Time'.

There is so much more to come from Amy. Her 8th studio record is in the works. Recording on this project begins in October 2022 with Grammy winning producer/engineer Matt Ross-Spang.

She's already begun recording songs for 'Volume Two' of 'Hallelujah I'm a Dreamer'.

Do yourself a favor and keep your ears open for future works from this artist.

-"Most of my life," says Will Sexton, "I've complicated things musically. But, nowadays, I have a different approach: it's less cerebral, and more about gut and soul."

It's been an evolution years in the making for revered guitarist/vocalist Sexton, who launched his career when he still in grade school. Now the towering Texan, nearing age 50, has brought this new philosophy to bear on his first solo record in a decade, Don't Walk the Darkness.

Along with older brother Charlie, the San Antonio-born Sexton was a musical prodigy who eventually moved to Austin, coming of age in the city's hothouse environment. Playing with iconic Lone Star figures such as Doug Sahm, Joe Ely, Roky Erickson and Stevie Ray Vaughan, he scored a major label deal while still in his teens fronting Will and The Kill.

Over the past three decades, Sexton has grown into a skilled musical polymath: an esteemed writer, producer, session player and solo artist with a string of acclaimed LPs to his credit.

Don't Walk the Darkness marks a belated return to his solo career, but represents something even more profound for Sexton: a personal and musical rebirth following a stroke he suffered in 2009, which robbed him of much of his verbal and language abilities, and even forced him to reconsider his approach to playing guitar.

During that time, Sexton also traded one music capital in Austin for another, moving to Memphis in 2013. His shift to the Bluff City was prompted by love: he met and eventually married fellow singer-songwriter and frequent collaborator Amy LaVere.

Settling in Memphis, Sexton would become a lynchpin for artists on the Fat Possum-distributed Big Legal Mess and D-Vine Spirituals labels, leading the house band at producer Bruce Watson's Delta-Sonic Sound studio. "Memphis is an important part of what I've become," enthuses Sexton. "I've been able to immerse myself and tune my ear to what makes this place so magical – and it's really about the amazing musicians here."

For his new album, Sexton set up with Watson at Delta-Sonic, combining his new digs in Memphis along with a crew of old favorites from New Orleans, tapping Crescent City legends The Iguanas to serve as his main backing band.

"The Iguanas were always a fixture at the Continental Club in Austin and I would go see them and sit in, and was just a big fan," says Sexton. "I felt like this record would be the perfect opportunity to collaborate with them. They're a such a natural entity, like this powerful train that glides itself along the track. That meant I only had to worry about singing and playing a little guitar."

As part of his new quicksilver approach to recording, Sexton and company cut basic tracks for the entire album in a pair of fast five-hour sessions.

"The record I've really always loved is John Hiatt's Bring the Family," notes Sexton. "That's what I was envisioning for my album -- something in the spirit of that, which was a really live, dynamic record."

While the bulk of Darkness was written in the lead-up to its recording, two key tracks, are unheard numbers from Sexton's back catalog. The soulful "Only Forever" was a lost gem from his days staff song writer in the early-'90s. The other, "Don't Take it From Me," was co-written with late outlaw country icon Waylon Jennings in 2001. "We wrote it right before he passed away," recalls Sexton. "Neither of those songs had been cut before and I thought it was important that they should have a life and get out into the world."

The balance of the album finds Sexton finding inspiration in the more interesting corners of Americana, whether it's the ghostly gospel incantations of the opener/title track, the hypnotic blues shuffle of "What My Baby Don't Know" or the R&B anthemics of "Temptations Call." Elsewhere, Sexton's roots show on the Tex-Mex romancer "Witness," the Vox-organ-flecked "Mess Around With My Mind," and the horn-fueled meditation "The Whole Story."

"Being from San Antonio, those West Side horns and the Doug Sham realm, that's something I know and love. It's in my bones," says Sexton, who deploys the talents of sax man Art Edmaiston, vocalists the Barnes Brothers and soul diva Susan Marshall on the record as well. "The whole thing with this album it's more feel-good music than overthought compositions," says Sexton. "It's the right place for me to be."

For Sexton, resuming his solo career after a long break, feels like both a reboot and culmination of his musical journey."

"I just figured it was time for me to reconnect with singing and fronting a band, something I haven't done in a long time," he says. "This is a new start for me, but also kind of the logical extension of everything I've been doing since I was 9 years old. The music is brand new, but I'm the same old me."





EllaHarp


-from San Francisco, CA


-Singer/songwriter EllaHarp is a curious sort of artist. After years honing her skills touring, recording, and releasing music on a unique harp she designed for the purpose, 2020 saw the addition of another self designed/built instrument that got swiftly put to work; a small, 5 string banjo which fits just inside said harp's case, which in turn fits neatly in an airplane overhead. A bit like musical Russian dolls…

Singles (off her newly released 2023 album) like 'Lost in January' and 'Restless Lullaby' showcase both instruments in signature style, blending folk and Americana with pop sensibilities, highlighting dark, thoughtful lyrics and memorable hooks.

Her 2021 and 2018 albums 'Screaming Into the Void' (which saw multiple chart appearances on the NACC Top 30 Folk, the AMA top 200 and the FAI Top Albums in both Oct and Nov 2021) and 'Who Asked You Back' (#4 and #2 on RMR Top 50 Folk and Top 50 Contemporary Folk Album charts) spinned on over 100 radio stations nationally and abroad.

Bringing dynamic live performances that contrast dark songwriting with humor and a knack for creative storytelling, EllaHarp has opened for Hollow Coves, Harrison Storm, Smith and Thell, Ira Wolf, Humbird and Willie Watson with her unique, travel-made instruments. She has built 50k followers across Instagram + Facebook and over 3 million streams since COVID. Her track 'Time' can be heard on popular Netflix show 'Emily in Paris'.