Friday September 15 2023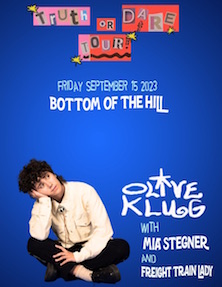 8:00PM

doors -- music at 8:30PM


••• ALL AGES




$

16

in advance

/ $19

at the door




Olive Klug


oliveklug.com


Folk, Country


Mia Stegner
miastegner.com


Alternative/Indie, Pop


Freight Train Lady
fr8trainlady.bandcamp.com


country-fried folk




---

Olive Klug


-from Los Angeles, CA




-A key player in the new wave of contemporary folk singers, Olive Klug is an independent singer/songwriter with a rare vocal gift. Self-styled after genre icons like Joni Mitchell and Brandi Carlile, Olive is known for their beautiful tone and vividly honest storytelling. Their sound is reminiscent of the Golden Age of American Folk Music, but with a uniquely modern lyrical sensibility. Their debut album drops August 11th 2023.






Mia Stegner


-from Fort Collins, CO


-A storyteller at heart, Mia Stegner views music as an avenue to ask questions, seek answers, and ponder both personal and collective pieces of the human experience. In her mind, no topic is too big or too small to explore, from the inner workings of her neurodivergent brain to the ethereal appeal of bath time. "Mia's style is decidedly unique – it's something like musical theatre blended with the grit of indie rock and the long-form musings of artists like Regina Spektor or early Laura Marling" (Stereo Stickman).

Mia's background as a musician is extensive and eclectic; growing up, she gained a musical foundation from singing in choirs, listening to music, taking piano lessons, and teaching herself guitar and ukulele. She first began writing songs in middle school, as a way to express herself and grow skills as a musician and writer. In high school, she began sharing her work on YouTube; in college, she began releasing music on streaming platforms as an independent artist.

In addition to creating her own music, Mia loves opportunities to help bring other artists' visions to life and works as a freelance lyricist, songwriter, and backup vocalist — from podcast theme songs to informal birthday gifts, she has completed 200+ projects for various clients. Between her personal and freelance work, she's written hundreds of songs.

Her other creative endeavors include Cléo's Collective, a creative services and sync company; Rabbits Under the Shed, an animated musical series; Blessed by Cléo, wearable art and mini pet portraits; and Germinates (an anagram for "Mia Stegner") to write music with her listeners.




Freight Train Lady


-from San Francisco, CA




-Freight Train Lady sings country-fried folk songs from the wind and waves of the north coast.