Saturday September 23 2023
8
:30PM

doors -- music at 9:00PM
•••
21 AND OVER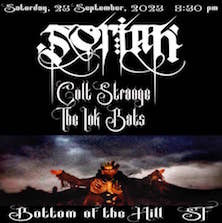 $

15

in advance

/ $20

at the door


Soriah


soriahmusic.com


Tuvan Throat Singer


Cult Strange
facebook.com/CultStrange


dark punk deathrock gothic industrial gospel post-punk


The Ink Bats
facebook.com/theinkbats


darkwave deathrock goth post-punk




---

Soriah


-from Portland, OR


-"The Tuvan throat singing phenomenon that is SORIAH will take you to that holy place whenever you lend an ear to his music." ~ David J (Bauhaus, Love and Rockets, Night Crickets)

SORIAH is the stage persona of Enrique Ugalde, an internationally-acclaimed throat singer and ritual artist who generates experimental soundscapes where ancient traditions are revealed through the lens of modern experience.

Birthed in one of the most historically isolated locations on the planet, Tuvan throat singing is a musical sound like no other. Mysterious, primordial and awash in a deeply visceral drone, it invokes the full range of the natural world – from deep mountain roots to the whistle of birds in flight.

SORIAH weaves Tuvan throat singing, pre-Columbian sounds, classical Indian raga, and modern Western styles, looping and processing his voice and traditional instruments into lush sonic tapestries. His lyrics are often written in Nahuatl (Mexica/Aztec) or Tuvan, preserving and expressing cultural mysteries with reverence and wonder.

"SORIAH's truly stunning extended vocal technique is peerless…beautifully odd, elevatingly dark and utterly lovely." ~ Thomas Jones (Crossroads Music)

In 2008 SORIAH was awarded "Best Foreigner" at the Üstüü-Khüree Festival in Tuva and received the "Third Laureate" award in the 2008 Fifth Quinquennial Ethnomusicology Symposium, the highest honor a non-native Tuvan had yet achieved in this field. In 2019 he won the award for best Kargyraa in the International "Khöömei in the Center of Asia" Festival, in 2020, he was awarded the title "Magical Musician of Khöömei", and in 2022, he won the first place in the International "Khoomei in the Center of Asia" online competition. His entry into the Tuvan Anthropological Museum speaks to the deep impact his work has within its native culture.

"Totally breathtaking. SORIAH conjures up a haunting sonic otherworld, drifting, dreamy, menacing and malefic, a rumbling, whirring dark ambient dronescape, thick with natural timbre and dense with subtle overtones." ~ Aquarius Records

When not visiting or competing in Tuva, SORIAH showcases to sold-out crowds in Europe, Japan, Mexico, and the United States. He has shared the stage with artists including Peter Murphy and David J (Bauhaus), cEvin Key (Skinny Puppy), Perry Farrell (Jane's Addiction), Liberation Movement, and Clan of Xymox. He has contributed to studio recordings of Modest Mouse, The Dandy Warhols, Thor and Friends and Hans Joachim Roedelius. He was also a noted performer at the 2009 Peace Ball to celebrate Obama's inauguration in Washington, D.C.

He also has collaborated with the renown soundtrack composer, Yasunori Nishiki on the 2021 Konami video game "Solomon Program".

Through his extensive humanitarian work, SORIAH remains dedicated to reminding audiences of traditions that transcend time and cultural boundaries, heightening awareness and revealing the divinity of each precious moment.




Cult Strange


-from Oakland, CA


-Cult Strange is influenced by the Punk/Post Punk/Industrial/Deathrock musics of the 80's. They hammer out an angry, yet danceable set of songs, with lyrics that range from protesting the inhumane practice of locking children in cages, to love songs in honor of Goddesses that demand blood sacrifices.

They will get your feet moving, and your heart pumping!




The Ink Bats


-from Oakland, CA




-The Ink Bats are a post-punk / psych / goth-influenced band based in Oakland, California. Together, musically and energetically, The Ink Bats are an alchemic amalgamation of their influences. In their songs you'll hear their reverence for psychedelic and garage sounds of the 60's, their affinity for the edginess of post-punk bands of the late 70's and early 80's, and their affection for new wave, goth, and classic death rock.