Sunday September 24 2023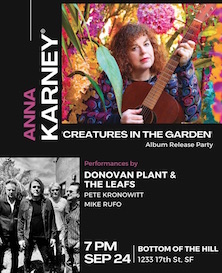 7:00PM

doors -- music at 7:30PM


••• ALL AGES




$

13


Album Release Party & Climate Crisis Awareness Event!


featuring climate activist organizations, guest performers from Velocity Circus, and more!


Donovan Plant & The Leafs
donovanplantmusic.com


rock, country, and pop


Pete Kronowitt
petekronowittmusic.com


pop country Indie folk


The Anna Karney Band


(Album release)


karney.org/music


alternative pop rock




---

Donovan Plant & The Leafs


-from San Francisc, CA


-THE UNIVERSE IS A YES MACHINE

Former San Francisco private detective Donovan Plant spent nearly two decades chasing leads and tailing cheaters before returning to his musical roots in 2011. Donovan Plant blends rock, country, and pop with lyrics inspired by the city. Citing influences such as David Bowie, The Cars, and Jackson Brown, Donovan's keen ear for hooks and melody is on full display with NIGHT FEEL GOOD, recorded inside the world-famous Hyde Street Studios at Dreamrack Studios by producer and engineer Trent Berry.

Donovan formed DONOVAN PLANT & THE LEAFS in 2018, a group that includes drummer Lliam Hart (Information Society/Wire Train), bassist Mike Henry (Minus One) and lead guitarist Jason Rojek (Sugar Crash). Lliam, Mike, and Jason have been playing live and recording together for decades. When Lliam joined with Donovan for some live shows about ten years ago, he quickly recognized Donovan's talent for song writing and quietly set about a plan to incorporate his friends Jason and Mike into the band, a plan which worked brilliantly. In a stroke of mis-spelling genius they then named this creation THE LEAFS.

Donovan has released three solo EP's, Be With You (Niteflite Music - Germany) with producer Fabian Gorg in 2011, which included a video produced by Ricky Kelley, City Lights (Angel Blossom Records) with producer Scott Mickelson in 2018 and Night Feel Good (Angel Blossom Records) with producer Trent Berry at the historic Hyde Street Studios (Dreamrack Studios). He also had the honor of playing inside San Quentin State Prison as part of its annual Day of Peacecelebrations with the non-profit organization Bread & Roses Presents for two consecutive years in 2016 and 2017.




Pete Kronowitt


-from San Francisco, CA


-If Steve Earle drank beers with Elvis Costello and got pissed enough to write political tunes, they would sound like Pete Kronowitt songs. Soulful. Pointed. Poignant. Playful. Pete writes songs with hooks, a dash of alt-country, a smidgen of something familiar yet new; catchy songs ranging from acoustic alternative pop and country to Indie with progressive lyrical phrasing. Pete has received critical acclaim, been nominated for songwriting by Folk Alliance International and honors from the Mid Atlantic Songwriter Contest.

Five albums combining performing, touring and activism, Pete's songs lie at the juncture where culture clash with politics. Pete founded Face the Music Collective, a guide for creative activists utilizing performances to inspire targeted individual action, one event at a time.




The Anna Karney Band


-from San Francisco, CA


-Throughout her storied music career, Anna Karney has performed across the country and released an incredible catalog of chart topping and critically acclaimed music. Always keeping her mind on social justice and positive messages, KARNEY channels her love for the planet and the beauty of the earth into her powerful new fulllength album CREATURES IN THE GARDEN, set for release August 18, 2023.

Using themes of climate change awareness and respect for the planet as a focal point for her writing, CREATURES IN THE GARDEN showcases an incredible blend of soulful and dreamy acoustic arrangements, easy indie rock beats, dusty distortion, winding bass lines, and astounding indie, emo, and shoegaze rock styles, all as KARNEY weaves images of nature throughout and incorporates a high-spirited positive message about finding solutions to our current climate crisis.

CREATURES IN THE GARDEN features several prominent Bay Area musicians. Longtime drummer Jeff Herrera plays on several tracks including "Peace Is More," which also features guitarist Erik Smyth and bassist David Doucet. A special lyrical addition to this track is the quote by Fred Rogers (aka Mr. Rogers), "Peace is far more / than the opposite of war." The title track along with "Sinners and Saints" and a powerful cover of "Rainbow In The Dark" by Ronnie James Dio all feature James Deprato on guitar, Kevin White (Chuck Prophet Band) on bass, and new addition to the Karney crew, drummer Kyle Capistra. The Dio cover particularly resonates with KARNEY as a contemporary comment on the recent unjust laws that are hurting the lives of LGTBQ+ people. KARNEY is honored to feature two Santana band members on CREATURES IN THE GARDEN, trumpet player Bill Ortiz on the track "Across The Planet (remix)" and percussionist Karl Perazzo on the track "Wildfire." The track "Eternity (remix)" features slide guitarist Gawain Matthews.

It was an overwhelming experience for KARNEY to work with so many creative and talented musicians, in addition to the great collaborative chemistry shared with her co-producer Michael Rosen (Rancid, Tesla). Everyone poured their hearts into the music and achieved heights far beyond anything she could have ever imagined. Anna Karney's lyrical content offers an impassioned and straightforward approach to many of the issues facing people today. Her musical influences include Bob Dylan, Neil Young, Patti Smith, John Lennon, Sheryl Crow, Chrissie Hynde, and Joni Mitchell. As an arranger, pianist, and guitarist, she has worked with artists such as George Clinton, Linda Perry, and Dennis Bovell.

In 2022, KARNEY released Gonna Be Beautiful, an exciting collection of originals along with some freshly conceived versions of old favorites. In 2021, songs from the KARNEY EP release Better received stellar airplay on Triple-A and Americana radio stations, including the title track and her powerful cover of "Ramble On," one of Anna Karney's favorite Led Zeppelin songs. She released a series of singles throughout 2021, including her personal and heartfelt original track "Be Together," and a cover of the Neil Young classic "Heart Of Gold."

Other previous KARNEY releases include her 2018 album No Mercy; a series of singles from 2016 called Manifest Destiny, Vol. 1 EP and Restless Wind, Vol. 2 EP; the 2012 album Love & Respect; the 2003 album All Connected; and her debut release Karney from 1999. Anna Karney has worked with producers and artists in the SF Bay Area such as Producer/engineer Mark Pistel (Michael Franti, Grace Jones, Chuck Prophet), Producer/Engineer Michael Rosen (Rancid, Tesla, Smashmouth, Santana, and Papa Roach), and Adam Munoz (Herbie Hancock, Dave Mathews, Branford Marsalis, Joshua Bell, Chester Thompson, and Lyle Lovett).

Anna Karney has had a diverse musical career, having spent many years composing music for games such as Star Wars Galaxies, Monkey Island IV, Armed and Dangerous, several SimCity titles, Metal Dungeon, Death Jr., and many more. She received the esteemed "Dreamcatcher" Award from the Visual and Performing Arts division of the San Francisco Unified School District for her work as a choral teacher and conductor for middle and high school students, as well as her contribution to the furthering of music education in the San Francisco public school system. Additionally, Anna Karney has scored ballet and modern dance pieces as an artist in residence at Mills College and San Francisco State University. She also composed her Opus 1 Chaconne Sur Sept for nationally renowned contemporary music group Earplay Ensemble.