Friday September 29 2023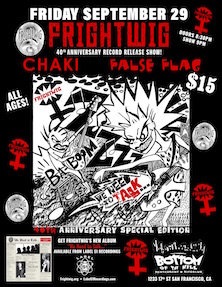 8:30PM

doors -- music at 9:00PM


••• ALL AGES




$

15


Frightwig


40th Anniversary / Record release


frightwig.org


punk rock


False Flag
instagram.com/falseflagsf


hardcore punk thrash


Chaki
instagram.com/chakifunkwizard


funk goth electro punk
---

Frightwig


-from San Francisco, CA


-"Birthed in 1983 by Deanna Mitchell and Mia d'Bruzzi, Frightwig invented the template for the Riot-grrl phenomenon that followed over a decade later. Funny, funky and furious, Frightwig produced the full-length albums Cat Farm Faboo (Subterranean Records 1984) and Faster Frightwig Kill Kill (Caroline Records 1986), as well as the EP Phone Sexy (Boner Records 1988). The first two LPs were re-released as the double album Wild Women Never Die… (Southern Records 1994). Frightwig has widely been credited as one of the most original, intense and fearless feminist bands by musicians, critics and fans alike.

After taking a hiatus from live performance, Frightwig has now returned with a vengeance to the center stage. Presenting an all-star line-up which features founding members Deanna Mitchell (the Mouthiest Woman Alive) on bass, "they broke the mold" Mia d'Bruzzi on guitar and secret weapon "Saint" Cecilia Kuhn on drums. Oh, and here's the kicker (oh, the shock and horror!), a real man!!! But this is not just any man, this is the legendary Eric Drew Feldman who has recorded, performed, produced and toured with Captain Beefheart, Snakefinger, Frank Black, Pere Ubu, PJ Harvey and Knife & Fork amongst others. Eric plays keyboards, has been known to sport both a tiara and a tuxedo, and has produced the new EP Hit Return. Frightwig has never sounded better.

Having played a handful of select shows in 2013, Frightwig is currently in the midst of recording a new full-length LP of new (and very potent) material. Look for them on tour in 2014- their live shows are legendary and never to be missed.

Feminist punk pioneers Frightwig have come full circle. Co-founders Deanna Mitchell and Mia Simmans formed the band in San Francisco in 1983, and made it their mission to dismantle the patriarchy, one hilariously hell-raising song at a time. Two cult-favorite albums (1984's Cat Farm Faboo and 1986's Faster, Frightwig, Kill! Kill!) and two EPs (1989's Phone Sexy and 2013's Hit Return) unleashed songs like "My Crotch Does Not Say Go," "A Man's Gotta Do What a Man's Gotta Do," and "Crazy World" into the universe. Tours with Flipper, Butthole Surfers, and Redd Kross helped introduce crowds to Frightwig's raucous live shows, inspiring Hole, Bikini Kill, L7, and Lunachicks, among others. Throughout line-up changes, motherhood, and hiatuses, Frightwig remained committed to their original ideals. Before beloved drummer Cecilia Kuhn passed away in 2017, she urged her bandmates to keep spreading the music and message. After some deep soul searching, Deanna and Mia eventually found themselves in a room, just the two of them and their instruments. This was how Frightwig started, and this is how Frightwig will continue—with Saint Cecilia's blessing. You better get ready." ~Jeanne Fury (4.1.2019)




False Flag


-from San Francisco, CA




-3 piece based in sf tenderloin






Chaki


-from Los Angeles, CA




-Chaki is a funky bass player from outer space. He has shared the stage with P-Funk, Fishbone, El Vez, Flipper and more. His stage show slaps.