Sunday October 1 2023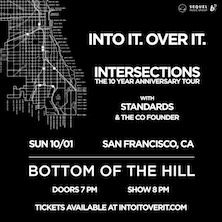 7:00PM

doors -- music at 8:00PM


••• ALL AGES




$

20

in advance

/ $22

at the door


Into It. Over It.
intoitoverit.com


emo low-fi rock


Oceanator
oceanator.surf


folk rock grunge pop


Standards
standards-band.com


math rock




---

Into It. Over It.


-from Chicao, IL


-The recording project of Chicago-based songwriter Evan Weiss, Into It. Over It. finds the prolific emo-pop veteran of numerous bands (The Progress, Pet Symmetry, Their / They're / There, Couplet, Stay Ahead Of The Weather, Up Up Down Down.. and more) striking out on his own.

In Into It. Over It., Weiss blends well-crafted pop with a literate, introspective lyrical stance and vocals that acknowledge angst without surrendering to it. Weiss launched Into It. Over It. with 2007's ambitious 52 Weeks project. He has since released countless albums, splits, eps and singles hitting his stride as a composer and arranger with 2013's Intersections, 2016's Standards and most recently 2020's Figure which is Weiss showcasing his strongest and most confident artistry to date.




Oceanator


-from New York, NY


-Oceanator's debut full-length, Things I Never Said, saw NYC multi-instrumentalist Elise Okusami hyperbolically equating early adulthood malaise with apocalyptic destruction. The album was a clear portrayal of the immense and growing talents of songwriter / multi-instrumentalist Elise Okusami and was immediately praised in the likes of Noisey, Under The Radar, Stereogum, and SPIN, who featured the band on their "20 Most Interesting New Artists of 2020" list.

On the band's sophomore album, Nothing's Ever Fine, Okusami channels her energetic and adventurous writing style she's become synonymous with and delivers a batch of riff-heavy songs that sound bigger and bolder than anything she's done before.




Standards


-from Los Angeles, CA




-standards is a two-piece math rock band fronted by guitarist Marcos Mena and featuring drummer Forrest Rice (mem. Covet). Their self-described "fruity" melodies and technical musicianship have earned them somewhat of a cult following over the years, owed in part to Mena's proclivity for guitar-based video content. But the band's ebullient songwriting is the true source of their popularity among guitar-music fans, who laud standards for their uniquely danceable brand of complex instrumental rock. Since the group's inception in late 2017, standards have released two beloved EPs and played with the likes of Polyphia, Covet, and Delta Sleep.